Terror Strikes in Israel
Now a Family Needs Your Help
Charity on Purim is a very special mitzva. Supporting widows and orphans is a very special mitzva. 
Tal, Itay and Harel will spend their first Purim without their husband and  father, Yotam, HY"D. Please help ensure their future.
Yotam was near his home in Adam, just outside Jerusalem. He was on his way to prepare a romantic dinner for his wife, Tal, for Tu B'Av—the holiday of love. A father of two young children (3-year-old Itay and 9-month-old Harel) and a decorated IDF combat veteran, Yotam had everything to look forward to.
He couldn't have known that this holiday of love would be forever ruined by an act of hate. He couldn't have known that this summer night would be his last. He couldn't have prepared for the terror attack that took his life—all he could do was fight back and try to prevent even more innocent lives lost.
Instead of a meal together celebrating love, the terror attack left Yotam's children without a father and the income needed to support them.
Tal got a lot of "thoughts and prayers" from everyone, including President Reuven Rivlin, US special envoy Jason Greenblatt, and UN Special Coordinator to the Middle East Peace Process Nickolay Mladenov. But after the dignitaries and reporters were gone, all that Tal was left with was the cries of Itay and Harel, and her low part-time teacher's salary.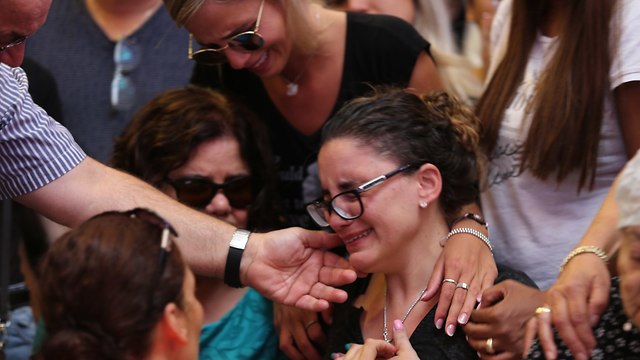 "I do not know how to be strong for my children, we were everything to him, the house was his kingdom. … Yotam did everything for us, we have been crying since he was killed." — Tal Ovadia
Their lives are shattered and their future is uncertain… Can you help?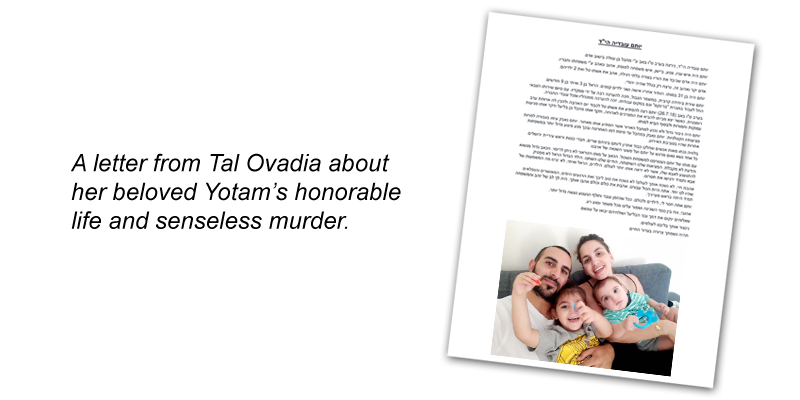 Translation of Letter from Yotam's wife, Tal:
Yotam Ovadia Hy "d, was murdered on the eve of Tu B'Av  (7/26/18) by a terrorist in the settlement of Adam. Yotam was a humble, modest, shy, and exemplary family man, loved and beloved by his family and friends.
Yotam was a man who respected his parents in a way above all, loved his wife Tal and their two children.
This dear and beloved man was murdered only because he was a Jew.
Yotam was 31 when he died. Survived by a wife and two small children, Harel 3 years old and Itai, 9 months old.
Yotam, a decorated Chayal, served in the IDF in the combat unit of the Mishmar Hagvul and was highly respected by his commanders.
Upon completion of his military service, he began working for Brinks, where he was highly regarded by his superiors.
On the evening of Tu B'Av (7/26/18) Yotam wanted to surprise his wife Tal and prepare dinner for her.
When he came out of his house to bring the groceries, he was attacked by a terrorist who fatally stabbed him and brought Yotam to his death.
Yotam was a great hero. Through his fatal injuries  Yotam fought the terrorist until his last drop of blood and prevented many more injuries and possible death.
The funeral was attended by hundreds of people who gave their last respects from ministers, Knesset members and the mayor of Jerusalem. Each one delivered an emotional speech about Yotam.
With Yotam's death our family is bereaved. The pain of his tragic death cannot be consoled. The pain is unbearable and my mind does not accept it. Our reality has changed, our lives have changed forever.  Harel, old enough to know and miss his father and will never see him again.  Itai will never know what it means to have a father.
Love of my life, we will never forget you! We will not forget your good heart and the beautiful, happy and wonderful moments that we had together. You were everything to us. You loved everyone and everyone loved you. You had a heart of gold.
Yotam, I miss you, the children miss you. As time passes the pain becomes greater and more unbearable.
My beloved, rest between the wings of the Shechina and protect us from all harm.
May G-d avenge your blood and the haters of Israel and their messengers  be punished. We will treasure you in our hearts forever.
May your soul be bound in the bond of eternal life.
How Your Donation Helps Tal, Harel and Itay
Today, Tal relies on handouts for food and diapers to support the young boys. But continuing expenses as they grow older will make it harder and harder for them to live anything close to the life they would have enjoyed as a family.
Your tax-deductible donations will be collected into a trust account for Harel and Itay, kept in a trust account at Bank Leumi and distributed for the benefit of the children.
Every bit of support will let Tal, Harel and Itay know that they are not alone. That neither Yotam nor his family will be forgotten.
Every single name on this campaign will be a voice in their darkest hours, telling them that there are righteous people in this world who, like their father, stand up in the face of terror.
Can you be a source of light in their darkness?

---
News Stories About Yotam's Life, Murder, and Bereft Family
Join our community of supporters and we can make a difference