Our Story
"Green Rebel – the Adventures of Kaptain Sunshine" (tentative title)  is an Israel/Africa story. It will follow the visionary struggles of Yossi Abramowitz, AKA "Kaptain Sunshine," to provide real, on the ground solutions to both global climate change, and to inequality in Africa. In the Jewish tradition, it's called tikkun olam ("healing the world").
Yossi and his family immigrated to Israel in 2006, and soon after, Arava Power, his first Israeli solar energy company, inked the first deal to sell solar-generated electricity to Israel's electric grid. His vision? For Israel to be a "sustainable Light unto the Nations." Kaptain Sunshine had arrived.
A few years later, his company finished the first commercial scale solar field in sub-Saharan Africa (in Rwanda) – it now supplies 6% of the nation's energy needs. Touchingly, it is situated in Agohozo Youth Village (which benefits from the sale of electricity), where several hundred orphans of Rwanda's own genocidal war study and live.
We have been filming Abramowitz's adventures for several months, and have exclusive filming access to all of his future activities. We are now entering a critical phase in documenting his story: Abramowitz's Jerusalem company has signed deals with 10 additional African countries for solar fields and wind turbines (everywhere from Burundi to Ethiopia to northern Nigeria). But can obstacles of government corruption, violence, terrorism, and entrenched energy interests be overcome – to help bring green electricity to more of Africa's 600 million people without electricity, and to replace the highly polluting gas and coal electric plants planned by the greedy multinational petro interests?
Right now, "energy poverty" in many African countries means most schools and health clinics have no electricity. Most homes don't either – so all cooking and lighting comes from burning wood in the home. Such "indoor air pollution" in Burundi causes more than 10,000 deaths (mostly children) every year. And there may be no trees left in Burundi by 2040, because of the huge numbers of trees cut down yearly.
About half of our story will be shot in Africa – showing Abramowitz in action, courting allies there by appealing to common spiritual/religious values. We will also feature local supporting characters, such as a mother struggling, like mothers everywhere, to feed her children and keep them happy and healthy in such primitive conditions – how might her life be affected by a simple thing like the arrival of electricity?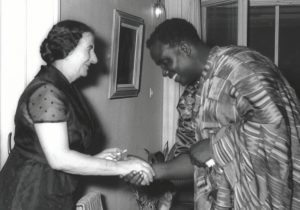 Golda Meir visited five African countries, in 1958, and she later wrote: "Independence had come to us, as it was coming to Africa, not served up on a silver platter, but after years of struggle." Fast forward to 2018: Africa boasts 11 out of the 20 fastest-growing economies on the planet, has 700 million cell phones, and its billion-plus population will double by 2050. "Impact businessman" Abramowitz and his investors are betting they can do good, and be successful.
At home in Israel, Yossi and his wife's children include two adopted Ethiopian sons. Recently, his family has joined the fight for African refugees to not be deported from Israel. Abramowitz, always thinking outside the box, suggests that, instead of the refugees being sent back to their war-torn countries, Holot Detention Center should be converted to a training center for them in the latest Israeli water, agricultural and green energy technologies. (An additional supporting character will be Yossi's wife, Rabbi Susan Silverman – "Green Rebel" director Stein documented her well-known struggle for women to be able to pray at the Western Wall).
Our Need Now
Our goal with this Jewcer campaign is to raise the funding necessary to finally video in Africa for several weeks. We plan to spend time with Yossi in several countries, as he connects with politicians, businesspeople, and regular people on the ground. How does he build the special spiritual/religious bridges that make his work so unique? We will also spend time with several African families – as they struggle with living without electricity. Finally, we will document the groundbreaking for one new African field – including focusing on several Africans who have new jobs constructing the field.
"Green Rebel" will try to answer the challenging question: how does Abramowitz ruthlessly promote his solar energy company, working with the power brokers of his world (from Trump and Netanyahu, to assorted African leaders and ex-dictators) – and still maintain his goal, as he simply calls it, of "doing good"?
OUR ULTIMATE GOAL
…Is to finish shooting and editing our film by Fall, 2020. We plan to not only  show it in theaters worldwide and on streaming services, but also to bring it directly to hundreds of schools and universities, houses of worship, non-profits, corporations, conferences, and elsewhere. These "impact screenings" – most followed with discussions – are designed to educate and inspire about Jewish social change and fighting the climate crisis. You are welcome to contact us with any questions, or if you are interested in hosting an impact screening event, email us at: jerusalemnewyork@gmail.com
Please read director Harvey Stein's recent Times of Israel blog post, "Why We Really Need Kaptain Sunshine Now"
It takes a village to make an indie film! It takes a global village to turn the course on climate change. Thanks for adding your energy to our pot!
"Green Rebel" co-sponsored by Melitz
Join our community of supporters and we can make a difference
---
More Ways to Learn About this Cause