We need your help to finish our movie
After more than six years of hard work, we are now finished shooting our feature impact documentary "Green Rebel" (primarily in Israel, Rwanda, and Burundi). You can now help us raise the funding we need for the many weeks of editing and other post-production (like securing and adding music, sound mixing, making animation and titles) required to finish our movie!  We plan to premiere our movie globally in June, 2023.
Our Story
Can an ambitious Israeli-American guy living in Jerusalem bring solar generated electricity to millions in neighboring Africa?
"Green Rebel – the Adventures of Kaptain Sunshine" follows the visionary struggles of Yossi Abramowitz, AKA "Kaptain Sunshine," and his African partners, to provide real, on the ground solutions to both global climate change, and to inequality in Africa. In the Jewish tradition, it's called tikkun olam ("healing the world").
Yossi and his family immigrated to Israel from Boston in 2006, and soon after, Arava Power, his first Israeli solar energy company, inked the first deal to sell solar-generated electricity to Israel's electric grid. His vision? For Israel to be a "sustainable Light unto the Nations." Kaptain Sunshine had arrived.
A few years later, his company finished the first commercial scale solar field in sub-Saharan Africa (in Rwanda) – it now supplies 6% of the nation's energy needs. Touchingly, it is situated in Agahozo Youth Village (which benefits from the sale of electricity), where several hundred orphans of Rwanda's own genocidal war have studied and lived (see the rough cut of our Rwanda "chapter" at bottom of this page – we were thrilled to travel there to shoot for an amazing week, in February, 2020).
Abramowitz's African partners include Patrick Nzitunga, his Burundian staff member (who lives much of the year in Israel, with his Israeli wife); and Zambian Bishop Scott Mwanzaa (who stayed with Abramowitz in his first visit to the Holy Land).
How does Abramowitz overcome obstacles of government corruption, violence, terrorism, and entrenched energy interests be overcome by Abramowitz – to help bring green electricity to more of Africa's 600 million people without electricity, and to replace the highly polluting gas and coal electric plants planned by the greedy multinational petro interests? How does he continue to build cultural and personal bridges to help seal deals (often building bonds with African spiritual/religious leaders – Christian or Muslim)?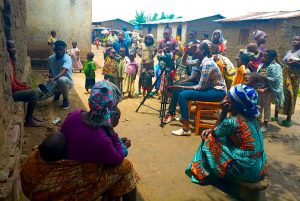 We shot for several weeks throughout Burundi (in a village without electricity, above) – documenting Abramowitz's many years of struggle to finally complete his second African solar field there.
Our story paints a painful but needed picture of the "energy poverty" in many African countries – where in Burundi and other nations, most schools and health clinics have no electricity. Most homes don't either – so all cooking and lighting comes from burning wood or charcoal in the home. Such "indoor air pollution" in Burundi causes more than 10,000 deaths (mostly children) every year. And there may be no trees left in Burundi by 2040, because of the huge numbers of trees cut down yearly. Abramowitz's work, and our movie, can be a powerful model for a major way to fight climate change globally.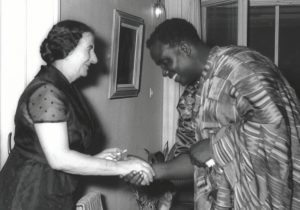 Golda Meir visited five African countries, in 1958, and she later wrote: "Independence had come to us, as it was coming to Africa, not served up on a silver platter, but after years of struggle." And Abramowitz regularly quotes Ben Gurion, "The largest source of energy in our world, a source so unused by man – is the sun." He sees himself on their path, a progressive win-win Zionism.
At home in Israel, Yossi and his wife's children include two adopted Ethiopian sons. An additional supporting character will be Yossi's wife, Rabbi Susan Silverman – "Green Rebel" director Stein documented her well-known struggle for women to be able to pray at the Western Wall).
Africa boasts 11 out of the 20 fastest-growing economies on the planet, has 700 million cell phones, and its billion-plus population will double by 2050. Our story asks: can Abramowitz be that on target "impact businessman" whose business chutzpah helps make a better world? Can he successfully work with the power brokers of his world – including assorted African ex-dictators – without losing his soul?
Help us reach our many audiences around the world
Abramowitz himself has written, in his characteristic positive tone, of the "silver lining of the COVID pandemic" – and how the similar crisis of climate change can have a silver lining. We plan for "Green Rebel" to reach audiences throughout the world, including:
Jewish and Christian audiences, young and old, who will respond to the many Jewish/Israeli aspects of Abramowitz's activities and thinking, and the positive story of an incredibly innovative Israeli company
Audiences interested in dramatic, intimate stories about addressing climate change and the development of green energy systems  – especially a deep, human story from the underdeveloped world – a world that North Americans know very little about.
Audiences specifically interested in Africa – this includes African-Americans, an underserved community.
Our ultimate goal – a powerful impact film
In June, 2023, we will also initiate our impact campaign: we will not only show "Green Rebel" in theaters worldwide and on streaming services like Netflix, but also bring it directly to hundreds of schools and universities, houses of worship, non-profits, corporations, green conferences, and elsewhere. These "impact screenings" – most followed with discussions – are designed to educate and inspire about Jewish social change and fighting the climate crisis.  We are also creating an engaging Discussion Guide, adaptable for anything from a single event, to an in-depth workshop of several sessions. It will be a tool to use our impact screenings to train community and campus leaders, who will be able to tailor their impact events to their own specific communities and community goals.
"Green Rebel" invites maximum participation and partnerships
Please contact us with any questions (including possibly becoming an investor, or if you or your organization are interested in hosting a future impact screening event), email us at: shufushufuvideo@gmail.com
And here is a rough cut of our Rwanda "chapter", finished recently:
https://youtu.be/3BmUTlAh8JY
And please read director Harvey Stein's recent Times of Israel blog post here:
After the Pandemic, Will We Choose Tikkun Olam?
It takes a village to make an indie film! It takes a global village to turn the course on climate change. Thanks for adding your energy to our pot!
"Green Rebel" co-sponsored by Shufu Shufu and Melitz
Support this cause and make a difference
---
More Ways to Learn About this Cause