Calling Wandering Single Jews
Welcome to Audrey's Tent where I open my home for Jewish singles to find community, spirituality, love and gourmet, kosher sit-down meals.  I serve home-brewed Jewish connections! Audrey's Tent fills a valuable need for Jewish singles of all ages who may be unmarried, divorced or don't fit into traditional groups. In the last 14 months, I've organized and funded 20+ events and have events planned through 2018. With the amazing growth, it's become too expensive for me to do alone. I humbly ask for your help to donate to Audrey's Tent to help it thrive and grow. The crowdfunding site Jewcer who's hosting my campaign is extending their non-profit status to my passion project so every donation is tax deductible! (EIN # 47-4096632) (If you want to send a check contact me at audreys.tent.613@gmail.com or 619-993-9077 for instructions.)
"I found the love of my life at Audrey's Tent! I came from Israel alone to do my Master's degree and didn't know anyone in this city. I also got to know most of my friends through Audrey's Tent and always know I have a loving place to go to.  Thank you Audrey Jacobs!" Einav Miller
WHY SINGLE JEWS NEED AUDREY'S TENT
Many single Jews feel they can't find a place to be Jewish. Sadly they give up on being part the Jewish community. The Jewish book of wisdom, Ethics of the Fathers/Pikei Avot, teaches, "We should not separate ourselves from the community," but not everyone can find a synagogue or community they feel comfortable in, especially not older singles or single parents. This is where Audrey's Tent shines!
"Audrey doesn't just put on events at Audrey's Tent, she welcomes you into her home with a bright smile, kind words and delicious home-cooked, kosher meal made with lots of love.  Every Jewish community should be lucky enough to have someone like Audrey!" Yoni Levinger
WHO'S INSIDE AUDREY'S TENT
Audrey's Tent is unique in attracting singles aged 20s to 60s who include Israeli, American and international Jews. Being single and Jewish can be lonely and really hard for single parents who often dread the Jewish holidays. Intact families don't invite us and we can't afford to host others. Being a single mom, I've made Audrey's Tent especially open for single parent families to feel embraced. With your help, I plan to do more events with single Jewish parents and their children.
"There are many Jewish organizations in San Diego, but none connect like Audrey's Tent. It provides a gathering place for people of all ages, including single parent families, who seek connection to their Jewish spirituality and culture. The Tent has amazing kosher food, celebrations, friendships and even romance. Thank you!" Tina Bernard
A HOME FOR SINGLE PARENTS
Many Audrey's Tent events are full of kids –  Rosh Hashanah, Break the Fast, Hanukkah, and Passover. The kids favorite is the Second night Passover Seder where we have a full-scale, theatrical production of Exodus and the kids throw the plagues at the biblical "actors." As a local single parent leader, I'm honored to be asked to chair the Single Parent programming for Shabbat San Diego. I'll be hosting their single parent events in Audrey's Tent.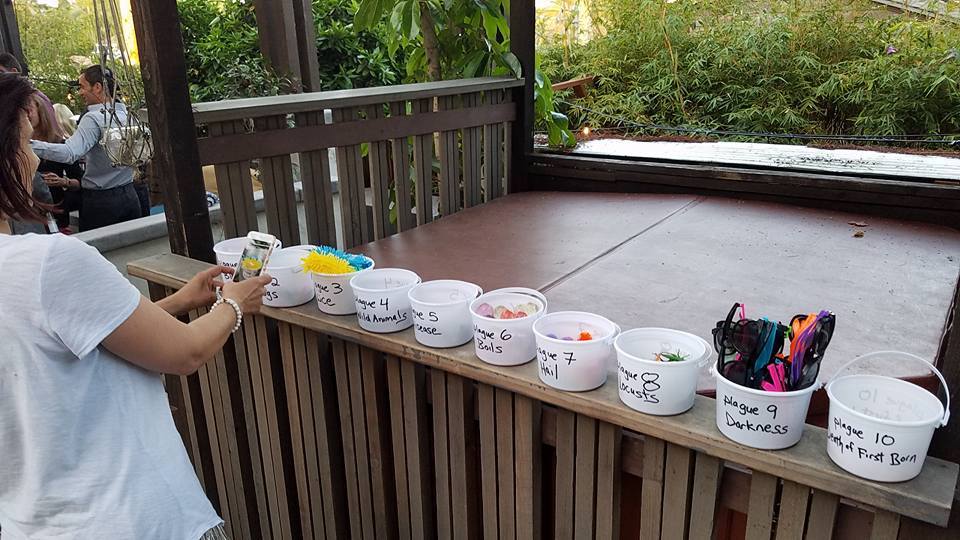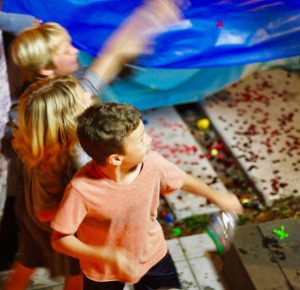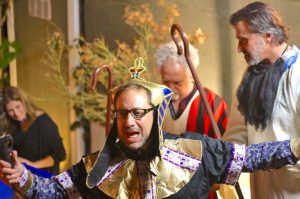 "The best part of Audrey's Tent is the inclusion of kids on the holidays. She gives single parents, the opportunity to expose our children to the Jewish holidays and traditions in a fun active way, meet and interact with other Jewish kids and enhance their Jewish identity." Shira Shasho
BEFORE THERE WERE SYNAGOGUES, THERE WERE TENTS
Welcoming guests, Hachnasat Orchim, is an important Jewish value. Abraham opened his tent to all sides to welcome guests. Jews love feeding people but it's also considered a mitzvah – not just a good deed but also an essential commandment! It's sacred my guests never pay or have to donate to Audrey's Tent. That's why your generous support is so essential.
"Audrey, you're such a blessing. You provide us such a unique and wonderful way to celebrate Sabbath light, new friendships and love together in your beautiful tent/home. You open your big, beautiful, giving and generous heart to us, and set such an exquisite example of "Hachnasat Orchim" (welcoming guests)."  Jill Riskin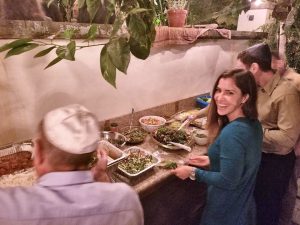 Hadar enjoying the buffet
DOUBLE MITZVAH POINTS
Hosting guests is expensive, so if you participate in this act of Tzedakah (charity) and give a tax-deductible gift to support Audrey's Tent, you do two mitzvahs at once! Your gift enables me to serve our growing Kehila (community) for Shabbat and holiday dinners and make more divine connections.
"Audrey, it's so important for people to have a sense of belonging. Without the backing of any institution, you've created a strong Jewish community. It's a beautiful kindness that is aptly named Tent, in the spirit of our Abraham, our very loving and welcoming ancestor." Aviva Angel
IGNITE THE MAGIC
Audrey's Tent is not a synagogue. I belong and love my synagogue. Audrey's Tent is not a Jewish organization, although I donate to most of them. Audrey's Tent is the magic that happens in my home. I'm simply a person who expresses my love of Judaism by connecting others to their faith and inspires them to have faith in each other. Thank you for supporting Audrey's Tent!
"Audrey, you are one-of-a-kind. Your presence brings a sense of joy and connection. You've created an incredible haven where Jewish singles can go and just be ourselves. We are blessed to have you in our community. L'chaim!" Judy Sandweiss
 WHAT HAPPENS IN AUDREY'S TENT
I host traditional Shabbat and festival dinners with all the blessings, songs and have provocative/inspiring discussions based on Jewish wisdom. We sing around the fire pits, dress up for Purim and Pesach, dance and learn. Our guests connect joyfully and deeply with timeless Jewish wisdom and each other.
"Audrey you give selflessly to create a Jewish community which connects people that otherwise would not have met. Your events and classes have reconnected me to my Jewish faith.  You welcomed me into the Audrey's Tent community and I am forever thankful." Ed Smith
TENT-MAKER, TENT-MAKER, MAKE ME A MATCH
My greater purpose is to spark connections. I want my fellow Jews to feel connected to a community and their faith. I want individuals to connect, make friends, business contacts, and of course fall in love!  So far three serious couples have met in Audrey's Tent. With your generous gift, they'll be many more!
"After 15 years of dating sites, singles events and blind dates, I finally met my man in Audrey's Tent. G-d willing soon we'll be married!" Anonymous (we'll announce who soon!)
MORE THAN SOULMATES
At Audrey's Tent, I create gatherings for singles to have a meaningful experience and a wonderful time, even if they don't meet their soulmate.  An Audrey's Tent favorite event is the Purim costume party! Want to learn more? Scroll down to see past and future events.
"I'm not religious and didn't know many Jews in San Diego or how to find them outside of a synagogue. Being part of Audrey's Tent not only reminds me of what being Jewish means, but also teaches me so much about who we are. What Audrey does is amazing!" Lenny Braunstein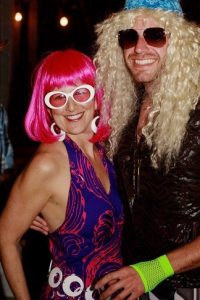 Audrey & David at Purim party
AUDREY'S TENT FEEDS THE MIND, BODY AND SOUL
Jewish gatherings often center around food, but Audrey's Tent I feed the body and the soul. Every Audrey's Tent event is elevated by the elegantly set tables, lush Balinese landscaping, homemade, gourmet kosher food and the blessings and Torah learning.
The Torah teaches the importance of spiritual growth with the mitzvah of Talmud Torah, learning Torah. At each Audrey's Tent event I host inspiring Jewish educators and performers to offer short teachings, so that guests get food for thought as well as food in their bellies.
"Audrey's Tent and its namesake make a difference in people's lives in their Jewish souls. After my mother passed away I had the privilege to attend and it made me realize what my mother had always told me; There's something special, something magical, about your connection to your fellow Jews… It's something I never really appreciated till Audrey opened her heart and her home to me." Ely Moyal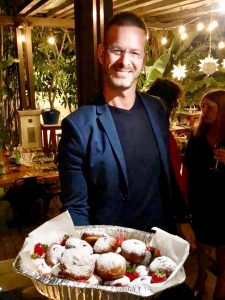 Yuval and his homemade sufganiyot
RECENT PRESENTERS
Recent presenters such as Jewish educator and award-winning author Marcus J Freed, the Havaii band, Rabbi Danny Wise, and musician Zeji Ozeri have donated their talents and shared their wisdom at Audrey's Tent. It would be amazing to raise enough funds so that we can offer them a small honorarium so that these teachers can continue sharing their talents, and with some basic funding we can also bring in more top-quality educators and performers. Your giving to Audrey's Tent fulfills another mitzvah to support Jewish educators.
"Thank you for your selflessness and generosity toward the members of our Jewish community. Lots of people can talk about doing what you do, but you are actually putting words into action. More people than you know are touched by your kindness." Dana Ben Kaplan
MY STORY….WHY I STARTED AUDREY'S TENT
I hate feeling lonely as a Jew. For 25 years, I've hosted guests in the warmth of my home in San Diego. After 18 years of marriage, when I got divorced and became homeless, this was impossible.
When my three sons and I were wandering Jews bouncing to and from Airbnbs, my youngest Hillel asked, "Why doesn't anyone invite us for Shabbat dinner?" I told him, "Sweetie, when you are single, you're invisible, when you're divorced, you're dead (socially)."
Harsh I know, but that's how I felt. Yet at that moment of anger, I was inspired by my son's namesake, Rabbi Hillel's saying, "If I am not for myself, who will be for me? But if I am only for myself, who am I? If not now, when?" Ethics of the Fathers/Pikei Avot, 1:14
I promised myself I'd rebuild my Jewish community, I'd a create a loving home for my three sons and a sacred space for all single Jews to feel part of a Jewish family. It took long two years, yet I finally built Audrey's Tent and it's exceeded my vision.
THE HISTORY & FUTURE OF AUDREY'S TENT
The "Audrey's Tent" name is inspired by my Hebrew name Avrahama, the female form of Abraham who was known in the Torah for the hospitality he offered in his Tent. I started by inviting 36 single Jews to a Facebook group and in 14 months we've grown to over 360 members of all ages – 80% of whom attended half the events in 2017! I plan to keep mindfully growing our group. If we raise enough funding, I'll consistently host at least two events per month and more during the holidays (see schedule below).
My dream is to inspire other Tents to pop up around the world!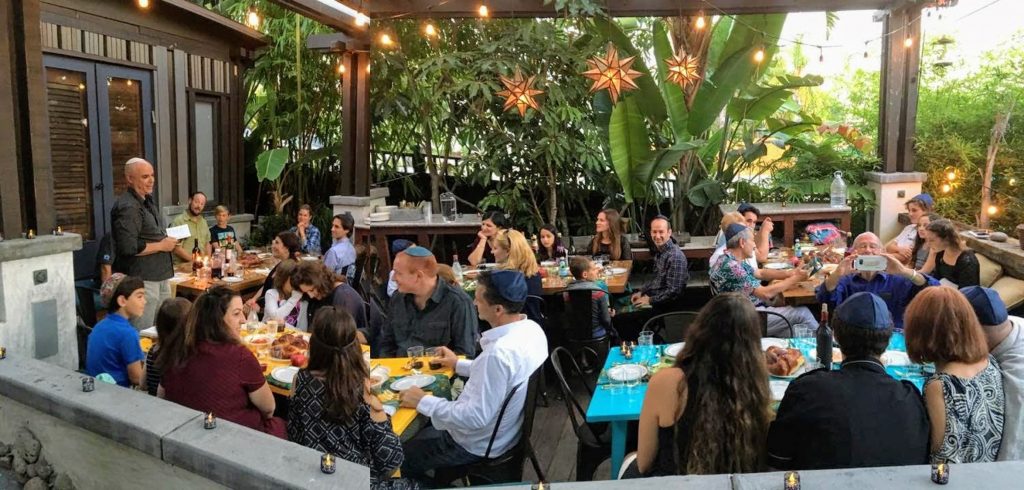 Upcoming Events:
July 27 –Tu B'av Shabbat of Love
July 28 – Shabbat Lunch and Games for single parents and kids
Aug 16 – Einav Miller teach's a woman's Jewish Way to Wellness (Primary Food)
Aug 26 – End of summer Single Parent BBQ with kids
Sept 9 – Erev Rosh Hashanah – Singles parent with kids holiday dinner
Sept 10 – Rosh Hashanah first night adult only holiday dinner
Sept 19 – Pancake Break the Fast Feast – everyone invited!
Sept 26 – Sukkot Cool Jews dinner with author Lisa Klug ( adults only)
Oct 24 – Shabbat San Diego Single Parenting class: Wisdom beyond Jewish Mother Myths
Oct 27 – Shabbat San Diego Single Parent Shabbat lunch with kids
Nov 16 – Shabbat of Words – Jewish Wisdom on the power of communication
Dec 5 – Hannukah adult only party
Dec 8 – Havadallah and Hannukah Single Parent party with kids
Past Events:
Shabbat of Abundance, featuring Marcus J Freed  – June 1, 2018
Memorial Day Concert with the Havaii Family – May 28, 2018
Kabbalah Class: Enlightened Relationships, taught by Rabbi Danny Wise – Apr 12, 2018
Audrey's Tent sees Soul Doctor at the Theater & Cast Dinner Taco Party – Apr 8, 2018
EXODUS! 2nd Nite Passover Seder – Mar 31, 2018
Purim Seudah (Feast)! Decades theme! – Mar 1 2018
Valentines Day Girls-Only Pajama Potluck Party – Feb 14, 2018
Shabbat Karaoke – Jan 19, 2018
Making Miracles – Channukah Shabbat Kumzit, songs led by Zeji Ozeri– Dec 15, 2018
Jewish Single Parent Hannukah Party – Dec 13, 2018
Acts of Kindness Shabbat Potluck – Dec 1, 2017
Audrey's Tent Sun Brunch – Nov 12, 2017
Single Parent Shabbat – Oct 27, 2017
Rosh Hashanah Adults-only 2nd night – Sep 21, 2017
1st Night Family Rosh Hashanah Dinner w/kids – Sep 20, 2017
Tu B'Av – Jewish Day of Love Party – Aug 6, 2017
Soul Sister Startup Life Hacking Potluck – Jul 12, 2017
Audrey's Shavuot Fondue Party – May 31, 2017
EXODUS! 2nd Nite Passover Seder – Apr 11, 2017
Do you have ideas or comments? I'd love to hear them! Please send them to me at audreys.tent.613@gmail.com
Thank you! Love, Audrey Jacobs (Founder at Chief Challah Baker of Audrey's Tent)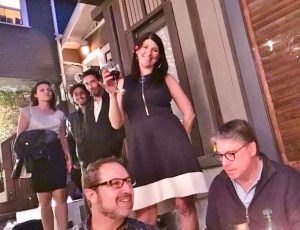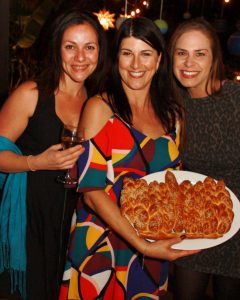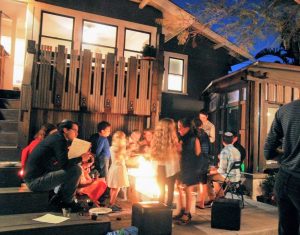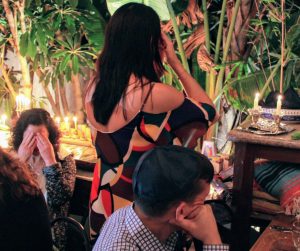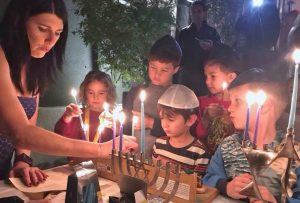 Support this cause and make a difference
---
More Ways to Learn About this Cause