Testimonials
Nancy Rexin Evans – "And all because one man, together with several other Angels started to decided to do something to help the new Immigrants to make the transition and help wherever and whenever needed, so they started this group to find one another. Mazel tov! May we all help,, including non Jews as God commanded us!"
Margalith Roos– "Thanks to you Liami and Tzvika we can start to begin living here and not anymore just survive. "
Malka Levine –"Let's come together and help this great organization; our organization, which through supporting and advocating for Olim, is also playing a crucial part in building this country—our country! Love Jews, love the land, and love the Torah."
Louise Mehlman Lipert Maery- "Thanks so much for all you do. Its great knowing there is a lifeline if its needed. And it really is needed!"
KEEPOLIM'S MENTAL HEALTH PROGRAM

KeepOlim's Mental Health Program – Sadly, more than ⅓ of all suicides in Israel are Olim many of them Lone Soldiers. There is a huge crisis in the Olim community due to the of lack of mental health services for Olim in their native languages.
One of the cornerstones of KeepOlim (RA 580613610) is to provide All Olim with Free and Low Cost Mental Health Counseling in their own native language.
KeepOlim is developing a program to combat depression among Olim. Mental Health care in Israel for Olim in their native languages is extremely limited and lacking.  Olim sometimes wait for months to speak to a counselor in their native language through Chupat Cholim. Many times, there is no therapist that speaks their language.
Israel's National Suicide Hotline ERAN has full time volunteers that speak Arabic and Hebrew only, providing little assistance for desperate Olim in their time of need in their native languages. Moreover, after terror attacks occur in Israel – unsettling for anyone but especially difficult for Olim, the municipality crisis hotlines don't give any support in any language besides Hebrew and Arabic, leaving the Olim who needs support the most – without!
The Corona Crisis has made our Mental Health Program more important than ever before!
The lack of jobs, Hebrew, living in a different culture, feeling alienated, simply just being alone without their loved ones around, Olim are crying out for help!
KeepOlim is here to answer their cries!
Our professional Olim therapists have answered hundreds of desperate calls of Olim in immediate crisis, providing immediate therapy, calling their families abroad and sometimes accompanying some to hospitals.
KeepOlim has rescued 17 homeless Olim, getting them off the streets and into warm beds, providing food, clothes and Free Therapy along the way!
KeepOlim, When Olim Have Nowhere to Turn
Olim lacking jobs, friends and family can quickly develop depression lose hope as they have nowhere to turn. That is why KeepOlim is now offering Free & Low Cost Mental Health Services in the Olim's native language and we desperately need to expand. Our program has over 60 Olim therapists that speak over 15 languages and who understand the issues of Olim, as they themselves are Olim. Our program is overseen by co-directors Dr. Robert Lubin and Susan Cohen.
KeepOlim Free Mental Health Counseling for All Lone & Olim Soldiers
KeepOlim provides FREE Mental Health Counseling to All Lone and Olim Soldiers before, during and after the Army in their native language. Our staff of dedicated volunteer Olim Therapists have provided over 63 Lone Soldiers Free One to One Weekly Hourly Sessions in several languages in the first few months of our new program alone.
Many depressed Lone Soldiers can't talk to their commanding officers because they fear their profiles will be lowered and they will be transferred from their combat unit.
We have convinced a few Lone Soldiers to turn in their guns to their commanders, potentially saving their lives.
Quality, Subsidized Individual Counseling Sessions For All Olim
KeepOlim provides Free and Low Cost One to One Counseling in the Olim's native language with experienced, qualified therapists. These sessions are designed to help Olim overcome their own personal issues as well as empower them in their new homeland. According to Israeli law, each Israeli is entitled to 15 sessions of therapy through their Chupat Cholim with a fee of 140 shekels each. However, there are often no staff that speak their language. In addition, many Olim have to wait for months to see a therapist and if they are lucky enough to get one, these therapists have a hard time connecting, as they don't really understand the problems of Olim and have even dismissed the concerns of Olim – leading to very serious situations and sadly, in certain cases, even death.
In just a short time since we started this program, KeepOlim's Mental Counseling Program now has over 100 needy Olim receiving One to One Counseling for Free as most cannot afford it. Our caring Olim experienced therapists are donating their time for this Chesed project but we cannot continue to overwhelm them with free clients as they need to be paid something for their services in order to put food on their table. They need to be paid something even a fraction of what they normally receive.
Our goal is to provide and expand our Low Cost Mental Health Counseling in the Olim's native language. The cost of 100 shekels for each session will go to the therapist. This is a fraction of the average costs of about 400 shekels for a private session.
KeepOlim will not deny therapy to anyone who needs counseling who cannot afford to pay it.  In most cases KeepOlim will pay almost all of the cost as we've discovered that the Olim that need these services the most, have no money!
Free Support Groups for Mental Health for Corona Crisis on Zoom
The first part of KeepOlim's Mental Health Program is Support Groups. During the Corona Crisis KeepOlim organized 30 Free Support Groups via Zoom in a number of languages for our Olim Community to discuss their issues relating to Corona. Fear, loneliness, anxiety, stress, longing for the families and living in Israel are the topics of these Support Groups led by experienced Olim Therapists. Each Support Group with about 6 participants each, meets for 1 hour over 4 weeks with the hope that participants will support each other, bond, and form friendships.
KeepOlim started our Support Group Programs last year. Initially our pilot program consisted of 13 face-to-face groups in 3 languages in 5 cities across Israel (pre-Corona times). The support groups are small and intimate, giving attention to each participant. They meet once a week for 8 weeks with an experienced therapist and only cost 200 shekels per participant. If an individual cannot afford the support group, KeepOlim subsidizes the cost. No one is turned away due to lack of funds. Over ½ of the 110 participants in this Pilot Program who could not afford it, attended the Support Groups for Free and KeepOlim swallowed the cost.
KeepOlim Crisis Hotline in 5 Languages
The second part of our program is a KeepOlim Crisis Hotline. It will be available in over 5 languages that will be staffed by trained Olim therapists that speak the languages of Olim. There is a dire and intense need for this hotline, as within the last 4 years we have dealt with over hundreds of calls from desperate Olim.
KeepOlim needs a Proper Crisis Hotline!
The way desperate Olim and Lone Soldiers reach out to us now is by writing us or calling our private phone numbers. We need a proper organized Hotline with lines in each language staffed with volunteer Olim therapists so that Olim can reach out and talk to a live person immediately!
This Crisis Hotline will also serve our Lone Soldiers so they can call in anonymously and talk to our therapists. We receive many calls from Lone Soldiers that are too scared to talk to their commanders about their mental health as their profiles in the army will be lowered and their guns may get taken away. There is a crisis of suicides and OD's of Lone Soldiers especially during and after the army. We are here to help!
This Crisis Hotline is desperately needed for Olim who have nowhere else to cry out for help in their time of need.
KeepOlim Needs Your Help to Grow our Mental Health Program
Please help us continue to be a Lifeline for all Olim!
Please Donate!
KeepOlim Feeds Olim  
What started out as a side project of KeepOlim – procuring food for hungry Olim – has now expanded into a brand new program "KeepOlim Feeds Olim"
Before Rosh HaShanah 2020, KeepOlim realized there was desperate need to feed hungry Olim during the Corona Crisis. We gave out over 24,000 shekels of Gift Cards to Rami Levi to Olim families and Lone Soldiers in need, across Israel for the holidays.
The Board of KeepOlim then made a commitment to continue feeding our hungry Olim declaring that "as we are the only post Aliyah organization for all Olim it was our duty to help Olim during this difficult Corona Crisis with many of our Olim being unemployed".
As of January  2021, we have distributed more than 60,000 shekels worth of Gift Cards to our Olim and Lone Soldiers.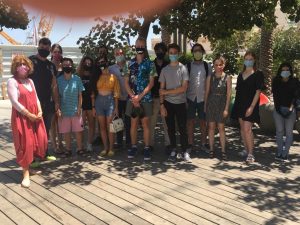 KeepOlim is accomplishing what the government and what no one organization has ever done before for all Olim!
With no office, administrative support, secretaries, grant writers, we truly are making the impossible happen!  We are giving Olim much needed vital programs, services, advocacy and support within a large community!
We are saving lives every day!
Please help us continue to be a Lifeline for all Olim!
Please Donate!!   Together We Are KeepOlim!
For more information please visit our website (which is now in both English and Russian).    www.Keepolim.org

KeepOlim (RA 580613610) is a registered non-profit organization, authorized by the Israeli Corporations Authority and the Ministry of Justice.
Support this cause and make a difference
---
More Ways to Learn About this Cause