PART TWO of our fundraising campaign is here! And your last chance to join the impact as a part of the production team by making a TAX DEDUCTIBLE contribution of any amount! A little goes a long way with this conscious piece.
We've spent the last 2.5 years shooting this feature-length documentary all over the world. We have incredible footage, stories and interviews that we can't wait to share with you!
Our next step is a big one, and maybe the most important one: EDITING! We need to sort through hundreds of hours of footage and cut it together into a cohesive story. This is not an easy task, or a free one!  We could really use your help to pay our editor, colorist, composer, sound mixer, and animator so we can make this documentary the best it can be and release it for the world to experience ASAP!
Thank you for your donation & please share with others who might consider lending a helping hand. It takes a conscious community.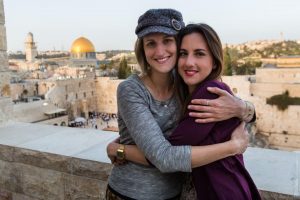 WHY THIS PROJECT IS IMPORTANT RIGHT NOW
The current state of humanity is troubling, to say the least. The alarming abundance of hatred, judgement, and prejudice are at an all-time high. While the problems seem insurmountable, the future and the hope for positive change rest in our minds and hands.
How do we avoid repeating a holocaust? We believe it's by encouraging conscious conversation & balanced heart-forward education around some very important subjects.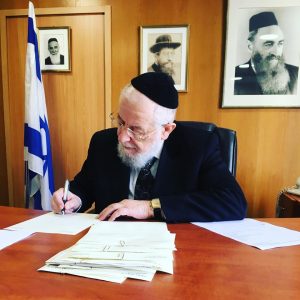 It's our strong conviction that the deep judgment and lack of understanding around the complexities of interfaith marriage & the intrinsic value in the Jewish wisdom tradition are a piece of the massive pie of prejudice in America and the world at large.
So many young American Jews abandon their Jewish education after some early offputting experiences (whether by clergy, family, friends, or all the above). For Becky, her Jewish education never quite resonated, and while she felt very Jewish inside, she was confused about how that manifest on the outside. Becky knew there was deeper meaning in her longstanding tradition. She took a Kabbalah class during her Birthright trip just like the rest of us! But the depths and Torah truths hidden deep in Judaism were never revealed to her, and so she was left to her own devices to reconnect. Which is exactly what she's doing now….with cameras in tow!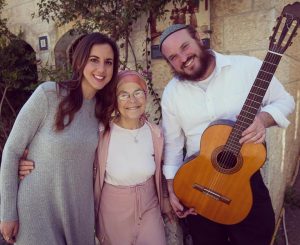 Experiential education from a place of love & tolerance is our cure. Hatred and fear never helped anyone learn nor heal. Our goal is to express Becky's heart-open journey in the best possible way — showing how she doesn't settle for platitudes, while at the same time doesn't discredit a dissonant opinion or viewpoint simply for being separate from her own. It's through open-minded  & conscious conversations that we explore the touchy topics of love and faith, and we believe that through balanced and integrated education we can share Becky's journey and the information she gathers in a non-judgemental & inspiring way.
The goal is not to convert nor convince of a single truth (despite Becky's arrival at a foundation of personal truth), rather the goal is to inspire others to wake up and go on a conscious journey to co-create a life filled with meaning, values, and spiritual fulfillment.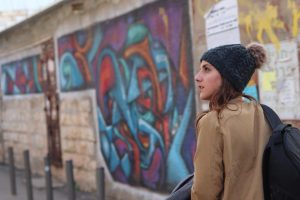 OUR UNIQUE APPROACH
This documentary sets out to follow a personal story, through the eyes of Israeli born & Philadelphia bred filmmaker Becky Tahel Bordo as she conducts a 360 degree exploration of the discussion around interfaith marriage in America, shedding light on all corners of the conversation, and creating a beautifully cinematic — and simultaneously thought provoking — piece that tugs at the heart strings and pokes at the soul.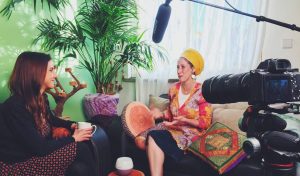 She also then experiences a natural twist in the storyline, as she feels a strong call to re-edJEWcate herself, and takes a sharp right to Jerusalem where the film is finally completed after nearly 3 years of digging for truth!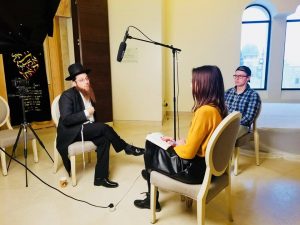 THE PASSIONATE PROTAGONIST
Our filmmaker, Becky Tahel Bordo, is an Israeli born, Philly-bred millennial. While her generation is labeled "lazy" and "self-centered," Becky's passion for truth pushes past the stigmas of the millennial label and into a realm of higher standards for conduct and belief systems.
Millennials are at a milestone in their lives — settling down, having children, stepping into larger leadership roles, creating new businesses, inventing apps and new and improved ways of doing things in a variety of revolutionary arenas. That's a big deal, and a crucial  point in time. Becky hopes to set a new standard, and inspire conscious conversation among this next generation of leaders — especially during this unique time in United States' history & the Jewish people's history.
Sounds lofty, doesn't it? What would make a young Jewess like Becky set out on such a journey?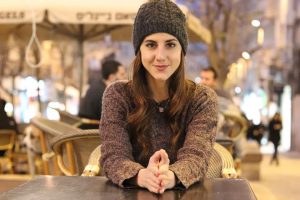 BECKY'S PERSONAL PLIGHT
To begin with, Becky's baby sister recently married outside of their Jewish faith, the first time this has happened in their family. Becky's struggle to fully support her sister created a deep discomfort within Becky, and inspired an internal and external plight for clarity.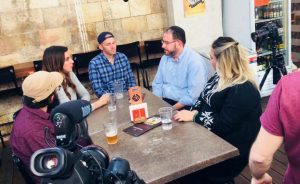 Becky also realized, through asking her sister some hard-hitting questions, that she hadn't asked them of herself. Neither had her friends. In fact, Becky was pretty sure most of the people she knew weren't stopping to think and engage in conversations around the real things.
Yikes.
Secondly, Becky is single. She's in fact the last of her large family to settle down. No pressure. She doesn't want to wait forever, and has a feeling that her own hesitation to hammer out her own preferences may be standing in the way of finding her match and starting her own family.
This documentary is Becky's chance to soul trek to truth for herself once and for all. She feels like she won't know how she feels about interfaith marriage for her own life until she goes on a journey to deepen her understanding of the topic in America, while also digging deep for Torah understanding in Jerusalem.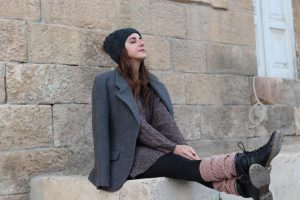 Becky finds herself in Jerusalem, in seminary, studying with Rabbis & engaging with Jewish scholars from all walks of Judaism. She grapples with her own foundation & identity, as she explores just what Judaism means to her and whether it is even important to preserve. The conversation around interfaith marriage is as much about the value-add of Judaism as it is about love, and Becky is determined to sort out her priorities for her own life!
Thirdly, while there are propaganda pieces around interfaith marriage, and a lot of one-sidedness, there is a real lack of a balanced portrayal of the real and balanced discourse from within the Jewish community. Becky studies with Reconstructionist, Reform, Conservative, and Torah Observant Jews alike to firstly understand and consequently choose for herself what resonates.
We believe this is an extremely integral part of the conversation filmically, as it inspires the viewer to ask questions & inspect all options in an effort to consciously choose and create their realities.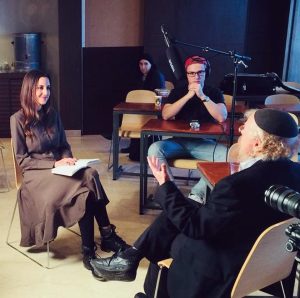 THE POST PRODUCTION PLAN
Becky has been at it for nearly 3 years. Yes! Three years of digging internally and externally, studying, interviewing, researching, crying, and filming. Now it's time to marry all the content together into a cohesive cinematic portrayal of the powerful journey she went on. It's time for the world to witness an honest and raw experience of leaving one's comforts to deepen an identity.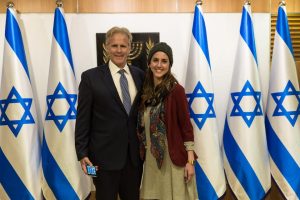 Her journey is filled with often hilarious adventures, punctuated by moments of unexpected revelation and surprising pathos. At every stage Becky Tahel strives to shed light on the tug-o-war between tradition and the heart — "does love conquer all?" She simultaneously reflects on the misconceptions she had towards the Jewish tradition, as she deepens her own relationship to her wisdom tradition in figuring out what place Judaism has in her life.
Join the journey to truth & consider donating a tax deductible shekel to the cause!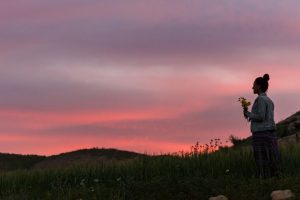 Support this cause and make a difference
---
More Ways to Learn About this Cause