Back when I was in yeshiva, I often marveled at how "interactive" the Talmud was. That one could experience these great Rabbis throughout time debating one another. It fascinated me. And what fascinated me more was that by engaging with it, I somehow was an active participant, engaging with them and debating my own points. It's like the Pesach Seder, in retelling the story of the exodus from Egypt we actually relive the story! In fact the purpose of retelling the story is not for entertainment. It is for the story to become part of one's own life. The first time I tried to wrap my brain around the concept, I asked myself: "What if we could do that with ALL of Jewish history?" What if we could relive the moments of joy and the moments of despair in our collective history, walking side by side with our ancestors? And what meaning and enrichment would that add to our own lives?
Now we can.
Bringing Story-based Innovation to Jewish History
Hi, I'm Aharon, the founder and CEO of Loreful, an independent game development and entertainment studio based in Cincinnati, Ohio. I have a deep passion for three things: interactive storytelling, design and, most importantly, Jewish history. I spent a great deal of my early career working on interactive Jewish experiences with Hebrew Union College and the American Jewish Archives. As my career moved from the educational experience to creative directing digital brand initiatives, I told myself I would someday return to innovating the Jewish historical space. But time passed and I never got around to it. In reality, technology wasn't quite ready for my ideas. Then, the iPhone came along and, in time, my dreams for mixed and augmented-reality, story-based journeys became possible.
A Platform Is Born
Over the past three years, Loreful has been creating a new platform for augmented reality (AR) and mixed reality (MR) story-based experiences for smartphones. In 2016 we launched our first product, MarchQuest for iPhone. MarchQuest is an immersive, story-based experience that places the player as the hero in a fantasy adventure while moving through the real world. MarchQuest's unique design integrates storytelling with a role-playing game (RPG) experience complete with animated 3D characters, professional quality voice-over and choices that matter. MarchQuest also tracks and gamifies fitness through distance, time, pace, steps and calories burnt. With over 10 hours of content, MarchQuest has been called by VR Fitness Insider "On the cutting edge of innovative RPGs for iPhone."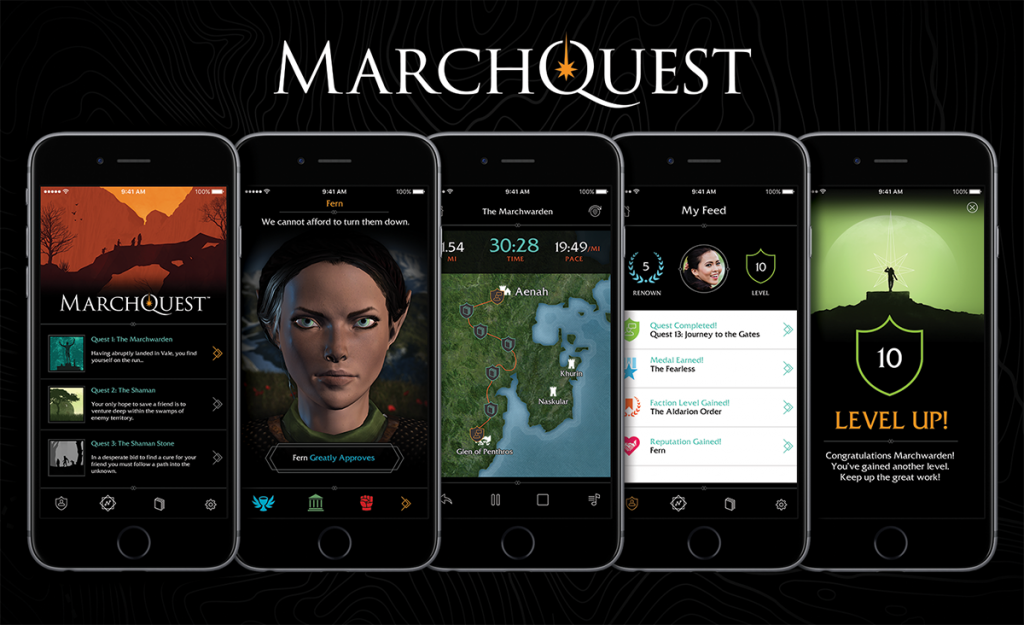 Out of the platform we created for MarchQuest, we finally have the vehicle we need to engage and participate in Jewish history like never before. We can hear the voices of the past, and ask our ancestors questions, learning from them as if they stood beside us today. That's the amazing power of augmented and mixed reality technology.
Remembrance
Remembrance will be an app for iPhone and Android that will engage you as an active participant throughout different time periods and "stories" in Jewish history. In essence, it's the seder for all of Jewish history. Imagine standing on the deck of the ship with the first Jews to come to American shores from Recife, Brazil in 1654. Imagine standing on Masada in 74CE as the Roman army gathers below. Our collective history spans over 40 centuries, imagine the paths we can walk into the past. Imagine what we can learn from it all.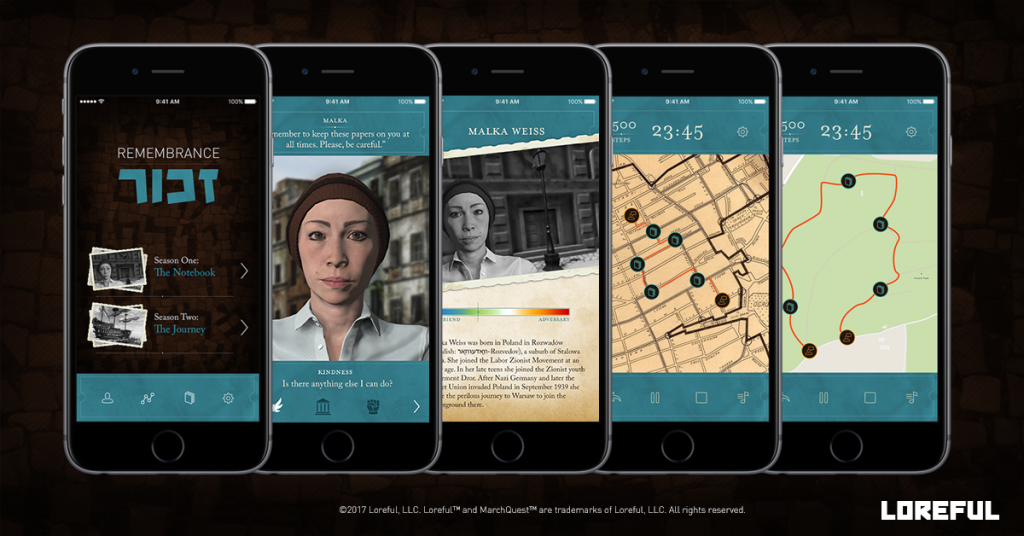 We will introduce these stories as "Seasons" with "Episodes". Like a TV show. Our first Season is called: "The Notebook". Based on the real-life experiences of those who lived through the Warsaw Ghetto Uprising, an interactive notebook will come to life on your smartphone. The people from the time will stand before you as we utilize our 3D character system, complete with professional voice-over. And you will interact with them in ways never before realized.
As with all Seasons, "The Notebook" will be more than a simple documentarian guide through the Warsaw Ghetto. Remember, you are an active participant. We'll take collective experiences from real accounts and place you in the middle of that experience. You will pass information and smuggle items between the outside world and the ghetto. You will speak and react with the key figures of the time and place.
Some of you may remember the "Choose Your Own Adventure" books from the 80's. You can think of Remembrance as a historical, interactive version of that wonderfully fulfilling experience. The choices you make will have consequences and the path you take through the "story" will be your own. You will be more than an observer, you will be a part of history. It's the kind of experiential learning and remembrance that is at the core of Jewish learning and storytelling.
The first Season of Remembrance, "The Notebook", will consist of 10 episodes lasting between :30 and :60 minutes. We'll offer the first episode for FREE, the remaining 9 Episodes can be downloaded for $8.99. That's only $1 an episode!
Why we need your support
Remembrance is an indie project from an indie company. We're almost 100% self-funded because we are passionate about what we do. Loreful is our labor of love. We also want Remembrance to be the best mixed reality, story-based experience it can be. That's where your support is so incredibly valuable. With your support we can afford to pay for better and more 3D models, more voice-over artists, extensive QA testing and making your rewards!
How We Will Use the Funds
Aside from fulfillment and Jewcer's nominal fees, 100% of the money raised will go toward bringing this project to fruition. Here's our breakdown on how the funds will be used.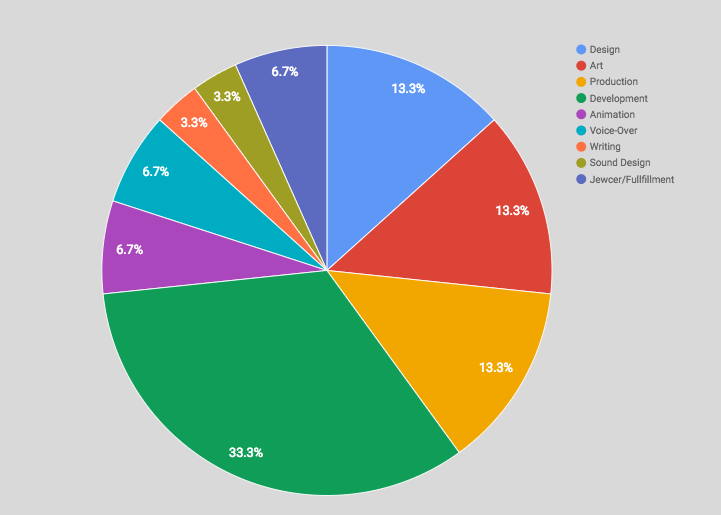 What we'll do with extra funds (Stretch Goals)
The goals we hit beyond our immediate goal will be invested back into making the app even better, allowing us to add more polish and provide extra features.
$200,000 – More diverse voice-over and 3D models.
We'll be able to hire more voice-over artists rather than using a set group to do multiple voices. We'll also be able to add more diversity to our character models, adding a 3D modeled hat or scarf or coat can really make a huge difference. All of those backgrounds that the characters stand in front of, those have to be built and modelled as well. With this stretch goal we'll be able to build more of them providing greater diversity.
$300,000 – Hebrew Language Version
It's important for us to include a Hebrew language version. Unfortunately, it's not just the translation that adds cost — it's needing a whole new set of actors to record in Hebrew and to reanimate all of the models so that they look like they are speaking Hebrew rather than English. We also want to integrate Hebrew into the main app rather than simply localizing to app stores in Israel, this adds a fair amount of engineering to make this a seamless experience. With that said, this is a stretch goal we really hope to meet.
$400,000 – Our own Music Soundtrack
We designed our platform to play YOUR music while you are moving through each episode. However, we would love to provide our own soundtrack to add to the experience. This requires engaging musicians, recording them in a studio, working through the legalities of royalties, etc. It also adds countless sound design and production hours. However, if we do reach this goal, every donation level from $50 and above will receive a CD or Digital Download of the soundtrack. Naturally, every donation level will have access to the soundtrack through the app. We will also provide the CD and Digital Download of the soundtrack as an add-on for $18.
Our Production Timeline and our Promise to YOU!
We take pride in keeping to a deadline. Collectively, we have been producing projects for over 70 years. We know how to launch within budget and on time. Since you took the opportunity to invest in us, we will be working for you. You are our clients. We will keep you updated every other week until the project is complete and we launch on the Apple App Store and on Google Play. Our goal is to launch on Yom Ha-Shoah in 2018 (April 10).
From our experience with MarchQuest, we know that it takes about 9 months for production and development and 4 weeks for beta testing. The added benefit for Remembrance is simply that we already have the experience working with our platform through MarchQuest, in short, we've worked out the platform and process bugs. Ultimately, the benefit is that we are producing Remembrance with a streamlined product and process.
Challenges
Our biggest challenge is funding. Without your support this project will not come to fruition. The cost to produce an app of this magnitude (even with an established platform) is huge. As a small team, we've learned to multi-task and wear multiple hats. Not a single person on our small team has one single job. We often produce the work of a team twice our size for half of the budget. In fact, if you look at comparable apps you'll see team sizes 3 times the size of our core team. While that cuts costs it still leaves us with a sizable budget. Funding allows us to build out our team and hire freelance talent to assist with the heavy lifting. It also adds to ultimately building a more polished and content-rich product.
Meet our team
Our team has over 70+ combined years of experience producing games, design and digital creation with some of the world's most beloved brands.


Aharon Cagle – Creative / Design / Direction



Aharon is a Digital Designer and Creative Director with over 18 years of Design, Branding, Marketing and Game Development experience. Aharon has won over 20 awards across all forms of digital media. As co-founder and lead creative, Aharon leads the creative, business and strategic direction of Loreful.
William Dickson – Strategy / Art / Production

William has over 25+ years experience mentoring talented, cross-disciplinary creative teams to solve complex problems and manifest compelling branded solutions for regional, national, and global brands. William is intimate with developing strategic branding platforms; coordinating with extended, multidisciplinary teams and partnering on final production artwork ensuring that brand aesthetic is protected through the design process.
Ruth Ellen Kostic – Research / Writing / QA

Ruth Ellen has over 20 years of management experience in health care with organizations such as the American Red Cross. Her leadership skills include staff development and quality assurance. A lifelong love of storytelling and video games brought her as the co-founder and partner in Loreful, where she is involved in production, testing, writing and editing.
Benjamin Thornburg – Development

Benjamin has over 14 years professional experience developing interactive experiences across games, apps and websites. He's shipped four original apps from concept to completion, and he is a community leader and speaker on game and app development.
Kristen Beam – Animation

Kristen is an animator with a love and passion for fantasy and video games. She received her Bachelor's Degree in Computer Animation from Full Sail University. Kristen has been at Loreful since 2013, having shipped two Loreful titles. Her drive to learn new things and improve her skills is an infectious and welcome addition to the Loreful team.
Brian Beck – Animation

Brian Beck is a 3D Animator from Northern Virginia. He studied at Computer Animation at Full Sail University and has three years of professional experience. Brian has a comprehensive understanding of the game industry and an excellent understanding of 3D Animation. He has the ability to give a character emotion, life and a distinctive personality.
Billy Alletzhauser – Sound Design

In addition to recording for A&M and Warner Brothers records, Billy's songs and sound work has been heard around the world from NPR's World Cafe, TV Shows such as Grimm and Revenge, and on the big screen in the award-winning films Adam, WTC View and the documentary Making It. In addition to touring with his band, The Hiders, Mr. Alletzhauser has also played music on the theater stage appearing in Cincinnati Ensemble Theater's Hedwig & The Angry Inch and Always…Patsy Cline.
Join our community of supporters and we can make a difference
---
More Ways to Learn About this Cause