We are a team of Jewish artists from Vancouver, BC. We collaborate together on our passion projects. Many of us are professionally employed by big budget American productions that are filmed in Vancouver and we develop our own projects during our spare time.
During the summer of 2014 we produced a short film titled NOTE IN THE OAK, starring Carmel Amit and Moshe Mastai, our film was the official selection at the following film festivals:
Vancouver Jewish film festival – Vancouver, Canada (Nov. 2014)
"Cinema DOC" film festival – Rome, Italy (Feb. 2016)
"Move Me" film festival – Antwerp, Belgium (May. 2016)
London monthly film festival – London, UK (Nov. 2016)
Best international independent film festival – Karlsruhe, Germany (Dec. 2016)
"Reflections of Spirit" film festival – Erlangen, Germany (Dec. 2016)
The story was inspired by true events that took place in New Jersey in 2012 and during the past two years we have developed this short into a feature film (100 minutes) and we are now ready to produce it in 2017.
Our hero is, Joyce, is a homecare provider. Following the death of her long time patient she goes on a quest to find his estrange son, Corry, to bring him to his father's grave.
Like many successful stories we have a nice mix of suspense, laughter, hope, heart, violence and a good slice of a Jewish culture. However, the feature script is not yet fully complete. Some vital elements are still missing.
This is where we are seeking your participation.
We need your help to secure some licensed Jewish artistic material, these poems and pieces of music are essential to our plot and without it, our story will be good but missing some of the key Jewish elements that it requires. Since Jewish culture and heritage is so important to us, we are reaching out for your help on this portion of our budget. Any assistance is so greatly appreciated.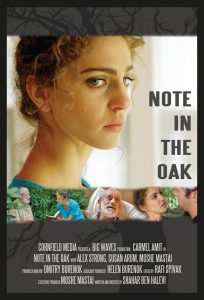 Join our community of supporters and we can make a difference
---
More Ways to Learn About this Cause