Marcus J Freed needs a miracle. Let that miracle be you.  Nov. 3 while Marcus was walking home from synagogue, he was hit by a car and rushed to Cedars Sinai hospital for emergency brain surgery. His parents flew in from London on a one-way ticket and began praying by his side. Miraculously Marcus came out of the surgery successfully, but his brain continued to bleed and Tue Nov 7 he returned to the ICU and had a second brain surgery.  He miraculously survived and finally had the tubes removed from his brain, but is still recovering in the hospital. Please pray for a full recovery; his Hebrew name is Harav Matisyahu Joel Baruch Ben Gitel.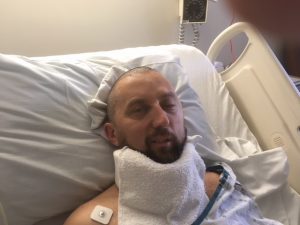 TRAGICALLY we do not have the identity of the driver who hit him. Thus no one's insurance is going to cover Marcus' medical costs. As an artist, Marcus does not have private insurance or disability coverage to cover his bills and keep him afloat while he recovers. There is no safety net when you are an artist.
Marcus J Freed has dedicated his life to being a Jewish teacher, actor, and author. He has taught Torah values and life lessons globally through his writing, one-man plays, books, bibliyoga, and the hundreds of dynamic, creative Shabbat services he's led throughout the world.  He's made us laugh, stretched our bodies and souls. He's given so much to so many of us, now it's time for us to give back to him.
But Marcus only has basic public health insurance, which covers very little. Thank G-d he survived. The doctors are amazed at his resilience and are hopeful he will make a full recovery, but beyond medical bills insurance doesn't cover, Marcus will not be able to work for awhile.  He has no sick leave, no disability coverage.  I started this campaign with a goal to raise $100,000 to help cover medical costs, post-care and living expenses while he recovers, but because he had a second brain surgery and we don't know how long it will take him to be back to 100%, so I increased it to $250,000.
This is an impossible number for Marcus alone, but if everyone whose lives he's touched and who are inspired by his life, gives we can reach this goal,  enabling him to continue to enlighten our world.
NEW: 11/8 the Jewish Journal wrote an article on this inspiring story and campaign.
If you've seen Marcus perform one of his one man shows on the biblical kings, read one of his Kosher Sutra books, listened to one of his lectures, ate Shabbat dinner at his home, taken one of his biliyoga classes, attended one of his Sabbath services, was inspired at one of his Soul Revival sessions, prayed with him at a JConnect festival tent, heard him blow the shofar or give a dvar Torah at Pico Shul, is lucky enough to be his friend or received the kindness he shows everyone, please give today and share this campaign.
If you haven't seen Marcus perform, click HERE to view his YouTube page.
His parents, standing watch at his bedside day and night, are concerned the lack of support  for US citizens and are terrified of this financial burden. They were planning to sell their home. They reluctantly and graciously said yes when I asked to create this campaign. They are deeply grateful for everyone's generosity.
Together we can surpass $250,000 and give him enough funds to pay his bills, take time to recover, regain his strength and continue to feed our souls.  If we're able to reduce the medical bills or find other sources of support, we will donate any additional funds to Jewish charities.
We are proud this campaign is under the Rabbinic supervision of Rabbi Yonah of Pico Shul.  Obviously, he knows Marcus, he knows me well and knows the CEO of Jewcer that is hosting this fundraiser and donating their fees.
Give now, give generously and share this with everyone who has had the honor to have met Marcus OR is inspired by his life.  Now is your chance to uplift an artist, teacher, and actor who's uplifted so many of us! Thank and G-d bless you!
Jewcer is generously waiving its fees so more money goes to help Marcus (credit card transaction fees still apply).
Support this cause and make a difference
---
More Ways to Learn About this Cause