UPDATE
Wednesday  November 14, 2018
After days of being attacked with more than 300 rockets on Sderot and surrounding communities, after direct hits on our businesses, homes, buses, after days of once again, living in bomb shelters, yes there is a "ceasefire" with Hamas.  Defense Minister, Avigdor Lieberman, resigned over this ceasefire. Mr. Lieberman was one of the only Ministers to visit Sderot in the past 6 months of violence. We have suffered at the hands of Hamas for 12 years in Sderot, these past 6 months especially harsh. A ceasefire to Hamas is to regroup and rearm and hit us harder in a matter of weeks. This is the 12th ceasefire in the past 6 months.
With every wave our food, water and medical supplies are depleted as thousands live in bomb shelters for days. In the past 3 days, chabad has supplied 24,000 bottles of water, 2800 meals, 2000 packages of diapers and 700 cartons of baby food. In addition, 5500 Chayalim are stationed on our borders and we serve hundreds of hot meals per week to those in need of a rest from the border.
We must restock and be prepared. We care for the sick, elderly, frail and babies.
Chabad Sderot has been on the front line for 25 years caring for the citizens of Sderot regardless of ethnicity or religious affiliation and has been recognized as a humanitarian organization.
Tuesday November 13, 2018
Sderot is at war and we need your help NOW!
Click ob Link to See Times of Israle Coverage of Sderot and Surrounding Areas
https://www.timesofisrael.com/sides-gird-for-fresh-fighting-after-dozens-of-rockets-gaza-airstrikes-overnight/
To reach us by phone in the USA, please call (720) 477-0690
Click Below to see rocket hitting Sderot
PLEASE SHARE THIS ON YOUR SOCIAL MEDIA AND WITH ANYONE YOU KNOW! WE NEED HELP!
SDEROT HAS TAKEN DIRECT HITS TODAY!
We are under attack as I write this. Please help us help the people of Sderot.
90 rockets fall in Sderot, direct hits to buildings, homes, buses. 4 people in critical condition, Thousands suffering from shock including HUNDREDS of children in shock,. We are living in bomb shelters once again.
Hamas will not stop. We have been living with their "peace fires for the past 6 months".
We are in desperate need of food, water, and medical supplies for our people. Chabad Sderot has been on the front lines. We are not politicians or military experts.
We have a job to do and it is providing for the sick, elderly, frail, and children. If you scroll down you will see what we have been going through since last March.  Our shelters and store house are depleted. Chabad Sderot is providing food, water, medical supplies, transportation and other essential needs to the sick, elderly, and children.
WE NEED YOU NOW! WE ARE AT WAR!
Sderot, Israel has been experiencing one emergency after another. From rockets being fired out of Gaza to an unexpected rainstorm that caused intense flooding, the people of Sderot are suffering. Chabad of Sderot has jumped in to help with supplies for the IDF soldiers as well as those in shelters and those affected by the floods. But they need your help to continue supporting these victims!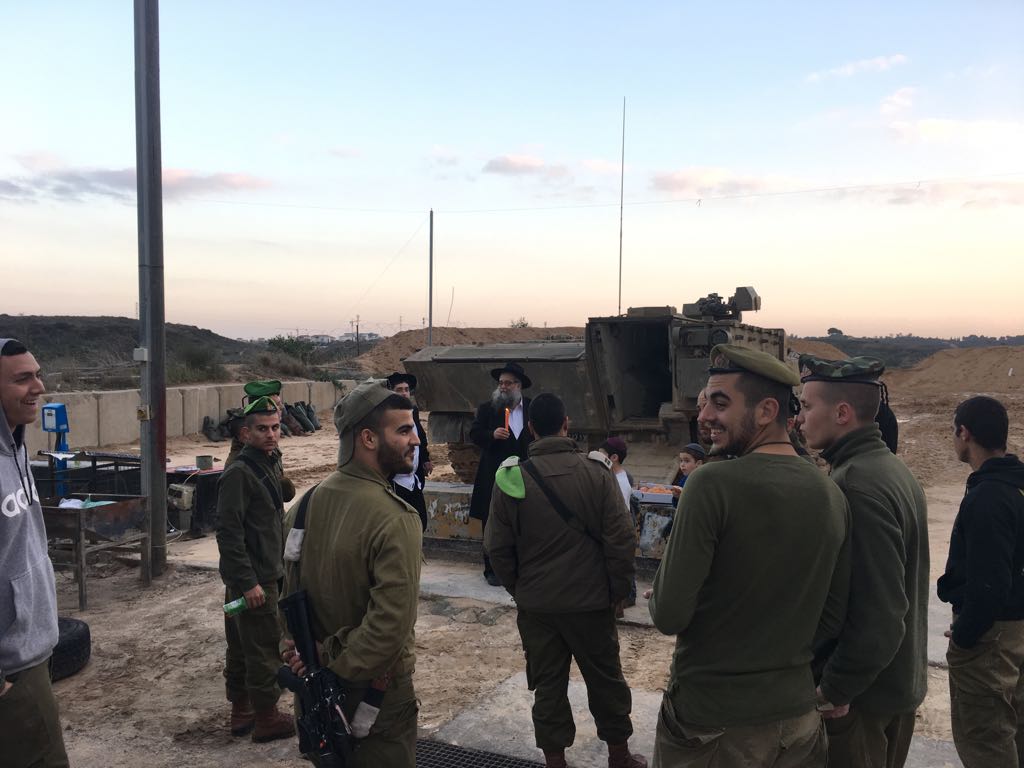 Pictured above is a weekly distribution of care packages to IDF soldiers
Latest News From Sderot
Below you will see updates of the latest attacks and troubles facing the people of Sderot. We needed to be prepared ALWAYS. Temporary cease fires are just that, temporary, and they are initiated by Hammas so that they can regroup.
June 20, 2018 Update: KASSAM rockets are being fired at Sderot and southern Israel. Last night 45 rockets were fired and from 1:45 am until dawn Sderot residents hid in bomb shelters. Pictured below is a police officer handling a mortar shell near a nursery school (Photo courtesy of Eshkol Security) and a home that took a direct hit from rocket fragments.

June 17, 2018 Update: Incendiary kites caused fires in Sderot (Sapir College fires pictured below) and surrounding areas once again this Shabbat.
Chabad: With gratitude to Hashem, we were able to get back to our "normal" routine and delivered 347 Shabbat packages. Chabad works year round in hunger relief and as a safety net for hundreds of families. Low income families can not survive without one of the many amazing organizations in Israel. We try to do our part and it is only with your help that we succeed. For our work we were recognized by the Prime Minister (pictured below).


June 14, 2018 Update: Sderot is under water due to intense rain flooding! (Read more here)
Chabad: During our 2 days of flooding, Chabad assisted 273 families bringing food, water, and critical supplies. Each package contained, canned fruits and vegetables, canned tuna, 8 liters of water, a flashlight with batteries, toilet paper, sanitary products and medical supplies as was needed.

Support Chabad's Tireless Efforts to Ease the Suffering of Sderot!

June 14, 2018 Update: We are thankful for the relative quiet on our border.
Unfortunately, this quiet in violence does not mean quiet for us in Sderot.
Chabad: We, in Sderot, are in a constant state of vigilance. Our children live in constant anxiety and we are doing our best to get them away to a safe and happy environment. History of the past 10 years has shown us that Hamas regroups during these times. We must be vigilant and take care of those who can not take care of themselves.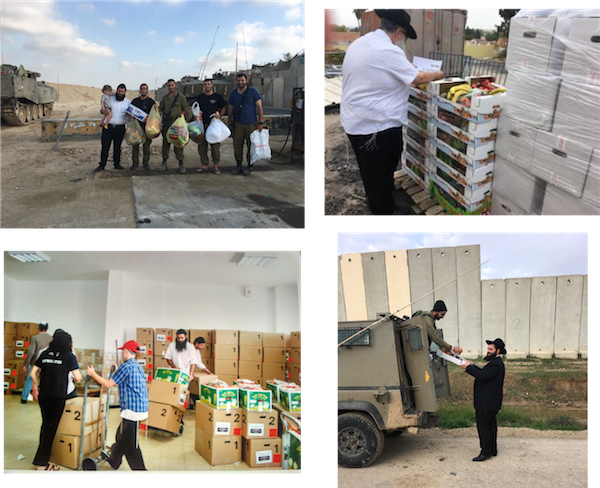 May 28, 2018 Update: IDF official statement, "Southern residents must prepare bomb shelters now".

HOW YOU WILL HELP
As each hour passes Chabad is hard at work making sure shelters are stocked with food, water, blankets, and activities for children. There is a critical need for air conditioners in many shelters. We also need to relocate our summer camp to get the children away from the trauma. But we cannot do this without your support!
Sderot, a low-income city just 1 kilometer from the Gaza border, and acts as a buffer between Gaza and the rest of Israel. As the closest city to Gaza it is crucial to the security of Israel on its southern border. The people of Sderot are a constant target, living in fear of rockets and mortars, running to shelters every time the sirens sound, at all hours of the day and night. The IDF and Israeli government work hard to protect them, but they can only do so much. Many residents of Sderot (40% of them children!) already suffer from anxiety and PTSD from past conflicts. Many victims of this constant terror are unable to return to work, affecting their livelihoods and local businesses. Businesses are having to close. Children are once again living in fear and terror.
Chabad of Sderot has been on the front lines for 25 years. Our programs support IDF soldiers, the elderly, children, and the needy. We provide services and supplies to IDF soldiers, daily hot meals, weekly food packages, medication, after school children's programs, summer camps and trips and much much more. Your support will contribute to this aid and so much more than words can ever describe!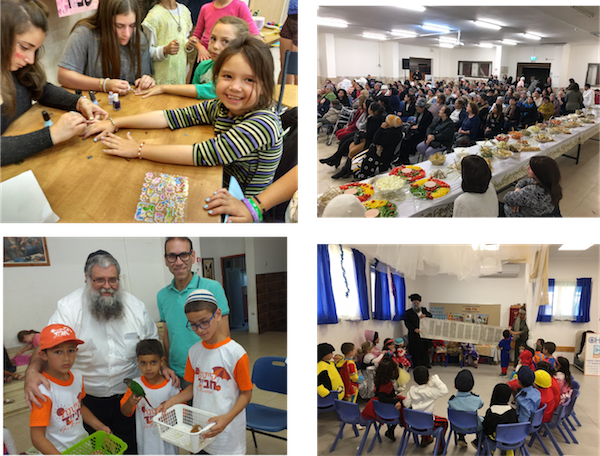 Testimony from an IDF Soldier Serving in Gaza
An excerpt from Ophir Maman's letter to Breaking the Silence:
"Do you know how long it took me to stop being afraid of a kettle whistle? Years, years.
I remember the first scene of casualties in Sderot, I was there. On uniform. Three whistles and then booms that come as if the sky were being torn, but what was really torn were the internal organs of 50-year-old Mordechai Yosefov, who was killed on the spot, and the hip artery of Afik Zahavi Ohayon, an only child at the age of 3 who died at the entrance to his kindergarten, right next to his severely-wounded mother. He died right in my arms and those of another fellow who was trying to give him first aid.
To this day, I recoil for a moment when I hear the 'crackle' of a megaphone operating, because that's how the red alert starts.
I taught children at risk, those with the usual issues of a problematic family, social difficulties, it is not easy to be a child anywhere. But in Sderot? I raised children who would hear red alerts and freeze, children who hear the red alert and pee in their pants, children who hear red and go into a powerful, crazy panic attack. Do you have any idea what it does to a child's mind and self esteem, to lose control in front of other people? What does it do to his parents?
In short, Breaking the Silence, I very much hope that you will invite me to testify. I have a lot to tell. I am certainly willing to tour the world at your expense, and to express my deep thanks to the soldiers, the IDF and to those who dedicate everything they have to keep us here."
THUR OCTOBER 17,2018
SDEROT IS UNDER ATTACK AGAIN!!!!
LIFE IS A LIVING NIGHTMARE!!!!!
SDEROT IS 400 METERS FROM THE GAZA BORDER AND THE BUFFER BETWEEN GAZA AND THE REST OF SOUTHERN ISRAEL!
Hundreds of rockets and mortars land in Sderot with direct hits even as far as Beer Sheva!
While the emergency cabinet convenes, once again, to find a solution and promises a swift response, Sderot residents are once again living in bomb shelters!
While Politicians debate, Sderot suffers as it has for 12 years! Chabad of Sderot has a job to do and it is to help the residents of Sderot.
Hundreds of bomb shelters are DEPLETED OF FOOD AND WATER AND MEDICAL SUPPLIES!!!! WE HAVE OLD, SICK, AND FRAIL RESIDENTS WHO NEED US NOW!!!We have been caring for the people of Sderot for 25 years. we are non political and turn away NO ONE.
We still have more than 50 bomb shelters to refortify and replace the air conditioning.
Over the past 6 months we have given more than $100k in aid to the people of Sderot .
100% OF YOUR DONATION GOES TO HELP THE RESIDENTS OF SDEROT, THE ELDERLY AND SICK AND FRAIL
We NEED YOU NOW!!!!!!
Click on Link Below to see the ongoing terror situation
https://www.ynetnews.com/articles/0,7340,L-5373505,00.html
Friday August 17, 2018 UPATE
Sderot has been hit hard this week. Our bomb shelter supplies are depleted. We need your help NOW.
As the High Holidays approach, Chabad Sderot is preparing on multiple fronts.  As in every year, we will be providing food and supplies to more than 500 low income families in ADDITION to the 300 families served WEEKLY, year round.  In years of conflict, it is even more difficult as many working families have lost part of their income over the past 3 months and need supplemental assistance. In addition,  Chabad Sderot will host more than 500 Chayalim during the Holidays of Rosh Hashana, Yom Kippur, and Succot.
We ask you for your assistance.
Preparing for Distribution to 500 FamiliesClick Here to See Coverage of Sderot's 10 Year Frustration
https://www.ynetnews.com/articles/0,7340,L-5326266,00.html
Thursday August 9, 2018
Rockets continue to fall on our beloved Sderot.
WE NEED YOU NOW!
Most of Sderot Residents spent the night in bomb shelters as Code Red sirens continue to wail. We are living in a war zone.
Our volunteers have been going from shelter to shelter supplying critical food and water and medical supplies. All activities have been shut down by the army.
Wednesday Aug 8, 2018
10:30 AM EST
UPDATE   4'15 PM EST   11;15 PM ISRAEL
WE ARE SHELTERED AS ANOTHER ROUND FALLS ON SDEROT.
AS WE HAVE WARNED FOR THE PAST 3 MONTHS, HAMAS DOES NOT MAKE PEACE! THEY REGROUP!
WE NEED HELP!
WE ARE UNDER ATTACK AS OF THIS WRITING SHELTERED IN BOMB SHELTERS.
HELP US!!!!!!!!!!!!!!!!!!!!!!!!
SDEROT HIT BY A BARRAGE OF  36 ROCKETS!!! UNDER FULL ATTACK BY GAZA!!!!!!!!
Click Here to See raw Footage of Rocket Attack Jerusalem Post
https://www.jpost.com/Arab-Israeli-Conflict/Two-injured-as-Gazan-rockets-land-in-Sderot-564411
INJURIES,FIRES,
SCRAMBLING FOR BOMB SHELTERS. THE CITY OF SDEROT IS IN TOTAL DARKNESS!
ROCKET FALLS 50 METERS FROM CHABAD HOUSE
WE NEED YOUR HELP NOW!
This is the worst attack 5 years. We have been preparing for this. We will be in critical need of food, water, and medical supplies for the bomb shelters as they will be depleted.
PLEASE HELP NOW!!!!!!!!!
Below is a post by a Sderot resident yesterday, some of what he says in English, "Go explain to anyone who does not live here what it is like to be under constant attack. In reality we live on a battle field.Go explain to someone watching the news and hears that there were no injuries, just trauma victims,go explain what a trauma victim is,fear and panic that will never leave them. Go explain to someone living in Tel Aviv what it means to be a soldier without a uniform for your entire life, always on alert. Our hearts jump in fear from noise from the sound of megaphone or even a passing truck."
Post From Sderot on Living Under Constant AttackWE HAVE BEEN WARNING ABOUT THIS FOR MONTHS. WE NEED YOU NOW!!!!!!!  OUR SHELTERS WILL BE DEPLETED WITHIN HOURS!!!
WIDESPREAD DESTRUCTION! ENTIRE CITY UNDER CODE RED ALERT AND IN SHELTERS.
Hamas leaders are forcibly leading us into a situation where we will have no choice, a situation in which we will have to embark on a painful, wide-scale military operation," Liberman said as he visited the southern city of Sderot.
TO CONTACT US IN THE USA PLEASE CALL
(720) 477-0690
Chabad Sderot has been campaigning for your help for 2 months. WE HAVE LIVED THIS FOR 15 YEARS AND WE KNEW WHAT WAS COMING.
YOUR GENEROSITY SAVED LIVES!
WE NEED YOUR HELP NOW TO RESTOCK FOOD WATER MEDICAL SUPPLIES AND TO COMPLETE THE REINFORCEMENT OF OUR BOMB SHELTERS AND TO INSTALL DESPERATELY NEEDED AIR CONDITIONERS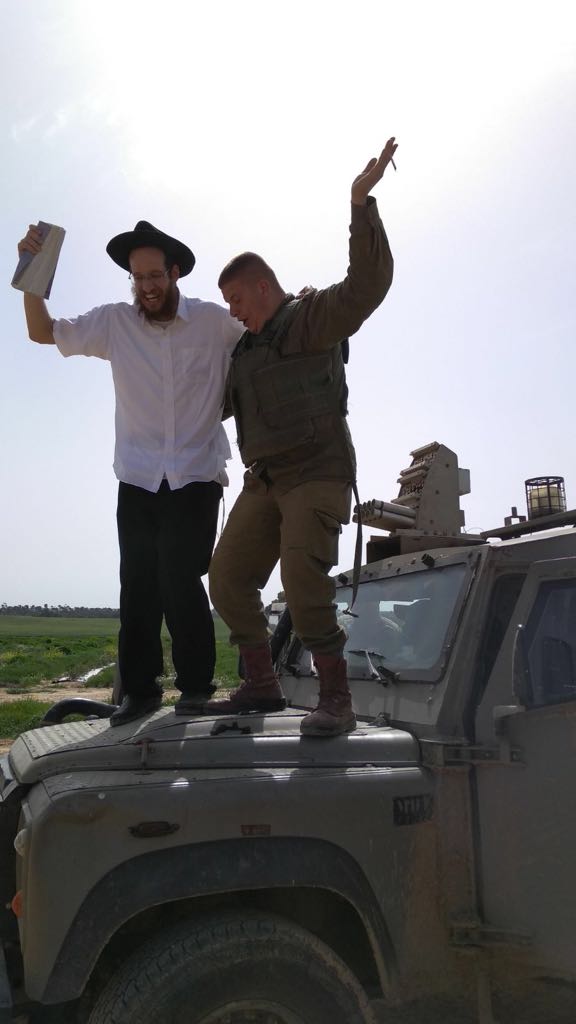 Please visit our Facebook and website. Although it is in Hebrew, pictures and videos will tell you more of our story.
100% of funds will be used for the residents and soldiers of Sderot. All donations are tax deductible.
If you have any questions, feel free to contact us in the USA at (720) 477-0690
Thank you!
Join our community of supporters and we can make a difference
---
More Ways to Learn About this Cause