"The best way to predict the future is to create it" 
(Future Ndex Moyo)
We have already started crossing the musical bridges we are building! Our Africa-USA project was an enormous success.  How did we do it? How does it work?
The Healing Light Project  brings people together to learn about, share and CELEBRATE our differences. We'll learn a song, a dance; we'll share our traditions, culture, language and a traditional meal. We'll laugh and cry and revel in the joy of knowing that together we are creating one amazing world.
We are musicians and entire families who live in different countries around the world. We are different culturally, traditionally, by the language we speak, and in the way we live our lives. These differences make us unique. These differences attract us!
In March founding members Rahel and Mr. Future Ndex Moyo and the members of the Amavevane Performing Arts group met  for the first time in Africa to launch the Projects' first tour.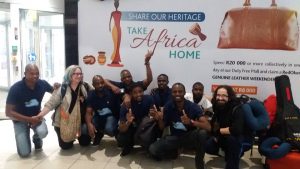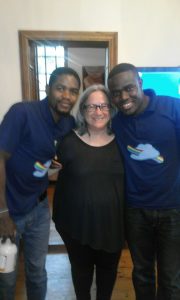 A series of concerts, educational workshops, radio interviews, and a date in a recording studio took place in communities in and around Johannesburg. Local talent was featured at concerts too!
"If we can find peace within ourselves, we can make peace throughout the world. Listen to the sounds…"  (Rahel)
Watch THE HEALING LIGHT PROJECT sing about PEACE! 
The early Mishnaic Sages understood tikkun olam as G-d's commandment to help the less advantaged. Based on this precept they wrote legislature to repair societal injustices such as divorce and freeing slaves. The mystics or Kabbalists equated tikkun olam with G-d's act of tzimtzum, the contraction of G-d's Light for the sake of creating a physical world for humankind. Repair is understood then on two levels: the sacred and the material.
Watch students at the Ebenezer Marantha School in Johannesburg learn and Israeli song and dance!
Watch and learn about mbube/isicathamiya musical traditions of Zimbabwe.
Tachlis – –
Musicians are best at making music. The business of music is always a challenge. A lot goes into bringing people together especially when they live in different countries. You've probably seen videos that feature musicians around the world playing the same song? These are usually productions pieced together digitally by talented engineers.
The Healing Light Projects' concerts and workshops can take place anywhere even in your home! The goal is to meet musically people-to-people, to mingle, learn and share in person. That's how we make dreams come true!
With your help we can continue to bring musicians AND audiences physically together in the same place at the same time and on the same continent! 
Your contribution takes care of the tachlis, the business of music; travel by air & ground, meals & accommodations/food/refreshments, sound equipment, marketing and promotion (fliers, posters, banners, ads, articles etc.), bookkeeping & office needs, studio/audio/video/webhosting costs and fees, rehearsals & music preparation, crew aka roadies, and so much more.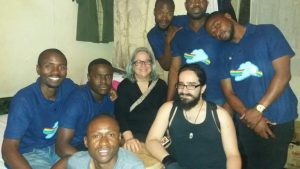 Will you help build musical bridges to bring people together in celebration? Join us to heal, fix and repair ourselves to improve G-d's world and experience the joy of being human!
The USA-AFRICA tour featured: 
Amavevane Performing Arts Group: A mbube/isicathamiya musical group originally from Zimbabwe featuring songs in English and Zulu choreographed with traditional dance.
Acoustic Breezes – Rahel: Award-winning American-Israeli singer-songwriter  and therapeutic musician sharing her Jewish culture and heritage with songs sung in English, Hebrew and Yiddish and traditional Israeli and American folk dances.
Toby Tobias: South African singer-songwriter sharing a musical journey from Johannesburg to Jerusalem to New York where he currently resides.
Isiyaking: A 19-year old South African rapper from the Yoga4Alex organization.
Eran Limor: 3D Artist and Multimedia Specialist documenting the tour.
Join our community of supporters and we can make a difference
---
More Ways to Learn About this Cause