"The best way to predict the future is to create it"  (Future Ndex Moyo)
Will you join our tour?
Tachlis… We are already booked: 
Janco Dada Museum in the Ein Hod Artist village for a music and art collaboration
There are a number of people ready to host house concerts too.
A lot goes into bringing people together especially when they live in different countries.
Your contribution will help in the following ways: 
Wheels: getting around in the air and on the ground
Meals & Accommodations: food/refreshments
Sound equipment & audio/visual documentation
Marketing and promotion (fliers, posters, banners, ads, articles etc.)
Bookkeeping & office
Our Africa-USA project was an enormous success.  How did we do it? How does it work?
Take a moment to click & watch video clip. 
Visit our AFRICA – USA photo gallery.
The Healing Light Project  brings people together to learn about, share and CELEBRATE our differences. We'll learn a song, a dance; we'll share our traditions, culture, language and a traditional meal. We will grow friendships all around the world. We'll laugh and cry and revel in the joy of knowing that together we are creating and living together in one amazing world.
We are musicians and entire families who live in different countries around the world. We are different culturally, traditionally, by the language we speak, and in the way we live our lives. These differences make us unique. These differences attract us!
In March 2017 founding members Rahel and Mr. Future Moyo and the members of the Amavevane Acapella group met  for the first time in Africa to launch the Projects' first tour.   A series of concerts, educational workshops, radio interviews, and a date in a recording studio took place in communities in and around Johannesburg. Local talent was featured at concerts too!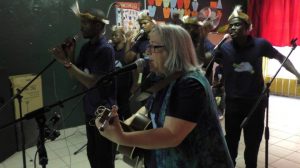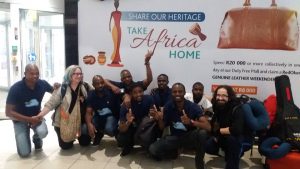 "If we can find peace within ourselves, we can make peace throughout the world. Listen to the sounds…"  (Rahel)
Watch THE HEALING LIGHT PROJECT sing about PEACE! 
Will you help build musical bridges to bring people together in celebration? Make new friends. Join us to heal, fix and repair ourselves to improve G-d's world and experience the joy of being human!
Join our community of supporters and we can make a difference
---
More Ways to Learn About this Cause