Make this year's Chanukah gifts the trendiest yet with the Fidget Dreidel!
Earlier this year, the fidget spinner took the world by storm. You couldn't go anywhere without seeing a kid (and many adults) spinning away as they sat in class or at a coffee shop trying to meet a deadline. Although there isn't any scientific research to back it up yet, the toy was promoted as a way to relieve anxiety and help those with trouble focusing. When I saw this toy for the first time, it reminded me of spinning dreidels. Light bulb! I thought about another purpose for the toy: a way to connect Jews with their roots. Thus the Fidget Dreidel was born.
What is the Fidget Dreidel?
This unique spinner is the first dreidel that has both the Hebrew letter Pei as well as the Shin. The universal design of the Fidget Dreidel unifies the Jewish people throughout the world by having one side representing the phrase "a great miracle happened there," (Nun, Gimmel, Hei, Shin) while the reverse side representing "a great miracle happened here" (Nun, Gimmel, Hei, Pei). The Chanukiah in the center of the spinner functions as a pointer, with a shamash that indicates the winning letter.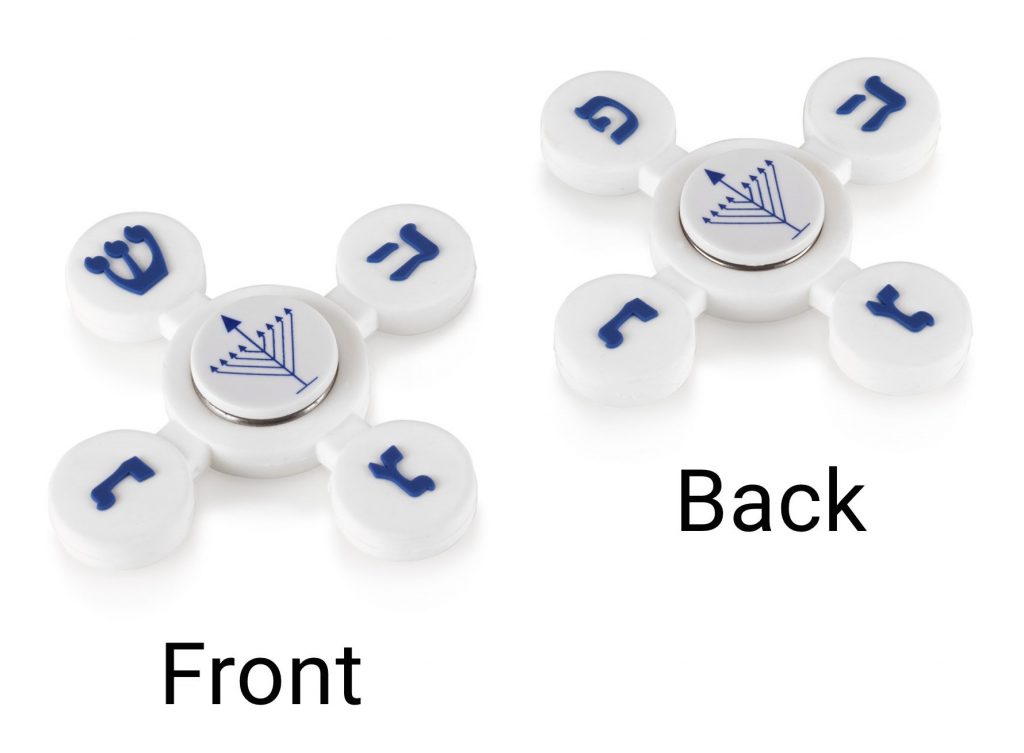 Oh dreidel, dreidel, dreidel, I made it out of…durable, flexible, non-toxic silicone for fun and safe play for kids ages 3 and up. The Fidget Dreidel also comes in a free gift box. As of now, more than 11,000 Fidget Dreidels have been ordered for Chanukah!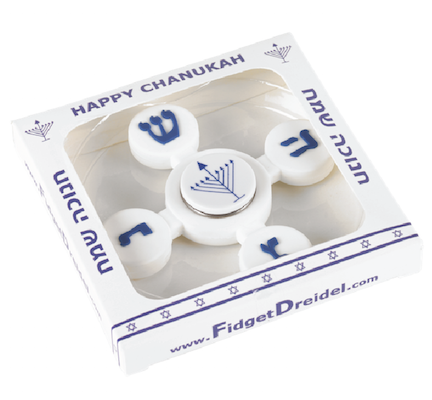 Yes! I'm ready to get the coolest gift this Chanukah season! 

When I first got the idea for the Fidget Dreidel, I made a prototype out of construction paper, chopsticks, and two metal washers! Then we got down to designing and manufacturing a real product. There were many challenges along the way, but we figured out how to make these safe and kid friendly. Right now, the Fidget Dreidel is only available for shipping in the US.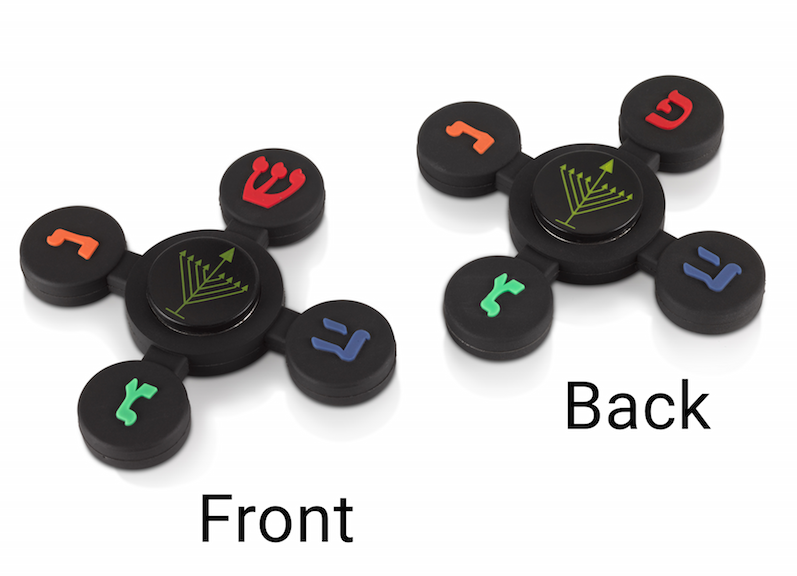 Why Should You Support the Fidget Dreidel?
Not only will you be the coolest parent, aunt, uncle, brother, sister, cousin, friend, or coworker, but you'll also be helping other people to be the coolest parent, aunt, uncle, brother…you get it!
In order to get these toys out in time for Chanukah we need your support. It will help speed up manufacturing time and get Jews all around the nation spinning together on Chanukah!
Timeline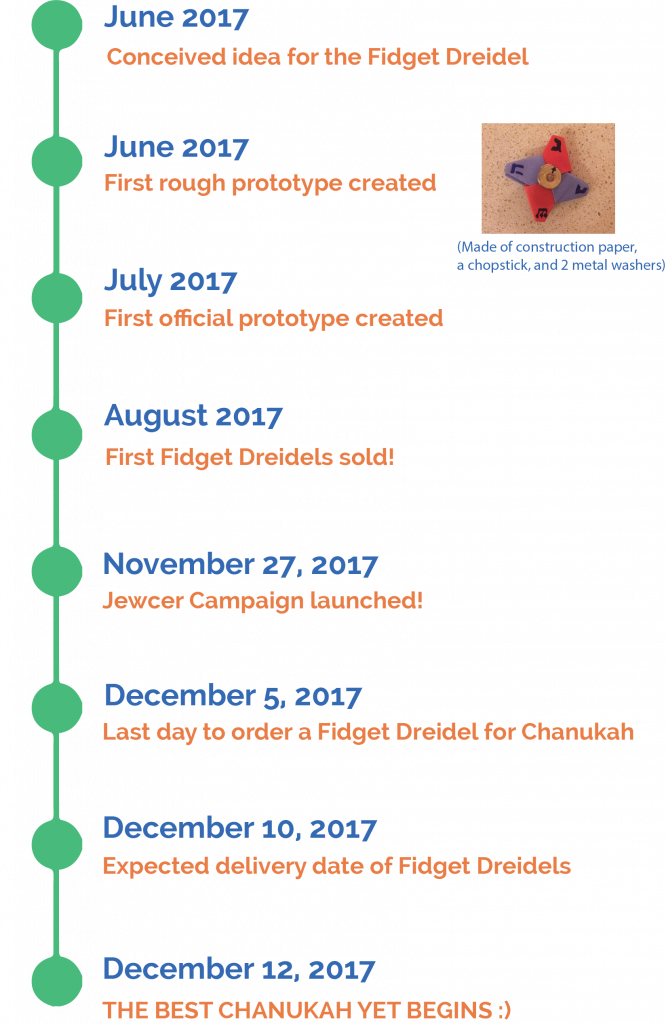 This year, whether you want to connect with your inner child, support an Israeli innovation, or spread the Chanukah cheer nationwide, choose the Fidget Dreidel.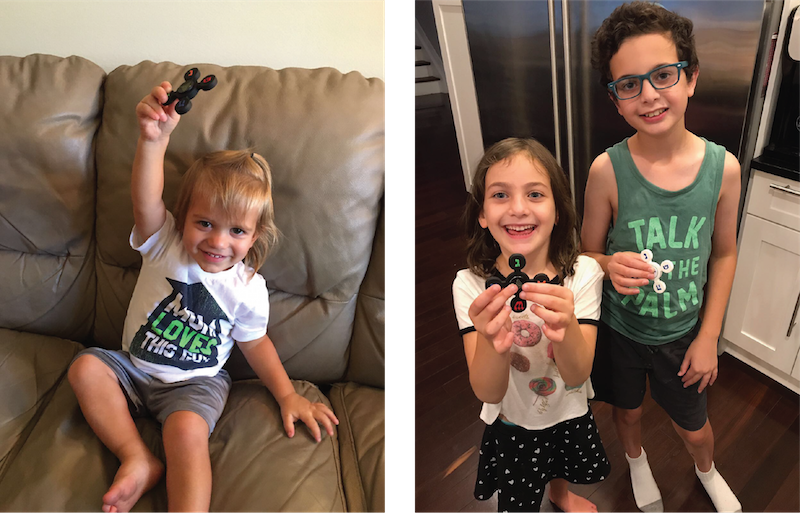 Join our community of supporters and we can make a difference
---
More Ways to Learn About this Cause