Hidabroot is Committed to Helping Israeli Children and Families of Children with Cancer!
Hidabroot provides financial and emotional support, weekend retreats, resting days, spiritual inspiration, help at home, hot meals during treatment and more.
At the weekend retreat family members will enjoy luxurious hospitality,  a restful and relaxing environment, spiritual inspiration and emotional support to confront the tremendous challenge that lies on their shoulders.
Your donation will help us provide these children and families with small moments of calm and tranquility while they face such tremendous pain and suffering.
More About the Hidabroot Organization
Hidabroot is a non-for-profit agency providing media services such as a television cable network broadcasting a huge variety of Jewish content, A Massive Jewish Website in English, Hebrew, French, Spanish and Portuguese, a Kosher video streamer, Inspiring Jewish events and weekend retreats that promote awareness of Jewish life and strengthen Jewish identity among religious Jews as well as unaffiliated Jews worldwide.
Rabbi Zamir Cohen the founder of the Hidabroot organization blesses a cancer patient.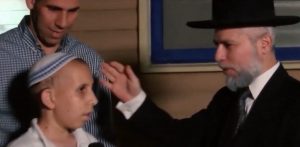 Social Activities in Hospitals:
Entertaining Sick Children – You feel the difference when you see the smile on their faces!
Help at Home and Hot Meals during Treatment:
By providing the families with the support they so desperately need, we ease the tensions at home and help the parents relax and rest.
Weekend Holidays and Resting Days for the Families and Children:
Rabbis and Families in Joint Prayer at Holy Sites in Israel:
Visit our English website at: Hidabroot.com
Support this cause and make a difference
---
More Ways to Learn About this Cause