The Akedah
Have you ever tried to put yourself in Abraham's shoes as he ties up his son because the Divine asked him to sacrifice his "only son, the one that you love?" So many have! Kirkegaard, Buber, Martin Luther! Even artists such as Ghiberti. But one interpretation caught me in my tracks.
I thought I'd read and heard so many. What was Abraham thinking? Was he going to do it? Was he acting on absolute or blind faith? I started to feel a bit, well, numb to the different angles and ideas people used to understand the story.
That is, until I heard Et Shaare Ratson.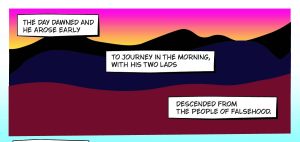 Who Wrote Et Shaare Ratson?
Et Shaare Ratson is a liturgical poem, a piyyut, written by Rabbi Yehuda ben Shmuel ibn Abbas in the 12th century. His poem tells the story of the Binding of Isaac, but right in the middle the narration switches from Abraham to Isaac. From father to son.
As many people recount, Isaac at first does not know what is happening. "Where is the sheep?" he asks his father. Some interpretations leave it at that, but not At Shaare Ratson.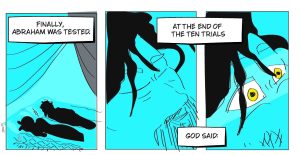 A Surprising Twist
In this retelling, Isaac becomes a full participant. "Bind my hands!" "Sharpen the knife!" Isaac encourages!
It is in that moment when the sacrifice calls for his own death that the story completely changes for me.
Now when I read and hear the story I wonder…
Are we the binder? Or are we the bound?
Risks and Challenges
The designs are ready. The printing proofs have been reviewed, all I need is your support to print and mail Binder Bound and the Mizbeyach out! For those who support soon, I hope to get copies into your hands before the 2023 holidays. But no guarantees. Otherwise, mailing goes out as support comes in.
Support this cause and make a difference
---
More Ways to Learn About this Cause