My name is David Collier. I am based in London in the UK. Funding for fighting BDS or antisemitism is difficult to raise here. On the other hand, London is the world capital of BDS activity. The DNA of the movement, its power-base, they are in the UK. What happens here impacts what happens everywhere else. I think it is important to understand this, that funding against BDS and antisemitism in the UK is vital in the global fight.
I spend my time researching antisemitic / anti-Israel activity in the UK. Helping Jewish students by exposing the antisemitism and raw hatred that you can always find in anti-Israel activity. About three years ago I started blogging about these experiences at 'Beyond the Great Divide'
Much of the time I am undercover, going to BDS, Israel hate events, recording and reporting on them. I have marched with them in London. I have gone to their demonstrations. I have been to BDS training sessions.  If there is a big hate-fest, I will be there.  I witness, I record, I publicise the findings. I understand BDS better than most because I have been to hundreds of their meetings. This gives me an advantage when fighting back.
Who am I?
I was born in the UK in the 1960's and I spent 19 years in Israel between 1987 and 2006. My journey in Israel was sandwiched between the first 'Intifada' and the 2006 Lebanon war. Having originally arrived to do the 'kibbutz thing', I ended up with my own business, working on tourism related projects with both Israelis and Palestinians as well as providing services to NGO's. By the time the new millennium arrived, if a foreign tourist was detained by the authorities in Israel, their embassy would have had me on speed dial.
I also edited and published an English Language tourist / satirical newspaper designed for non-residents that was distributed nationally and was printed at the offices of the Palestinian Al-Ayam newspaper. Up until the start of the second 'Intifada', I was as likely to be in Jericho or Ramallah as in Tel Aviv or Haifa. In September 2000 I was there on the ground, in Ramallah, Bethlehem, Jericho and Nablus, as the entire process collapsed in violence.
My own experiences have also helped my perspective. At a time in 2000 when the Jericho Casino could not find anywhere in Israel through which to advertise, I was eager to offer my paper as an outlet. We struck a lucrative deal, one I was overjoyed to close, only to see the Casino bombed before the first issue of the ad was published.
A couple of years later, I had just sorted out the return flight from Paris of a good friend of mine, Dominique. She had been in my offices to say thanks, brought cakes and began to tell me how she was going into business for herself. The cakes were an example of the goods she would sell. Dominique had been a waitress in a few tourist bars in the years I had known her and wanted to spread her own wings a little. She left our chat to go and work in Mike's Place, 'our local' live music pub on the Tel Aviv beachfront.   About 2am that night I received a call. A suicide bomber had blown up the pub Dominique was working in, choosing to strike in a central tourist spot. Dominique never stood a chance. That suicide bomber wasn't an oppressed Palestinian from Gaza or Jenin, but a British lad from London or Derby, I am not sure which one killed Dominique because there were two of them.
I sat on the beach and heard the explosion that hit the disco at the Dolphinarium, was walking towards Allenby St as Café Bialik was hit and was watching Crocodile Dundee 2 on Israeli TV when the newsflash came to say Rabin had been shot just a few hundred meters from were I was. A few years before that, I had sat with a gas mask on, alone, and not speaking the language, as Saddam tried pot luck with his Scud missiles.  My full bio can be read here:
Today I find myself in a space nobody else is occupying. In just the last few months I have been to more than 15 universities from Cork in Ireland to Brighton on the South Coast. Everywhere I go, I hold the universities to account. I shed light on the lies being spread and the hate being propagated.
Since I have been doing this work, hundreds of students have made contact. It was never enough for just one person to be doing this. As my work has highlighted what is taking place on our streets and on campus, other concerned British Jews have begun to help me.
Today we are a group of British Jews who understand that we need to fight the demonisation of Israel and of Jews. We cannot just sit back and let the lies spread.
Much funding elsewhere goes on presenting Israel's case, but we should not just be defending Israel, we should be attacking the lies and the hatred. If we do not also take the fight to them, we will forever be reacting to their strategy. It will always be about their narrative.
This is what is different about helping us. We don't produce glossy magazines that talk about how wonderful Israel is, we focus on showing everybody how toxic our enemies are. We want to cleanse the campus environment, you can only do this once other realise how bad the situation has become.
How and when will the money raised be used?
The initiative demands a two-fold strategy, reactive research and pro-active research.  On the one hand we make sure we are present at events that demonise Israel.  Because of the way the groups assist and network, we also have two separate areas for investigation, the university campus and the wider anti-Israel network.
Let me just clarify one thing. This is not a political argument about Israel. We do not oppose criticism of Israeli policy, nor do we seek to stifle healthy debate. We argue that there can be no healthy debate, there can be no progress on anything, until the antisemitic discourse is removed.
In February we published research into the largest anti-Israel movement in the UK. An 80 page document that tried to quantify antisemitism in the movement. At just one demonstration, we found that over 40% of demonstrators were engaged in spreading global Jewish conspiracy theories. That the Jews are somehow behind Charlie Hebdo, 9/11 and so on. We found Holocaust denial and vile hate speech. None of this has anything to do with the welfare of Palestinians. Hatred of Jews is spreading and we need to fight it.
This is a video I took at just one anti-Israel event on campus:
So we need help to fund our central activities.
Going to hate events, recording the hate, publicizing the hate.
Pro-active research into the movements and the people behind them
On top of this there is the equipment necessary to do what we do. Electronic equipment that allows us to record, film and edit, audio and video footage from the events we attend. It is no good just hearing something, you need to prove it was said.
What impact will we have?
Our work can and does have a real impact in the UK.
I have had some notable successes. These are just some of the stories that I broke through some of the work I have done:
Baroness Jenny Tonge being suspended and then resigning: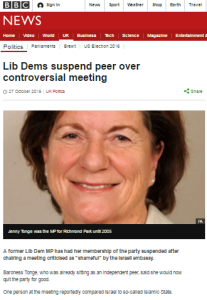 And MP Gerald Kaufman's 'Jewish Money' comment would never have been reported on, if I was not there to record it.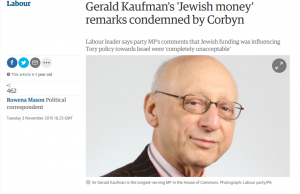 Here is another video I took, exposing the lies of an academic on campus just a few days ago:
In the UK we are making progress in fighting against this hatred. More universities are beginning to understand the problem needs to be addressed, and we are seeing a broader understanding that the swamp that feeds this antisemitism poses a long term threat to wider society too.
There has been a noticeable change in the last 24 months. This year, the university campus began to restrict hostile events, off campus some venues have also refused to host what is viewed as antisemitic activity
But there is so much more we can do. This is worth funding because it is proving to have an impact. More resources = bigger impact.
We have to fight this. These are reports from two separate events I attended. Jewish students should not be living this way: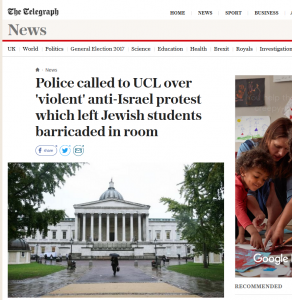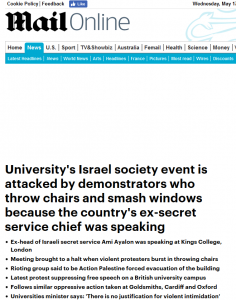 So part of the funding will go towards making sure that this level of anti-Jewish activity does not go unchallenged. That we are there, we can record it, we can challenge it, and we can bring those responsible to account.
The other part of the funding is about the long-term fight. Less instantly rewarding but no less important. Just like the in-depth research into the UK's largest anti-Israel campaign group, the 'Palestine Solidarity Campaign' (PSC). This type of undercover research takes months.  With the publication of type of research, groups such as the PSC eventually have trouble even locating venues for their events. Highlighting this level of dark activity and antisemitism results in cancelled events and in the group receiving less donations as they become societal 'pariah's. Although a slower route, this type of activity is a major long term strategy that requires real assistance and is of major importance.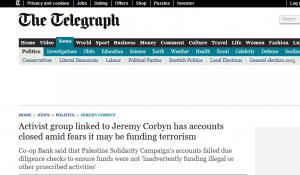 This is why the level of funding being asked for is relatively high. Supporting intensive research into anti-Israel activity requires financial support over the long term.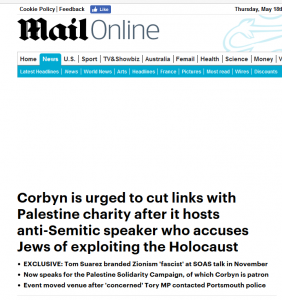 Please consider helping
Although we do receive support from Jewish and Christian Zionists in the UK, we do not have the sizeable Jewish community support in the UK that exists in the USA. But because the UK is the capital of this anti-Israel activity, by supporting us here, you help tackle the roots of this disease.
Our current plans involve setting up nationwide research into UK campus activity and quantifying it from university to university. This project is nationwide, covers every UK campus and is financially challenging. We do believe however, when the full scope of this research is understood, and the findings published, this will be a game changer that could be mirrored in the US and across Europe. This on top of the ongoing research into the off campus anti-Israel groups.
There is so much more we can do to help Jewish students fight against the hate that exists. It is important we assist them, because only by finding and shining a light on the hate, do we provide ourselves with the necessary tools to fight it properly. What happened at UCL (see video above) is unacceptable.  This is Europe in 2017, not 1938. Please consider helping. We cannot do this alone.
Warm regards
David
Support this cause and make a difference
---
More Ways to Learn About this Cause