MY MISSION & DREAM
Hope is especially important in difficult times when people are scared for their future and Israel's media coverage seems worse than ever.
But there are hidden sides to Israel that many don't know: incredible scenery packed into a tiny region and people brimming with kindness, determination and deep courage. Now, with tourism at a standstill,  I wanted to offer you a virtual tour of this special country.
The book isn't about politics. Rather, Angels & Tahina is my love letter to Israel and its people and the 18 lessons I learned while hiking the 1000 kilometer Israel Trail for charity.
I want to spread a powerful message of hope worldwide, now, when it's most needed, when so much seems to be falling apart.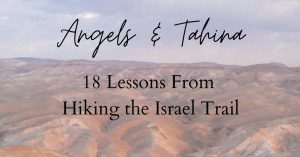 "The next best thing to hiking the trail. Tzippi is a wonderful guide."
Sherri Mandell, Author
The Blessing of a Broken Heart
WHY DID WE CHOOSE TO BACKPACK THE ISRAEL TRAIL FOR CHARITY?
My husband (an Israeli tour guide and writer), 18 year old son, and myself left our work and school to spend two months walking the land for those who couldn't, ALS patients. After watching my mother-in-law lose her ability to walk, talk, and eat due to the same disease, we were determined to do what we could to help find a cure. Our goal was to raise $36,000 for the Israeli non-profit, IsrALS which supports those with the disease and also funds research.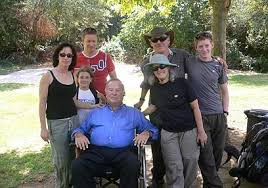 It was one of the hardest things I've ever done, but it transformed me and us as a family. We saw incredible examples of innovation and how "impossible dreams" were being realized by modern pioneers, scientists, farmers. We drew strength and courage from those dealing with ALS. And the human angels we met throughout the country, over 400 people who graciously opened their homes and hearts to those hiking the trail, taught us the true meaning of hospitality and giving.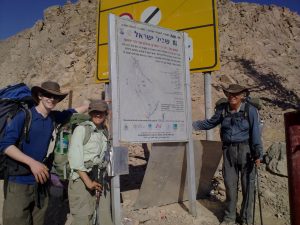 WHERE IS YOUR MONEY GOING?
All the funds will be received and processed by IsrALS, (non profit # 580423242), located at 13 Abu Hushi St., Haifa, Israel.
10% of all the donations will go directly to the amazing work this organization is doing. I encourage you to go to the website and read about how they are assisting families and so much more. The remainder of your support will help cover the costs of publishing, printing and distributing the book. I plan for it to be in print and ebook form mid-September, before Rosh Hashanah.
Your donations can also help me thank many of those remarkable trail angels (a whole chapter is devoted just to them!) by sending them a copy of the book. (Check out the options listed under the different contribution levels).
WE CAN ACCOMPLISH SO MUCH MORE TOGETHER THAN ON OUR OWN!
Each of us has a unique role in tikkun olam, helping to repair the world, a world that now needs our help more than ever.
Together we can:
1) Share Israel's human and geographic diversity and strength
2) Raise funds to help find a cure for ALS
3) Spread a message of hope and let Israel's wonderful trail angels know their hospitality is appreciated!
Thank you for partnering with me by sharing this campaign with others.
Join our community of supporters and we can make a difference
---
More Ways to Learn About this Cause