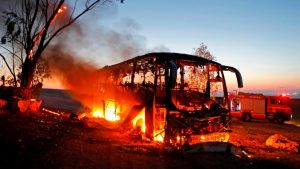 Background
Israelis have to live under a constant threat or rocket attacks from Hamas, Palestinian Islamic Jihad and Hezbollah who fire rockets targeting children and civilians. Recently over 300 rockets were fired into Israel from Gaza. And yet many of the US politicians and media failed to condemn these war crimes.
Our Goal
Our goals is to make the grim Israeli reality of living with the ever-present need to run to a bomb shelter more real and immediate for the US elected officials, media, and public. To do this we are building a service that will automatically publicize the rocket attacks on social media notifying in near real-time politicians, media personnel and other prominent influencers.
Reason for Fundraising
We have a proof of concept that was built by volunteers pro bono but additional funding is needed to subsidize further development and to defray the costs of operating and  hosting the service.
More Information
Visit RedAlert4Israel website or Facebook Page for additional information on the project or email us at RedAlert4Israel@gmail.com.
Support this cause and make a difference
---
More Ways to Learn About this Cause