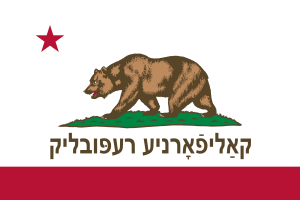 The Yiddish Arts and Academics Association of North America (YAAANA) is San Diego's only organization dedicated to promoting Yiddish language and culture. Help make San Diego a destination for Yiddish enthusiasts! It is up to us to not only preserve but also advance, Yiddishkeit in our communities.
In 2019, our two-and-a-half-year-old organization continued to grow and promote Yiddish. We had 30 events and 5 different Yiddish-language class series. Our events included a Polish Shabbat celebration that brought together Jewish and Polish communities, a multilingual Passover Seder, YAAANA's Second Anniversary Celebration with Yiddish opera and drag queen performances, Yiddish Rosh Hashanah with erotic poetry, and Yiddish Halloween. We also staged – in 5 locations all over San Diego County – the Yiddish play "Kraft" ("Power') by Leah Hoffman, as a part of the San Diego International Fringe Festival. The classes were held in University City, Balboa Park, Pacific Beach, Poway, and Vista. Our mailing list now includes over 1000 Yiddish enthusiasts!
Make sure to visit our website: www.yaaana.org and join our mailing list so you can start participating in our educational and artistic events! All ages are welcome at our events, lectures, and classes.
Our specific goals for 2020 include:
–          Organizing a Yiddish festival focusing on female creativity (July and August 2020)
–          Offering online Yiddish language and culture classes taught by new instructors
–          Making "Kraft" ("Power") – a Yiddish play staged in San Diego in 2019 – available as a movie in digital form
–          Expanding YAAANA's programing outside San Diego county
–          Increasing the number and reach of our advertising media
Please consider making a tax-deductible donation to YAAANA this giving Tuesday! We would appreciate it if you could share information about this campaign with your friends, acquaintances, and mishpokhe.
A groysn dank! (Big thank you!)
The YAAANA Team
Join our community of supporters and we can make a difference
---
More Ways to Learn About this Cause