Tired of seeing Israel unfairly maligned in the media?
Want the world to know what a miraculous place Israel really is?
Join Alan Dershowitz and IGW in doing something about it!
---
With so much anti-Israel bias in the media, on college campuses and in global politics, the world is getting an unfair view of the Jewish nation. Israel Goes World's mission is to combat this negative bias by introducing the world to the real Israel — a diverse, vibrant, democratic, nation that strives to be a light unto the nations.
Israel Goes World (IGW) is proud to support English-language network ILTV, which leverages the power of online media on the frontlines of "hasbara"—the battle for the hearts and minds of people everywhere.
Now you can help counteract the negative bias with us, as we sponsor "One on One with Alan Dershowitz." The program features the renowned civil rights attorney, Harvard professor, and pro-Israel activist, speaking to and answering questions from politicians, authors, academics, entertainers and average individuals around the world. With unrivaled clarity, Professor Dershowitz sets the record straight and offers insights into the vibrant, democratic nation.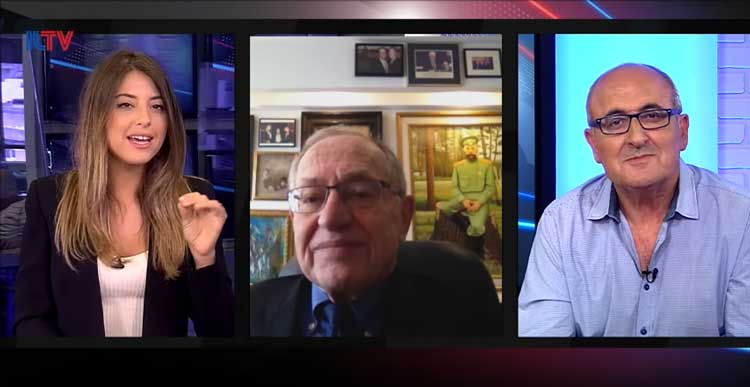 JOIN WITH OTHERS WHO CARE ABOUT ISRAEL'S IMAGE
MAKE YOUR TAX-DEDUCTIBLE DONATION TODAY
---
About ILTV
In less than 1 1/2 years, ILTV has reached millions of people. ILTV produces 135 shows every month, on a diverse range of topics including culture, science, business, and human interest, which appeal to people of many denominations and varied interests.
Their top news show, Israel Daily, highlights the real, positive stories of Israel and reaches 80,000 subscribers. All of ILTV's shows—including One on One with Alan Dershowitz—get broadcast on partner networks, and through multiple digital and social media platforms like YouTube and Facebook (where they have nearly 240,000 fans!).

Why Now?
Every day that the true spirit of Israel goes unseen and maligned is a day we lose potential supporters around the world to misinformation. In the current political climate in the western world, we can't afford to lose a single voice for Israel, or worse, allow one more anti-Israel voice to be created. ILTV is on the forefront of this battle, and Alan Dershowitz has been fighting it for years. Now, they need the help of supporters like you to spread that message wider and stronger.
How will your donation be used?
Every dollar donated to Israel Goes World in this campaign will go towards helping ILTV create 10 more episodes of One on One with Alan Dershowitz.
With your help, we will continue to broadcast the light of Israel unto nations, winning the hearts and minds of people who will otherwise only hear the biased negative reporting of ant-Israel and antisemitic media outlets.
A Few Statistics about ILTV we're Proud to Share
Nearly 240,000 Facebook fans
Over 80,000 subscribers to Israel Daily
Tens of millions of viewers reached through partner broadcast networks
135 shows produced every month, highlighting all of the diverse aspects of life in Israel…with more coming soon!
Your support will help us show millions of people the amazing things that Israel is doing in the Middle East and around the world.
Support this cause and make a difference
---
More Ways to Learn About this Cause