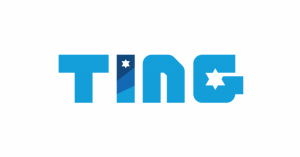 Innovate Through Play
TING is definitely worthy of being considered the flagship product of the State of Israel for 2018 as more and more educators recognize it as "the Israeli mind in a box" showing their interest in it as a toolkit to teach entrepreneurial thinking and skills.
Support TING so you can buy wisely, support Israel and enjoy great, high-quality game
TING in Oslo, Norway – Israel 70's Independence celebrations 2018
TING is a new and modern way to support Israel.
The Innovations Nations Games, is a social startup based in Tel Aviv, Israel, founded by Sharon Gal Or, the founder and CEO of idea Sign, a Hong Kong based creative consultancy since 2009.
It is a learning Toolkit in the form of card games, that aims to develop innovative and creative thinking skills of making players go through brainstorming sessions that open one's mind to unlimited ideas and possibilities.
Each of the cards are grouped according to a specific field of study (Education and Knowledge, Aerospace and Defense, Fin-tech and Ecommerce, Mobile and Telecom, Agro and Food, Smart Mobility, Clean-tech, Aerospace and Defense, Social, Health and Medical, Hi-Tech, and more, with a list of sub-fields of study on every such card.
SO WHAT IS TING?
Well…
Card Games – YOU GET 2 GAMES in 1 (Read more below)

Game application – FREE

Workshops guidelines
What is unique about TING?
1) It is the only self-learning and self-practicing tool-kit to develop entrepreneurship thinking, includes lesson plans, to maximize the learning process.
2) Minimizing knowledge gaps between people and within organizations.
3) Closing socio-economic gaps between developed and developing countries.
Who are the games meant for?
Anyone interested in Innovation, especially those who do not have the access to digital learning because of their financial or social limitations. The not so privileged communities of our nations may not be brought up in the most tech-savvy environment, leaving them with few resources to be educated and prepare for the future of Entrepreneurship in Education. With TING's card games in their easy reach, they are not just educating themselves, but believing in themselves and their power to change the world. There can be plenty of formulae to reach one's full potential, but can it be possible without believing that they can reach their full potential in the first place?
Why TING?
1) TING develop the skill of asking innovative questions.
2) TING develop a multi-disciplinary & multi-cultural thinking for problem solving.
3) TING increase players' motivation, understanding, interest and skills.
TESTIMONIALS
"The total value of TING is way above the price itself – it's Immeasurably valuable." Orly Ravid, Fast key international
"TING connects you to Israeli innovation and also gamifies the access to Israeli startup databases  in such a way that even a child can become the most expert scouter of innovation" Rani Shifron, Health and Medical mentor and consultant, Healtheir Globe – February 02, 2018
"I got TING to my kids, to my employees, to my costumers (and even to my friends in the US to play with their kids in Hebrew) and I highly recommend you to do the same, TING is a must have game in every Jewish house and for everyone whom wishes to better understand Israeli Innovation."  Barak Gafni – CEO and Founder HRS
OUR SUPERHEROES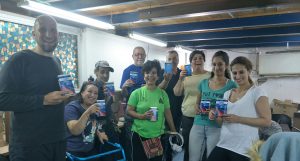 We believe that the best way to answer those boycotting Israel is to buy Israeli products – buy blue and white and simply get the Israeli head in a box. Thanks to עמותת אילן ILAN org superheroes for working so hard before Israel 70's independence day, making the impossible – possible – so TING gets to celebrations around the world.
See more superheroes in the Thank You list below
MILESTONES
Starting a buzz and donating TING game units + High-school workshops
Develop a FREE application gamifing access to Israeli technology companies database
Create the global cultural ambassadors' Community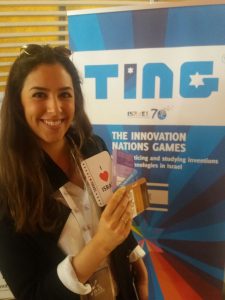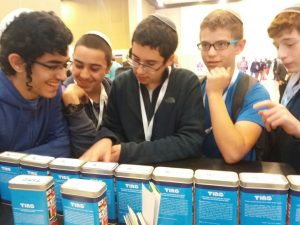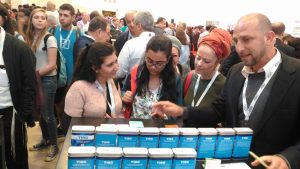 Why should I back the TING project?
– Directly support Israel's economy and help battle the boycott movements.
– The value of each TING is invaluable. This is an early bird as we didn't yet establish a market price for TING game.
– Help us show the world what are the real Israel vibes and innovation all about.
– We work with young-entrepreneurs  non-profit organizations and foreign ministry  and promote Israel Globally.
Of course, we wish to achieve more, so we added the possibilities of the game app development,  school workshops and the TINGathon to NGO's, organizations and companies to the extent that you get to experience extra and get creative thinking tools directly from me and from the wonderful team accompanying this project.
How does the shipping work?
We are shipping to EVERYWHERE on the Globe.
Shipping costs are already included in the contribution amount. Make sure to provide your address (or where you would like us to send the game box) in the "more information" section when you order the TING game.
Can I order a TING game for a friend or family member?
YES! We know of many that have been doing that. Simply provide their address in the "more information" section of the contribution.
When will I receive my TING game?
We can ship within 7 days from your donation
Who made your video?
Thanks to Tamid students NYU for the video, special thanks to Gilad Waldman. Also special thanks to Social Systems Lab in Cape Town SA, for taking part.
A NOTE: obviously the Israeli president – Reuven Rivlin, was not involved, we added a part of his speech as we thought 'why try and say it in our words when the president said it so well'.
WHAT IS THE MEANING OF 'TING'
Same as with Jewish Kabala, the secret is that in order to receive one must first GIVE.
Same with TING (which means 'listen' in Chinese) the secret is that in order to innovate and come up with new ideas one must first LISTEN.
MORE TESTIMONIALS
"TING multidisciplinary 'hybrid' design thinking developed by Sharon Gal Or is the conscious blending of different fields of thought to discover and develop opportunities that were previously unseen by the status quo." Guy Salomon – Gool, Online Education  – February 11, 
"This week I had the privileged to host Sharon Gal Or to conduct an innovation workshop #TINGathon with my students in my Innovation Business class in Ben Gurion University of the Negev. I must say that my students are very direct and say what is in their mind, and to my big surprise, they were more than happy with how the workshop went whereas students expressed and grew their own ideas through powerful innovation gamification exploration. … I strongly recommend that my colleagues incorporate this tool into their lessons. This is an excellent way to teach, empower and change the learning experience of innovation."
Yifat Turbiner – Lecturer at Ben Gurion University of the Negev – March 19, 2018
"In a region rife with challenges, Israelis have honed the art of problem solving. It is by asking new questions in which we could find the courage and creativity to find new answers. I like to take the opportunity and thank Sharon for his insights and for playing with us his #TING game which makes the learning process exciting, interesting and effective!" Adi Kotler- TECH7Jouniors 
"TING sparks in you ideas that will change the world" Kfir Zoor – Unistream – February 13, 2018
"TING allows people from all over the world to enjoy Israel and witness Israel is a country with great people, a great atmosphere, great vibes, and moreover great innovations." Prof. Evaristo Doria, Senior Lecturer at Georgia State University
The Innovation Nations Games
Card games for practicing and studying inventions and technologies in Israel
The State of Israel is a home to many scientific and technological innovations. Many inventions, scientific discoveries and technological developments originating in Israel have received worldwide acclaim. As for that, Israel has been named as the State of Startups and Innovation. Wish to expand your horizons and to find out which are the future Israeli start-ups and technologies to change the world?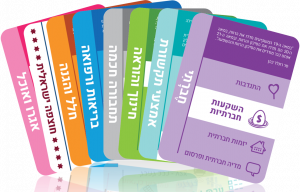 What if there was a game that encourages creative thinking to improve the face of the community, the city, the state … What if there was a game that allowed us to invest and reward one another for creating creative ideas? So there is such a game – TING! – Shall we play?
I believe that everyone was born creative and that in the right environment you can create new and brilliant ideas worth investing in!  TING was developed out of a need to get away from the cell phones. And it's our young Millennial generation that inspired the work. TING brings us back in time, connects us and opens us to openly share creative ideas without the help of search engines and screens. TING is an enjoyable and rewarding game that encourages personal and organizational creativity. So go ahead and join us in the TING games to learn more of the Israeli innovative market to find out the secret of its success, and challenges for the future.
Quartets++
Quartets++ is a combination of Quartets and Uno, which makes the game much fun and exciting. Ages 7+ improves memory and teaches you the basic 'know-how' every young entrepreneur must have. A great family game for evenings and holidays (and if wish then also for studying Hebrew) – So who is afraid of innovation?
TRIPLEX
TripleX is the game you sure don't wont to miss as this is where you get to practice a new thinking tool that is going to help you with your studies, work and life. TripleX is an associative multi-disciplinary thinking design for generating new ideas that were not yet conceived.
To learn more of the TripleX game design see a talk designed for the 75 years celebrations of the Hebrew University – Institute of Agriculture.
ASSOCIATIVE THINKING AS A TOOL FOR COOKING ENTREPRENEURIAL IDEAS IN AGRICULTURE AND IN THE FOOD INDUSTRY
What if… Space + Xrays + Art ?
So here, the moment of truth has arrived, where you vote and you support and enjoy the product that we have worked so hard to develop. Your support is much needed as only through a successful campaign we can realize this dream!
I invite you to take part in the project and thanks to you TING games will be published.
SO WHO AM I?
Sharon Gal Or is an English author, speaker, and international advisor on creative education to government, non-profits, education, and arts bodies.
GENESIS OF THE IDEA
I am also known as Galorian and I have been involved in technology, social entrepreneurship and game development for many years. TING is the combination of the three worlds in which I live that have been brought together – the technological world, the social world and the creative world. The idea for TING was the moment of my personal Eureka. When I asked myself, "What if there was a new flagship product for the State of Israel, one that would connect us to the world not above all but as a part?", Since innovation takes place on a global scale. Or, for example, "What if we could gamify databases of technology companies to make them accessible to the younger generations?" Or … "What if we could invest in the creative ideas of our classmates or colleagues at work?" "What if we could build a community of global social ambassadors?" And so on … (You've probably figured out I'm an expert on asking "What if …?")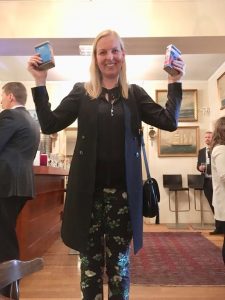 OUR MISSION
Harnessing Israeli's DNA to inspire, nurture, and bridge global cross-cultural innovation.
To support other NGOs' in their mission and to bridge more collaboration among Industry – Schools – Governments – Communities – NGO's
Therefore, I have joined organizations and communities such as: Tamid, Hillel, Ruach Tova, and others – so that we will do everything in our power to ensure that the campaign succeeds.
Risks and challenges
We're extremely passionate about the TING game and committed to doing everything in our power to solve any challenges that may arise along the way – that's a promise!
We have to make sure everything goes according to plan to meet our promised deadlines. We have our manufacturing and operations all ready to go, and we've made sure to leave enough time so that your TING/s arrive as planned. We are confident that our calculated plan will work effectively once we're funded, and that we'll be putting your Ting in your hands by September before ROSH HASHANA.
THANKS
So a few thanks as we take part in Israel 70's Independence celebrations as we have never experienced it!
Special thanks to:
Amir Giveon – Jewcer ; Adraba Design ; Gilad Waldman, Yonah Liban & Aaron Bogage- Tamid Group ; Freda Surki – Masa ; Barbara Burian – Macabbi Games ; Adi Kotler- TECH7 ; Barak Gafni – HRS ; Camille Kahn – Hillel Israel ; Hannah Wonjo & Joyce Fischler – Ruach Tova ; Dr Zohar Raviv & Uri Gafni – Taglit ; Rosie Cohen Mousseri – Israeli Experience ; Rebecca Zefferet – Israel Asia Center for Leadership ; Keren Shaked – teachers association ; Jeremie Kletzkine – Start Up Nation Central ; Kfir Zoor – Unistream ; Guy Salomon – Proprep ; Rani Shifron, Avi Pinkas , Galit Givon, Avi Vizel, Yosef Getahun, Robert Katz, Assaf Pinchas, Yifat Turbiner, Prof. Evaristo Doria, Devora Mason, Ariel Tal, Emma Kvitnitsky, Skaiste Budbergyte, Ran Natanzon, Ting Ho and many others whom without them all of this would not have happened.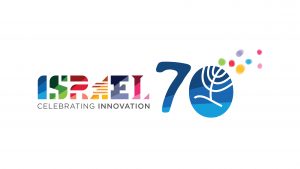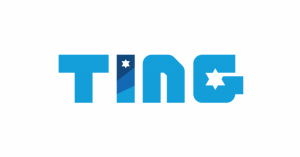 We deeply appreciate and look forward to your support as we embark on this new journey together.
We will be raising more than just another entertaining game, but TING – THE INNOVATION NATIONS GAMES, a series of edu-taining games that embodies a whole world of ideas, of people, of the community of global cultural ambassadors.
I invite you to take part in the project and thank you again for your support.
With playful regards,
Galorian
Join our community of supporters and we can make a difference
---
More Ways to Learn About this Cause