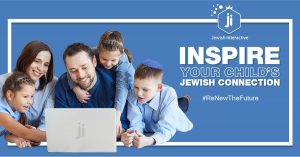 *For tax-deductible donations in South Africa, please contact info@jewishinteractive.org
This Rosh Hashanah, #ReNewtheFuture by helping Jewish Interactive (Ji) raise $150,000 to continue inspiring today's children to connect to their Jewish heritage.
For five years, Ji has been providing dynamic Jewish educational technology to families and educators throughout the world.
Today's children speak the language of technology, and we are committed to ensuring their Jewish connection. Now is your chance to provide another year of inspiring Jewish connection.
For just one week, from September 16th to 20th, every donation to Ji will be matched, thanks to our generous matching donor.
For questions, or if you would prefer to send a check, contact office@jewishinteractive.org.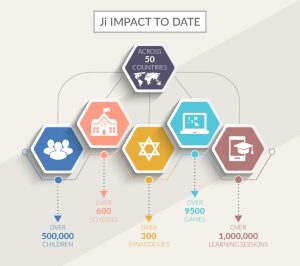 Donate now and #ReNewtheFuture
Ji's impact is made possible thanks to generous donors just like you. We rely on charitable support to develop our educational technology and offer modern, engaging Jewish educational tools to schools and families throughout the world. If you have seen Ji's impact, have benefited from our services or simply care about exciting today's Jewish children about their heritage to ensure a strong Jewish community tomorrow, now is your time to #ReNewtheFuture.
Download Ji Today JiTap.net
Contact Ji to learn about sponsorship opportunities to dedicate a game or series for an occasion or in memory/honor of a loved one – office@jewishinteractive.org
About Ji
Jewish Interactive (Ji) is a world leader in digital Jewish education, using modern tools to ensure that Judaism remains inspiring and relevant for today's generation of children. Since Ji's founding just five years ago, we have developed a vast bank of Jewish educational games on a wide range of topics for students in kindergarten through middle school, using the "Ji Tap" platform.
Our universal, inclusive Ji Tap platform and advanced trainings across the globe provide parents and educators with much needed, innovative Jewish educational resources so that the next generation will remain plugged in to Judaism.
               

Support this cause and make a difference
---
More Ways to Learn About this Cause