BE A PART OF SOMETHING TRULY AMAZING!
From July 28th to August 2nd, we will hold a summer camp in the Jerusalem hills for our children – Israeli and Palestinian, from Gush Etzion, Beit Ummar, Betlehem, Haifa and Beer Sheva.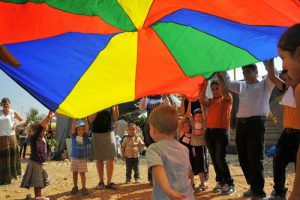 WITH YOUR HELP, WE WILL PROVIDE OUR YOUTH WITH A LIFE-CHANGING SUMMER CAMP –  FOR MOST OF THEM, IT WILL BE THE FIRST TIME THEY HAVE EVER ENCOUNTERED "THE OTHER".
WE WILL SHOW THEM THAT DESPITE THE CONFLICT THERE IS ROOM FOR  UNDERSTANDING, TRANSFORMATION – AND HOPE!
The Roots Summer Camp offers a unique, eye-opening opportunity to begin creating a different reality from the one they are forced to live in every day in the region. There is simply no other camp like this – no opportunity for these young people to meet, spend time together and learn of each- others' lives, seeing we are all human beings, eager to live our lives in peace.
WITH YOUR HELP – WE WILL MAKE A TRUE DIFFERENCE ON THE GROUND!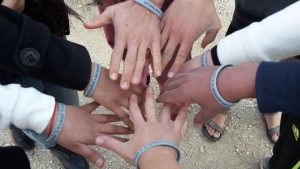 Founded in 2014, Roots-Judur-Shorashim is a joint organization of local Palestinians and Israelis seeking to create a culture of nonviolence, understanding, trust and transformation even within the persistent Israeli-Palestinian conflict. The only such organization in the West Bank, Roots is located in the Gush Etzion-Hebron area, a region which frequently experiences the pain of the Israeli-Palestinian conflict. Roots is working with people on both sides of the divide, creating a new discourse from within the very communities most at odds, through programs that reduce hate and fear, address injustices and foster mutual trust and resilient partnerships. Roots' vision is to build a climate that honors the rights and connection of both peoples to the land, and provides freedom, dignity and civil rights for all its inhabitants.
The success of these encounters builds the foundation for dialogue and compromise as these teens grow up and set the stage for the future of the region. The results of this hard work will send a message to both communities that there can be a partner for peace on the other side. We feel that the camp is a natural part of our mission towards creating a peaceful reality that provides freedom, dignity and civil rights for all.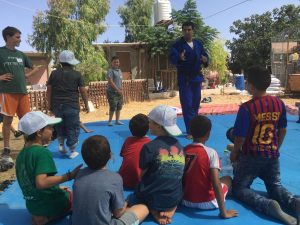 The annual Roots Summer Camp will take place in July & August, 2019 at Nes Harim located between Jerusalem and Beit Shemesh. Through the generosity of our supporters, we will be able to bring together 80 Israeli and Palestinian youth for a 6 six-day summer camp experience that will accomplish something that is often unimaginable in our region:
• Create the foundation for a new youth movement by bringing together diverse youth from across Israel and the Palestinian territories together with Jewish and Arab youth from northern Israel
• Expose campers to a multi-narrative vision of the world, and opportunities to apply new thinking to their own environment and personal engagements in Israel and Palestine.
• Receive training in non-violent communication methods that help form new paths for dialogue
• Introduce conflict resolution tools that campers can apply in their own lives and communities.

We will bring together Israeli and Palestinian children for a week of fun, education, and empowerment. Children age 11-18 encounter the "other" often for the first time, creating relationships that often last for years. We will spend five nights and six days growing together in a beautiful campsite in a forest outside of Jerusalem. Campers will teach one another through experiential education and theatrical performances. Workshops on conflict resolution, nonviolent activism, and multiple narratives on the conflict are provided. There is also time for integration and bonding through swimming, sports, arts, and dance.
A typical day at the camp will look like this:
8-9am:
Shared breakfast
9am-1pm:
Nonviolence workshop featuring Ghandi and MLK
1-4pm:
Lunch and social time for swimming, sports, games, and art
4-6pm:
Facilitated discussion on taking this experience home
6-8pm:
Shared dinner
8-10pm
Party
Our target population are thus Israeli and Palestinian children from the West Bank, together with Jewish and Arab children from northern Israel. This is a rare, possibly the only such opportunity for these young people to come together to envision and model a different reality. The success of these encounters builds the foundation for dialogue and collaborative action when they return to their communities. We have the core of our youth already waiting for this camp, and there is really no need to market it – the families are waiting for it and are eager to send their children to this incredible experience.
On the Summer Camp we are working with an NGO called "Alternative" – a non-governmental organization that develops educational, cultural and community programs for the solution of conflicts non-violently. They work with couples and families, communities and between communities.
Also, we work with "Merchavim" (Spaces), an educational center for children and youth of Alternative. Merchavim is a bilingual Arabic-Hebrew Center with annual activities for more than 10,000 children and young people.
Join our community of supporters and we can make a difference
---
More Ways to Learn About this Cause