See English version below.
Construye y se parte de este increíble proyecto; juntos podemos hacer realidad el estadio que USAR y Rosario necesitan.
Somos USAR, Unión Sionista Argentina de Rosario, una institución con más de 35 años de historia en la ciudad de Rosario, Argentina, y queremos que nos acompañes en este proyecto para construir el Estadio Shimon Peres.
Este estadio tendrá 1100 m2 (11850 pies cuadrados) y todo lo necesario para que los jóvenes de USAR; los clubes y colegios de la ciudad de Rosario a los cuales se les prestan las instalaciones, encuentren un lugar donde realizar sus actividades deportivas. Entre las instalaciones con las que contará se encuentra una cancha de 40x20m apta para la práctica de Futsal, Básquet, Vóley, como así también para la presentación de shows, encuentros de rikudim, competencias deportivas y eventos sociales.
¿Por qué hacerlo ahora? Un cambio en la reglamentación edilicia y deportiva nos impide seguir utilizando nuestras actuales instalaciones, lo que hace imposible que los equipos de Futsal, entre otros, permanezcan en el club.
¿Cuánto dinero debemos recaudar? Nuestra meta es u$s 250.000 a fin de poder ofrecer un ámbito que garantice seguridad y que cuente con las instalaciones adecuadas para que los jóvenes de USAR y de otros clubes y colegios de Rosario a los cuales USAR les presta su institución se desarrollen en un entorno seguro y saludable.
La piedra fundamental del Estadio Shimon Peres se colocó el día 4 de junio de 2018. Las obras ya están en marcha.
¿Quieres ser parte del proyecto que le cambiará la vida a miles de Jóvenes en nuestra comunidad?
ENGLISH:
Build and belong of this incredible project; together we can make the sports center that USAR and Rosario need.
We are the Argentinian Zionist Union of Rosario, better known as USAR (for its Spanish acronym), an institution established more than 35 years ago in the city of Rosario, Argentina, and we would like you to join us in this project aimed at building the Shimon Peres Sports Center.
This new facility will occupy an area of 1100 m2 (11,850 sq. ft), which will allow it to have everything that is necessary for the youth of USAR and the clubs and schools of the city of Rosario which borrow USAR's grounds and pitches so that they can all carry out their sporting activities. This sport center will have an arena of 40 m x 20 m suitable not only for practicing futsal, basketball and volleyball, but also for holding shows, rikudim encounters, sports competitions and social events.
Why now? A change in sports ground regulations prevents us from continuing to use our current facilities, which makes it impossible for Futsal teams, among others, to remain in USAR.
How much money are we talking about? Our goal is to raise 250,000 USD so as to be able to offer the desired facilities and safe conditions  to the youth of USAR and the other clubs and colleges of Rosario so that they can develop in a secure and healthy environment.
The cornerstone of the Shimon Peres Sports Center was laid on 4th June 2018. The works are already underway.
Do you want to be part of the project that will change the lives of thousands of young people in our community?
Prensa – Press:
USAR colocó la piedra fundamental para la creación de su estadio
http://rosariofutbol.com/noticias/futsal/70482-usar-construira-un-nuevo-estadio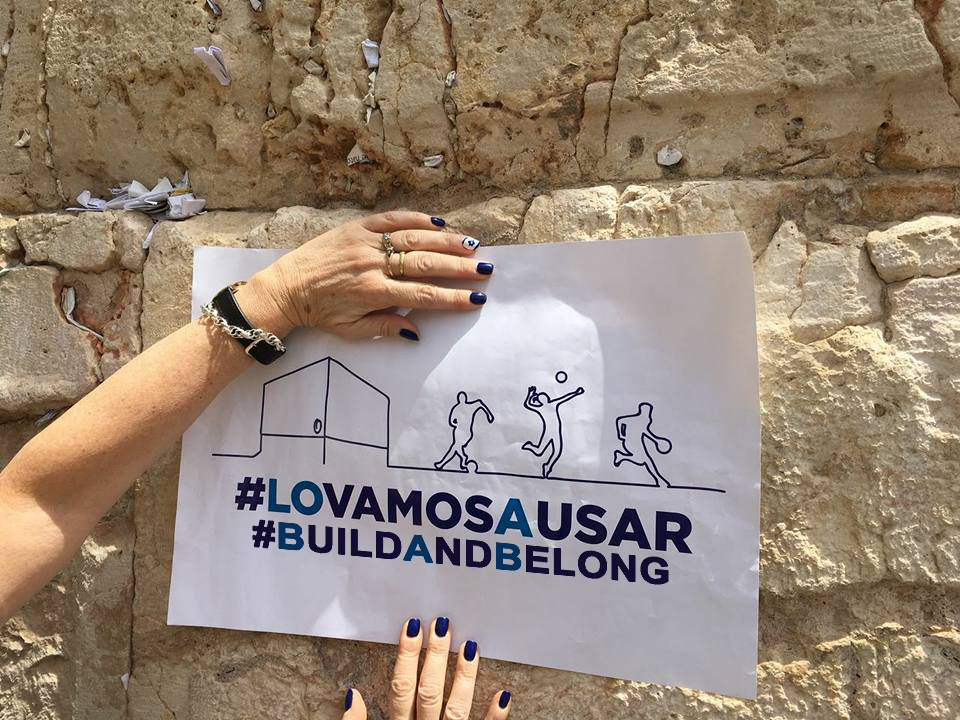 USAR – About Us
HISTORY:
The Argentine Zionist Union of Rosario, better known as USAR (for its Spanish acronym), an institution established in 1983, as a result from the merger of two other institutions, the Argentine Hebraic Society of Rosario and the Jewish Youth of Sefaradí Argentina, in which a wide range of social, cultural, sports and recreational, activities were developed for all ages. This new institution, continuing with the inheritance received, continues to offer its members and theirs families that attends the headquarters located at 2555, Salta St Rosario, Argentina, everything that in these current times the child, young person, adolescent, and adult need. USAR has a Physical Education department, through which it offers all its members federated and recreational sports activities, such as Indoor Soccer, Basketball, Hockey, Table Tennis, Field Tennis, Aerobics, Artistic Gymnastics, Skate , Krav Maga, Gymnasium for all ages, Gymnastics for the elderly, Physical education for children, etc. USAR, is affiliated with the Rosario's Association of Indoor Soccer; Futsal, Basketball, Hockey, Table Tennis, and Sports gymnastics. In the national order it is federated to the Argentine Federation of Community Centers Maccabees, FACCMA. It has an expressive aesthetic department, with plastic activities, Rikudim department, with 19 juguim for all ages and 1 lehaka et lirkod, adult department, with adult groups, cultural department, which generates spaces for reflection and conferences, department of informal education, OFAKIM for young people from 3 to 9 years old, with recreational activities, and expressive workshops, the MIZJAKIA playroom for children and the Tnuá Hejalutz Lamerjav for youngsters of 9 years and older.
MISSION:
Provide effective social, educational, sports, and cultural activities, in order to achieve the integration of the families of the community in a space of coexistence where Jewish values are the learnt and share together with our good principles. We also intend to be a source of Jewish identity, identified and committed to Medinat Israel.
VIEW:
Present ourselves as an inclusive and pluralistic Jewish institution of excellence in sports training, promotion of healthy life and free time, generating a social and cultural space for all members.
Join our community of supporters and we can make a difference
---
More Ways to Learn About this Cause