With Your Help, Liat, Noam and Eitan May See Israel's 70th birthday!
For 12 years, three of Shlomit and Ze'ev's  six children have been fighting inoperable cancer that can only be treated with regular injections of Keytruda, a drug costing $2,460 per dose which they must receive every 3 weeks.
_____________________________________________________________________________________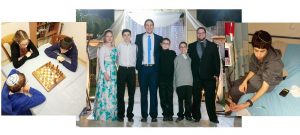 Twelve years ago, Shlomit and Ze'ev were the proud, happy parents of a growing family. Then disaster struck. Their 7-year old daughter Liat, contracted T-cell lymphoma which later developed into multiple polyps. At 14, she had to undergo a total procto-colectomy with pouch.  Disaster struck again when a second child, Noam, developed glioblastoma at 11 years, and T cell lymphoma almost 3 years later. Now 15 years old, Noam was also diagnosed with multiple colon polyps.  And as if that wasn't enough, a third child, Eitan, developed low-grade brain tumors after he turned 15.  Six months ago, at 17 he too underwent total procto-colectomy with pouch.
It seems more than a family can bear, but Shlomit and Ze'ev are not giving up. Their doctor has recommended all three children be treated with the antineoplastic drug Keytruda, which has been shown to be  effective in preventing the growth and spread of these advanced types of cancer – even reversing the process for a large percentage of patients when surgery is not an option. But Keytruda isn't covered by Israeli's medical insurance.
A single dose of Keytruda costs $2,460, and Liat, Noam and Eitan must receive 2 doses every three weeks until the treatment begins to take effect. That's $14,760 for all three children every three weeks! Their parents have spent $80,000 so far on treatments. Now they are hoping to raise more than $120,000 – not nearly enough to cover a year's worth of treatments but hopefully enough to stop the spread and buy their kids a another year of life. 
What is the Goal of this Campaign?
We have one goal: To give Liat, Noam and Eitan a chance at a longer, happy life.
With your help and Keytruda treatments that their need, these children have a very high chance to beat this dreaded disease. Your donation could be the difference between a "No" and a "Yes" for them. 

***Every dollar raised in this campaign will go towards purchasing the Keytruda medicine for Liat, Noam and Eitan. (Invoices are available on request). Please consider making a tax-deductible donation today.***
What is Rachashei Lev?
Rachashei Lev is a national support center for cancer-stricken children in Israel. Since 1989, they have helped over 3,900 pediatric cancer patients cope with their illness—and receive the treatment necessary to hopefully cure them of the disease—while providing them and their families a stable environment to rest and feel "normal" even as they are going through the worst traumas of their lives. The support they receive has helped 81% of these children fully recover.
Rachashei Lev was created—and works closely with leading pediatric oncology centers in Israel—to help approximately 500 families in their time of need, every year.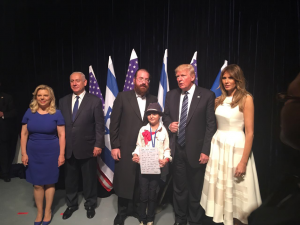 FRESH UPDATE! President Donald Trump in his short visit in Israel meets with Rachashei Lev children!

(Presidential commendations for Rachashei Lev from the late Shimon Peres and Reuven Rivlin)
This is not a general fund for an organization.
Every dollar extends these children's life, giving them chance for more time and more hope to beat this disease.

Open your hearts today so that they all can spend family holidays together next year and for years to come. Donate today. Thank you!
(All donations are tax-deductible in the U.S.)
Join our community of supporters and we can make a difference
---
More Ways to Learn About this Cause