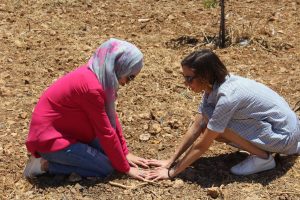 Be a part of something truly amazing – be a part of the solution!
With your help, Roots year long program will bring 20 Israeli & 20 Palestinian young adults together to build understanding, hope and coexistence.
With your help, they will build trust, dignity and respect between them – and become ambassadors for these values in their communities.
With your help – we will make a true difference on the ground!
AND NOW – EVERY DOLLAR YOU GIVE WILL BE MATCHED UP TO $5,000 BY ONE OF OUR MOST LOYAL ACTIVISTS AND SUPPORTERS!
Three years ago, Roots answered the call of local I/P young adults to create a process for their peers. We began developing a year-long program for exactly the age-group when extremism takes our youth; putting in place a talented staff, developing the pedagogy of the program and are now cultivating our youth into leaders for positive change, equipping them with the knowledge, empathy and drive to make change: resting on the Roots platform of dignity, trust, mutual recognition and refusal to accept the status quo.
Founded in 2014, Roots-Judur-Shorashim is a joint organization of local Palestinians and Israelis seeking to create a culture of nonviolence, understanding, trust and transformation even within the persistent Israeli-Palestinian conflict. The only such organization in the West Bank, Roots is located in the Gush Etzion-Hebron area, a region which frequently experiences the pain of the Israeli-Palestinian conflict. Roots is working with people on both sides of the divide, creating a new discourse from within the very communities most at odds, through programs that reduce hate and fear, address injustices and foster mutual trust and resilient partnerships. Roots' vision is to build a climate that honors the rights and connection of both peoples to the land, and provides freedom, dignity and civil rights for all its inhabitants.
Now in its third year, the Roots Youth Program brings together 40 Palestinian and Israeli teens for ongoing dialogue and relationship-building programming.  Exploring each communities identity, history, fears and pains, the project slowly replaces fear and enmity with a sense of partnership and common purpose.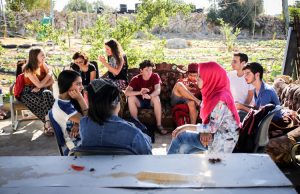 As Mohammad, age 16 from a village next to Hebron, writes: " Before anything else, I've never expected to meet Israelis one day, especially Israeli students who're the same of my age, but I learned through these meetings that we can live together. I've made strong relationships with these peers, relationships that are based on the mutual love and respect."
Activities include:
Student-led learning sessions and guest lecturers expose the participants the each others society, religion and life experience of the conflict and beyond.
Volunteer projects and open events bring the project into our local communities- involving family and community elders and empowering our youth to create positive responses together. (e.g. Blood drive, working with local farmers, charity drives).
Travel to sites of national and religious importance are both opportunities to bond as  agroup and learn to see the land through each others eyes.
Marking the Israeli and Palestinian calendar events deepens understanding of each others narrative and collective identity. (e.g. break-fasts during Ramadan, charity drives and Jumma/Shabbat together).
Avital, age 17 from Neve Daniel, writes: " I have next to no knowledge about them, and I find myself asking- Who are they? What's their life like? How do they feel? All that I know is that there is a cycle of blood that continues more and more and affects our daily life and that I have a responsibility to take actions to battle this circle of blood. The right way to fight this battle I found in Roots Youth."
True change begins with dialogue and understanding – together we can create a new climate in the region – we are looking forward to your joining us!
Support this cause and make a difference
---
More Ways to Learn About this Cause