***UPDATE
Since we launched our campaign and started to receive your donations:
– Letter to the Editor in Los Angeles Times calling BDS the "Boycott, Discrimination & Segregation" campaign, published 12/31/16 and read by over 2.5 million subscribers;
– Created a new educational video: Where is support for the cultural boycott coming from?;
– And we are working on 2 radio interviews.
THANK YOU FOR YOUR SUPPORT! 
***
Israel Advocacy
In today's world, Israel is under fire from all directions. Liberate Art Inc. is raising money to educate people about the danger of the newest and potentially most dangerous weapon against the Jewish state – the cultural boycott of Israel.
The cultural boycott movement is using artists and celebrities as a tool to spread damaging lies about Israel to billions of people across the globe. It is the one aspect of the boycott, divestment and sanctions (BDS) that even Israel's most passionate advocates often know little about. And if they're not aware, they can't take action to fight it.
What is the cultural boycott?
When an artist books a trip to Israel, hate-groups use social media to pressure him or her to cancel. They create graphic images associating Israel with destruction, racism, apartheid, the murder of children and worse. They circulate deceptive statements, letters and petitions on Facebook, Twitter, and Instagram which often go viral.
By using the name and likeness of artists, the cultural BDS draws the attention of their fans to these hateful messages. Social media "sharing" spreads the lies further.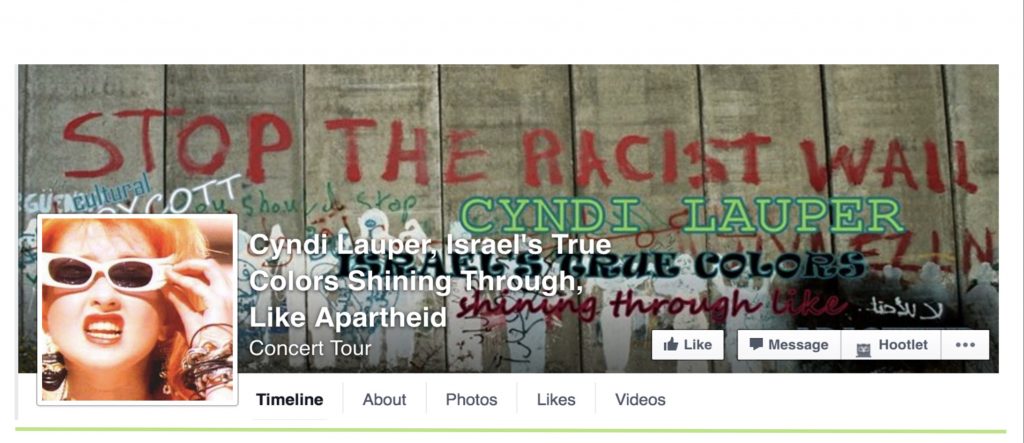 On the flip side, when Israeli artists perform for a foreign audience, there are calls for cancellations, performances are disrupted and audiences are forced to walk past intimidating protesters. This negative association creates a bad impression of Israel.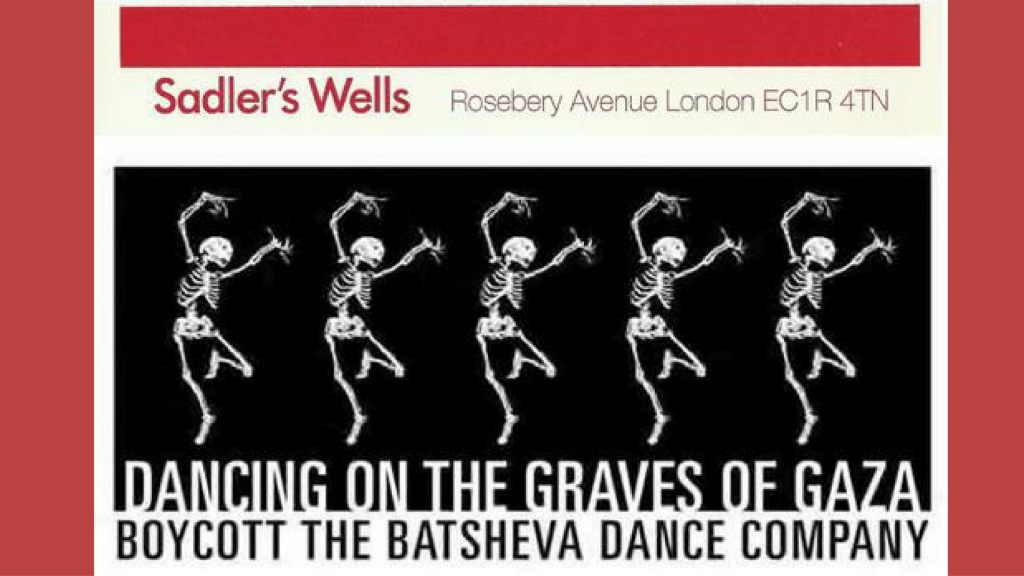 But the cultural boycott is more than an attack on Israel; it's an attack on freedom of artistic expression that affects everyone. It separates artist from audience and attempts to control what people think by controlling the films they see and the music they hear.
The risk posed to mankind goes far beyond Israel's borders or the lineage of the Jewish people. Boycott proponents have orchestrated a social media and on-the-ground campaign of intimidation that, left unchecked, poses an existential threat to the freedom of artistic expression. The proximate target of the boycott effort is Israel, but freedom of artistic expression, fundamental to our humanity, is its ultimate victim.
How is the cultural boycott different than other forms of BDS?
The goal of the cultural  boycott is the same as other forms of BDS – to make Israel look like a villain – but the effective way to counter it is radically different. Here we can go on the offensive and bring the battle to BDS. When we reveal the cultural boycott strategies of intimidation, censorship, and blacklists, we focus on the morality of the cultural boycott itself. It's a winning argument that puts BDS on the defensive.
Pro-Israel individuals and organizations have sprung up everywhere to fight for Israel's right to exist, but they need to be armed with the facts and learn the words that work to change hearts and minds. This awareness campaign will educate and empower them.
Why Us – Why Now?
Our personal dedication to fighting the cultural boycott and years of experience persuading hundreds of artists to keep their concert dates in Israel has provided us with important information to share.
Our work is supported by  like-minded individuals and groups who are helping our work in the online and digital worlds.
Impact
We reach hundreds of thousands with opinion pieces and talk show interviews that speak to the general issues and analyze current developments. We work one-on-one with community and student organizations to provide guidance to both groups and individuals. Liberate Art disseminates podcasts with sweeping coverage as well as 3-4 minute videos that zero in on specific issues. Our videos and podcasts are accessible to all.
What you donation will enable us to do
Your support will help us find creative new ways to spread the word. Each dollar will raise awareness and help secure additional funding to sustain and expand our operations.
Speaking engagements (includes community outreach, transportation, accommodations, presentation preparation, researching and securing speaking opportunities)
Talk radio interviews / marketing podcasts (includes production, editing, distribution, marketing, researching and securing interview opportunities)
3-4 min educational videos on key cultural boycott issues (includes production, editing, distribution and marketing)
Social media marketing strategy and implementation
Research and data management (includes up-to-date research and analysis to authenticate op-eds, radio interviews, lectures and commentary)
Expanding entertainment industry support for Israel (includes building relationships between Hollywood and Israel. Prior successes include Ziggy Marley's support of JNF and Variety Magazine's "Spotlight on Israeli TV")
Want to know more?
WATCH our Q&A video on The Cultural Boycott and the Social Media Power of Artists –  a 4 minute clip from the original broadcast on the nationally syndicated Mike Siegel Radio Show.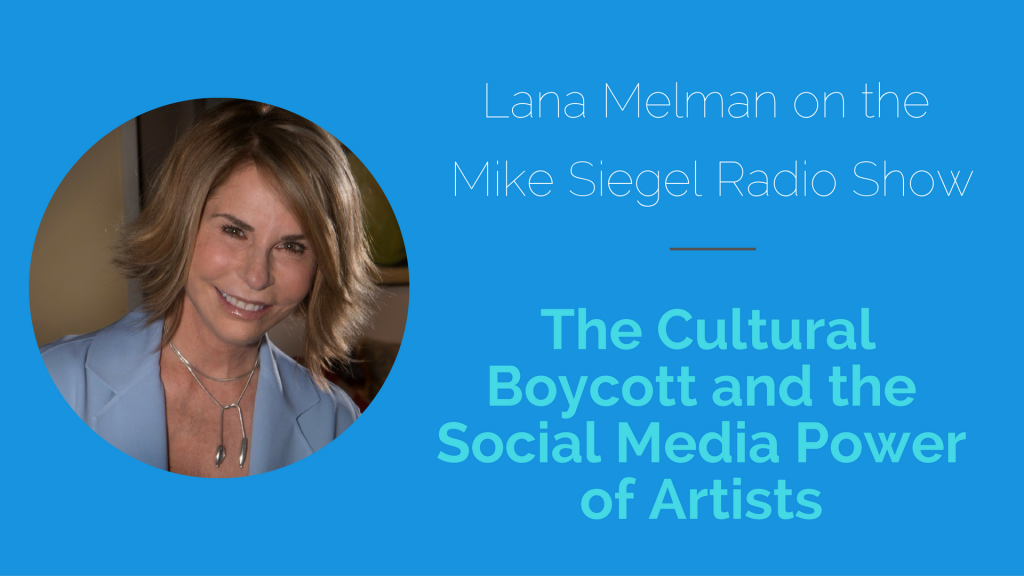 ———————-
Who is behind Liberate Art?
CEO, Lana Melman is a leading expert and commentator on the cultural boycott effort against Israel, a Hollywood liaison, and a professional speaker and writer.
She has spoken with over one-thousand artists and/or their representatives and was instrumental in preventing numerous cancellations of scheduled concerts and tours in Israel.
Together with other high-profile members of the entertainment community, Lana circulated a statement in support of Israel's right to defend herself, which was ultimately signed by over 300 Hollywood luminaries, including Arnold Schwarzenegger, Seth Rogen, Kelsey Grammer, Sylvester Stallone, Roseanne Barr, and Sarah Silverman.
An attorney, Lana worked in both business and creative capacities at CBS, Warner Bros., Columbia Pictures, and Paramount, as well as a writer and executive producer.
Join our community of supporters and we can make a difference
---
More Ways to Learn About this Cause