————-
LearnJewish:  AWAKEN THE SPARK WITHIN!
WHO WE ARE – OUR MISSION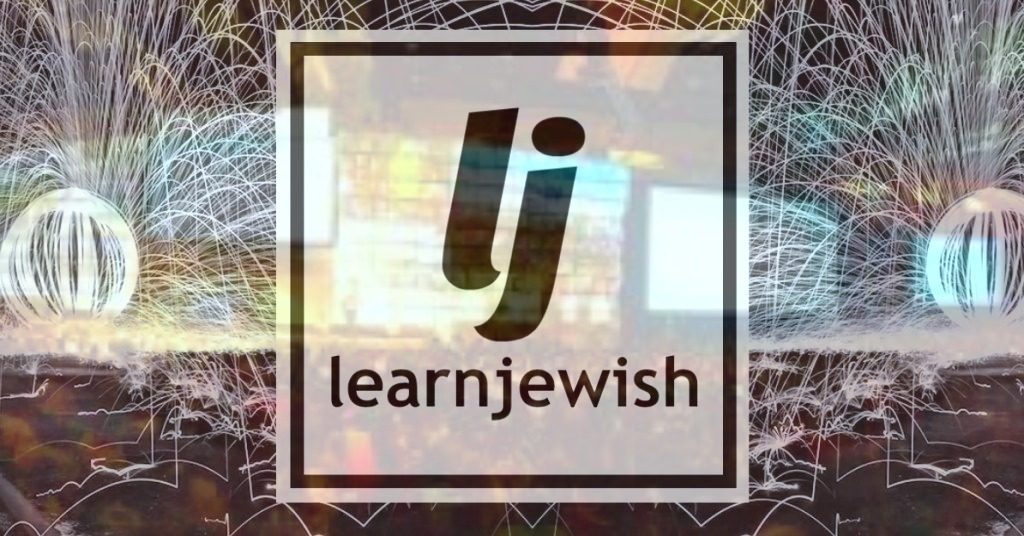 LearnJewish is here to build lifelong Jewish affinity, pride, and involvement among our fellow Jews –  from all backgrounds, in all localities, of all viewpoints.   NO ONE GETS LEFT BEHIND.
"A lot of people out there really don't feel like they fit in anywhere due to their background and just say 'forget it I'm not taking part.'   What LJ is offering is community, friends, learning and knowing there's people who care that are also different and cool.  IT NEEDS TO BE DONE."    – Bobby in Denver
LearnJewish is here to give a platform for all kinds of JEWISH EXPRESSION.  Whether you are a hip-hop artist creating cutting-edge Jewish music, another Jewish organization looking to bolster your reach and build your base, a group of high school friends wanting to launch a service project, or a Rabbi or Jewish Teacher who is looking to expand your platform to segments of the Jewish world you might not have had ready exposure to, LearnJewish is here to support you.  We live by our motto:  Create Jewish, Learn Jewish, Be Jewish.
LearnJewish is also here to help other Jewish organizations execute their own Missions – we aim to complement, supplement, enhance, and catalyze the effectiveness of other Jewish groups. We are not competing with you – we channel Jews to you. And help you connect Jews with each other. We are your Boomerang.
We are an unconventional organization led by a team of people from unconventional backgrounds, whose goal is to connect with unconventional audiences and direct them to existing, established Jewish resources and organizations.  We aim to support everyone in changing the world for good, one good deed at a time.
"To all the Jews that never were able to even…. begin learning… and therefore, never even got to start this magnificent journey!"   – Anon. Donor
Our big-picture vision for the outcome of our work is twofold:
(1) Strong, motivated, engaged, and healthy Jews and Jewish communities whose neshamas have been sparked by our work, and for whom Jewish culture, community, learning, and mitzvah-doing are important and valued components of our collective identities.
(2) Robust Jewish organizations whose ability to execute their Missions has been enhanced as a result of teaming up with LearnJewish.
"LearnJewish, Elyah and Yosef, your mission and your creative output is SO NEEDED right now – thank you for your work, that LJ should grow and grow and help other Jewish organizations, Jewish artists, and Jews and non-Jews everywhere!!~"                                         –   Chava in Littleton
OUR PROGRAMS, PARTNERSHIPS, AND SERVICES
Examples of the great work LearnJewish is already doing, or is in Buildout of – both in Denver and worldwide – include:
1.     Artists and Musicians:  Collaboration with and giving a platform to fantastic up-and-coming Jewish artists and musicians of all stripes, ranging from hip-hop to folk-contemporary, based in both the U.S. and Israel.  Our current Featured Artists include Ohad, Lev King D, Izzy Gilden, Avi Beer, Judah Fire, Simcha Brodsky, and J Rose.
2.    Kindness/Chesed Campaigns: in partnership and collaboration with Jewish (and other) organizations and persons, including senior care, addiction/recovery support, and support resources for at-risk Jewish youth.
3.     Our 613 BLOG: containing short, interesting, and story-oriented divrei Torah and snippets of Jewish thinking from various writers – thus expanding each writer's potential audience to give him or her a worldwide scope. We intend to invite other rabbis from across the spectrum – local and worldwide – to post their divrei Torah on our blog or to grant us permission to post their work, thus enhancing their exposure to diverse global audiences who initially visited LJ due to our LJ Streetwear offerings, and whom they might not otherwise be reaching.
4.     Community Engagement, Cross-Collaboration, and Support:  Through various programs our diverse, unconventional members and partners are already providing or developing.  In development (or already in action): Career Transition and School Admissions Assistance for both adult and 'student' members of the Jewish community;  platform-support for Jewish artists and/or those wishing to develop their own Jewish programming or service;  one-on-one learning and tutoring programs with members of our community who are unconventional in background, at-risk, or simply have their own unique learning needs.  Much more to launch, thanks to your support.
5.     Media:  Development of short films, documentaries, and other creative content showcasing the incredible diversity of individual Jewish stories.  Current projects-in-progress include a short docu-film featuring the real-life story of a former addict who found strength for recovery in his Judaism and now uses his past as a vehicle for helping and inspiring others.
6.     LJ STREETWEAR:   Contemporary designs expressing Jewish themes, in support of Jewish affinity, identity, and pride, and in support of our common mission as Jews.
JOIN US IN STRENGTHENING JEWISH IDENTITY, JEWISH PRIDE, AND JEWISH COMMUNITIES EVERYWHERE
We at LearnJewish are utterly committed to the principles of  Transparency, Accountability, and Good Governance in our use of resources, funds, and in our relationships with partners, affiliates, and donors.
We now seek to expand our offerings and continue to build our internal capabilities and our external reach.
In the spirit of complete Transparency and Accountability, it is important to us at LearnJewish to provide you with a precise, itemized list of our Build-Phase needs, and how your donations will be spent.      Our AWAKEN THE SPARK WITHIN campaign funds raised will go toward the following itemized menu of projects and expenses:
$400 Web platform costs.
$3,000 LearnJewish Pop-Up Shop booth for community outreach events.
$10,000 Video Documentary Film about recovery from addiction within the Jewish community.
$5,000 – Kiruv Media video and editing Studio for Torah classes and Jewish Vlog media channel.
$1,000 LearnJewish support for youth-driven Mitzvah Projects and Kindness Campaigns.
$2,000 Jewish Youth Jewish Expression projects sponsorship.
$2,400 Jewish Youth outreach giveaway products sponsorship.
$200 Elder-Care Coffee & Companionship program.
$1,000 Tanya Study and Coffee 1-year sponsorship for college students.
$3,000 Jewish Singles monthly Shabbat Dinner Program.
$5,000 Spring, Summer and Fall Shabbaton Sponsorship for Jewish Youth Outreach with Post Shabbat Jewish Hip Hop concerts.
$5,000 Featured Artist Sponsorship support. LJ studio collaboration project.
$2,000 Design Studio for in-house LJ graphics department.
$1,500 LJ Streetwear Pesach Youth Seder with special guest hosts.
$1,500 LJ community Youth Sukkah.
$2,000 LJ Streetwear Summer and Fall Photo promo and Outreach Publication.
$5,000 501(c)(3) filing and process, Incorporation, Federal Trademark and Patent Office filings, and core administrative expenses.
PLEASE INVEST IN OUR SHARED JEWISH FUTURE, WHICH DEPENDS ON STRONG, MOTIVATED, AND HEALTHY JEWS TODAY.   THIS IS WHAT LearnJewish IS ALL ABOUT.   Our momentum is tremendous – help us keep growing.
 Our mission is needed, and we need your help. Your Mitzvah of enabling our Chesed and Jewish Affinity work means that you have a share in all the many future Mitzvot that will be generated as a result of your generosity.
Our momentum is tremendous – help us keep growing.  Join our mission – together, let's build a strong Jewish future.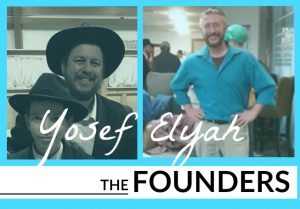 Letter of Rabbinic Endorsement: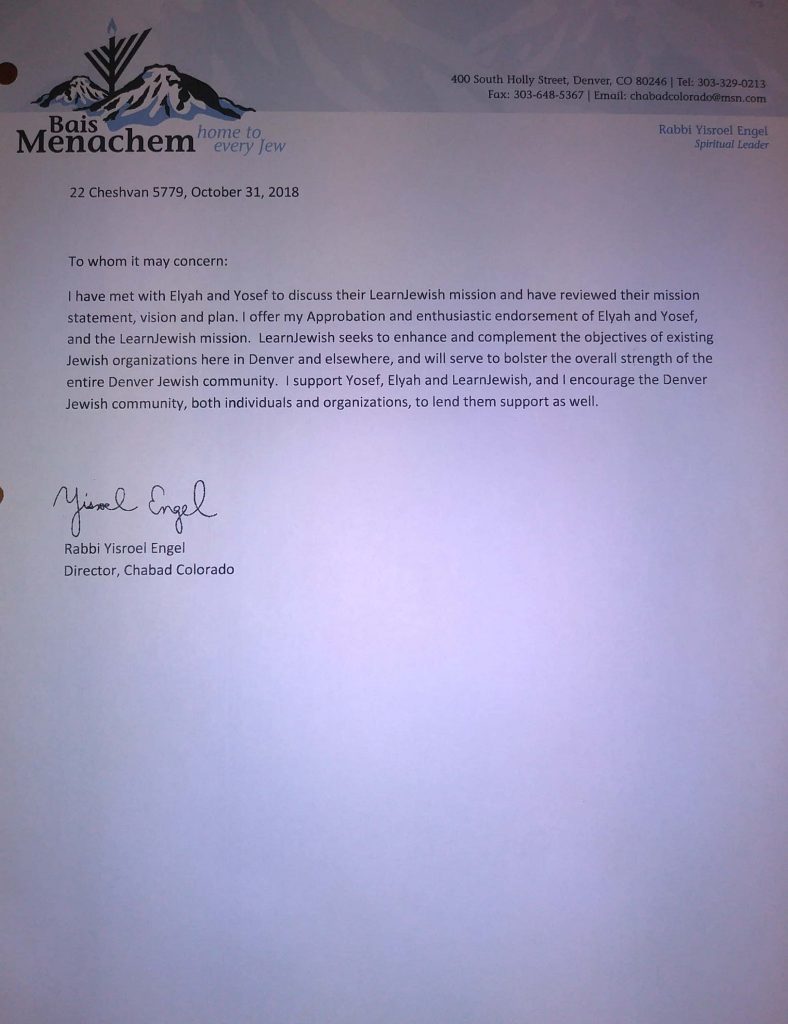 Join our community of supporters and we can make a difference
---
More Ways to Learn About this Cause