Now an official  Dutch " ANBI' Culture foundation
Donations are Tax deductible
On February 23 rd. , 1934, the " Foundation Jewish labor" was established in Amsterdam. It was set up for young German and Austian Jews to learn a trade before emigration. The Work Camp was officially opened on October 3, 1934.
The "Werkdorp" ( Work Camp ) was a training facility " Hachshara"for Young Jewish Refugees from Germany and Austria were they learnt craftmanships and agriculture before emigrating to " Palestine" .  Most of the young people went abroad, but not necessarily to Palestine. Until May 1940 about half of the inhabitants went to Palestine, the other half to other countries.
On March 20 rd. , 1941, the Nazis came to the Werkdorp and took 210 of the 300 students to Amsterdam. About 60 students stayed behind in Wieringen, with 10 of the staff.
191 of the young men and women of that group never returned and were murdered mainly in Mauthausen.
A group of  56 young men and women was taken from mauthausen to the Castle of Hartheim in Austria were some of the first experiments were carried out with  gas for mass annihilation.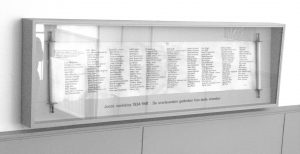 The site has had several new users and purposes after the war, with amongst them a training center for Dutch farmers, a university branch of the University of Wageningen, a boarding school, and art exhibition. The building was declared a monument ( A Dutch Heritage Site ) several years ago.
In 2009 it was purchased by a Dutch real Estate developper that intends to place 300 work migrants in and around the monumental building.
The foundation's vision and plans are to turn the monument into a museum, an exhibition location, a cultural centre with art from WW2 artists, a seminar centre for education about the holocaust, a centre for seminars and training on tolerance, and a laboratory for dynamic biological agriculture.
Also it will serve as a centre for culture and education for the local community with facilities for  presentations, workshops, trainings, movie screening, and art exhibitions.
The site will be included in tours of the area by bus tour operators that originate from Amsterdam and other major cities.
Jewish and Non-Jewish tourists can visit the site as part of a joint program with the Jewish Museum of Amsterdam.
The foundation was set up by members of the Jewish community from Alkmaar  and local neighbours.
Your contribuition will help us towards a mortgage for monuments in Holland or renting the building from the owner untill sufficient funds will be available to purchase the monument.
Support this cause and make a difference
---
More Ways to Learn About this Cause