We would like to build new shelving to display a representative sample of 12,000 of our unique, varied library collection comprising of 60,000 Yiddish books.
Over the years, with our ever-growing book collection, the YUNG YiDiSH Library and Cultural Centre in Tel Aviv has run out of shelving space. This year we have received large donations from individuals and decommissioned libraries. For now, the books are safe-guarded and protected, packaged and stacked, but the need to build new shelving has become urgent.
We want to make our unique collection available to Yiddish cultural enthusiasts, Israeli youngsters, international visitors and contemporary Haredi speakers alike.  Several times a week we hold educational events showcasing these treasures of Yiddish culture.
We have about 8000 visitors every year.
We have been collecting Yiddish books in Israel for over 28 years.
The YUNG YiDiSH Library and Cultural Centre in Tel Aviv is an internationally known non-profit organisation keeping alive the Yiddish language and culture for the next generations in Israel. We have been collecting Yiddish books from members of the public and from decommissioned libraries and making them available on open shelves to Yiddish-enthusiasts for over a quarter of a century. Currently, we are the only organisation in Israel who offers this service. Our volunteers receive a call, make an appointment, travel to the donors home, meet people, receive books, transport, shlep, catalogue, preserve and protect and make available thousands of books every year.
Our unique and varied collection of 60,000 Yiddish books is the only open access Yiddish library in Israel.
Our activities:
The unique nature of our collection has permitted us to create numerous themed book exhibits. We continue to host book launches, art exhibitions, public lectures. For years, we have been running weekly Yiddish language classes, and weekly Yiddish conversation meetings. We run a full program of Yiddish cultural events, song evenings, cabarets, theatre performances, with artists from Israel and all over the world. This year for the first time we will run a week-long contemporary spoken Yiddish immersion course in our library premises.
Our plans: 36 floor-to-ceiling 2.5m and 4.5m purpose-built fitted wooden bookcases!
We have detailed plans to remodel our ample 400m2-space. Making full use of the 4.5-metre internal height of our location at the Central Bus station in Tel Aviv, we intend to build 36 floor-to-ceiling wooden bookcases all around our walls, with open space for exhibits at eye-level. Some of the smaller units will have glass cases to showcase our rarer, more valuable, more fragile books. Additionally, we will also set up a digitization station to be able to start to disseminate unique books and magazines over the web.
How will we build the shelves? In the most cost-effective way possible. We will buy the materials. Paid professional carpenters and volunteers will build purpose-built shelving. We will also upgrade our climatization system to provide better protection of our large collection. Appropriate shelf lighting will be fixed to illuminate our library as well as the exhibits.
When? As soon as we can! We have already started the preparatory work at YUNG YiDiSH. We will be able to start the building process in February and hope to finish it before our Contemporary Spoken Yiddish immersion week at LagBeOymer!
More about our unique book collection:
Our 60,000-strong collection is unique in Israel, comprising of fictional books including countless novels, drama and poetry, as well as non-fiction books, political literature, manifesti, almanachs, literary magazines and anthologies, encyclopedias and research literature, grammars and dictionaries. We have bound volumes of newspapers and magazines, including full sets of literary magazines, biographies and autobiographies, sheet music and songs, LP Records, Holocaust literature and testimonies, children books and study books, popular science books, teaching material, translations of world literature, Hassidic literature, religious books, art books, postcards, paintings and some Yiddish maps. Our books have been published all around a world  – from Vilna to Paris, from New York to Johannesburg, from Minsk to Mexico, from Warsaw to Buenos Aires, etc. A few of our books are very old and rare.  All our books come with their own histories, which they sometimes share with us through stamps and inscriptions. Alongside all the books, we have been entrusted with several personal archives including unpublished novel manuscripts, handwritten song collections, music sheets, theatre plays, jokes.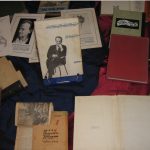 Support this cause and make a difference
---
More Ways to Learn About this Cause