"The most important part of the life of a violin is to be played…And then they can tell stories." –These are the words of Amnon Weinstein, a man who has spent the last 20 years restoring violins played by Jews during the Holocaust.
These violins will speak for the millions of people whose voices were snuffed out by the Holocaust. They will tell the devastating stories of this Jewish history. But we need your help to bring it all together. Next year the violins will be played for audiences across Los Angeles, as a tool for education, inspiration, and hope. The project is coming to Los Angeles beginning with events in 2019 and culminating in March 2020, marking the 75th anniversary of the liberation of Auschwitz-Birkenau and other camps. Violins of Hope is the nonprofit behind this journey, will you join us?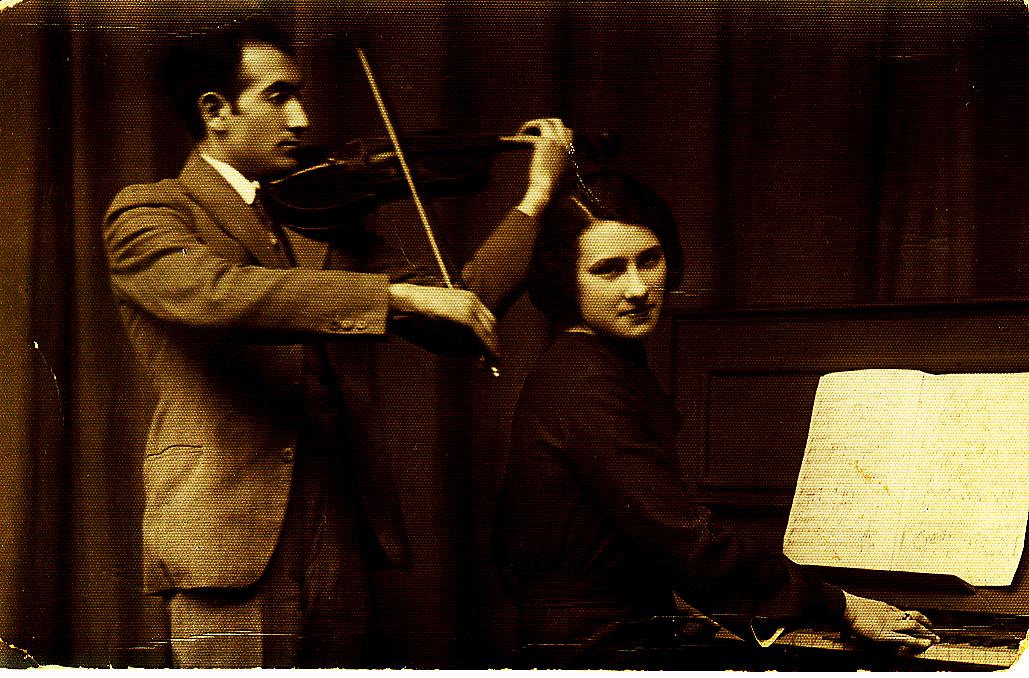 Pictured above is Moshe and Golda Weinstein, Amnon's parents who moved to Tel Aviv 81 years ago and opened a violin shop. Thus began a collection of instruments restored since the end of World War II.
Our Mission
The mission of Violins of Hope is to educate about the Holocaust through music and culture using a collection of violins, violas and cellos rescued from the Holocaust and restored by Israeli luthiers Amnon Weinstein and his son Avshalom. With an upsurge in anti-semitism and a rise in the BDS movement, fear and anxiety for Jewish people continues to rise. Experts say that this rise is due in part to a generation of people growing up without learning about the Holocaust.
We want to bring this story to all people, young and old, through the power of music and storytelling. Imagine the response to watching a violin play notes that were once played in the Auschwitz orchestra and the Kindertransport…To hear the music made by the violins that were played by Jewish inmates in Nazi concentration camps. Ones that belonged to the Klezmer musical culture. Ones which were all but destroyed by the Nazis. These instruments were silenced by World War II. But that silence is no more.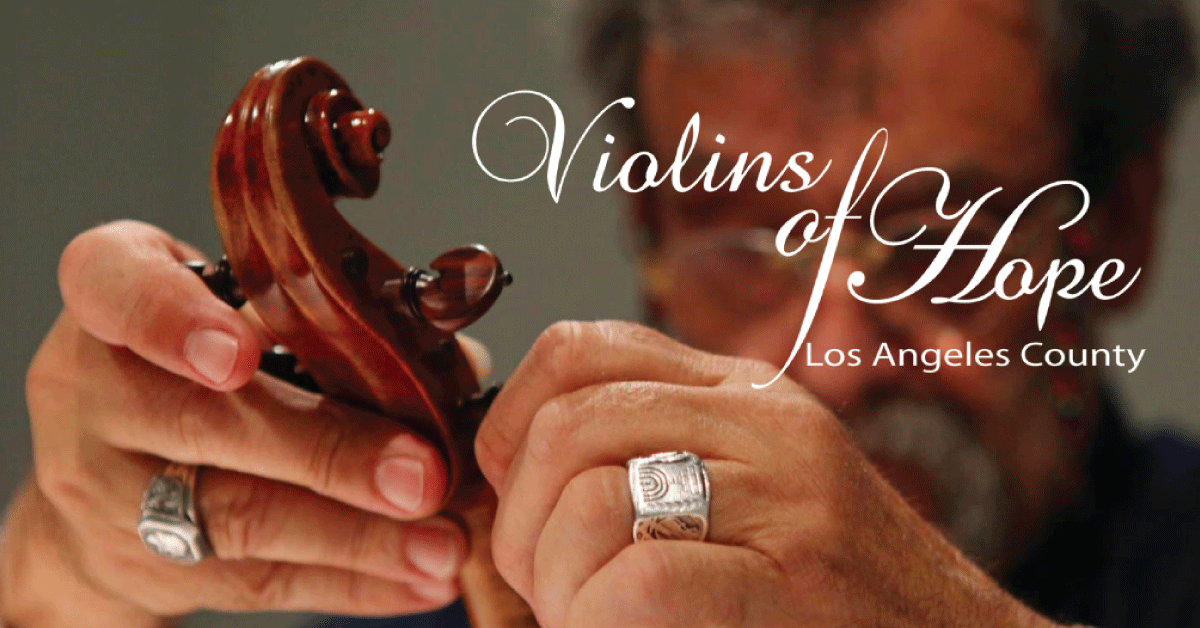 How You Will Help
The violins have a new life and sound that can give a voice to a generation lost in the Holocaust.
With your help we can bring these violins to Los Angeles to restore hope and instill pride in our Jewish heritage for future generations. Every contribution makes a difference. Just as every string is important to playing the violin. Your donation will support the educational efforts of VOH so that we will never forget the Holocaust.
Your support will…
Help Violins of Hope Los Angeles County offer a unique approach to studying the Holocaust and use the instruments as a symbol of hope.
Educate youngsters on a continuous basis, teaching history and culture through music in conjunction with a specially created curriculum guide
Allow our educational projects to reach students, adults and people of all faiths and backgrounds.
Spread our narrated concerts that tell the history of some of the instruments like: The violin that was thrown out of a cattle car on the way from France to Auschwitz…The violin that was buried under the snow in Holland…The violins that saved lives of people who played in camp orchestras and others who survived to tell the story.
Help ensure the safety of these precious instruments as they travel from Israel to the US.
Transport the violins safely during the 5 week program from concerts and educational programs to be exhibited at the Los Angeles Museum of the Holocaust.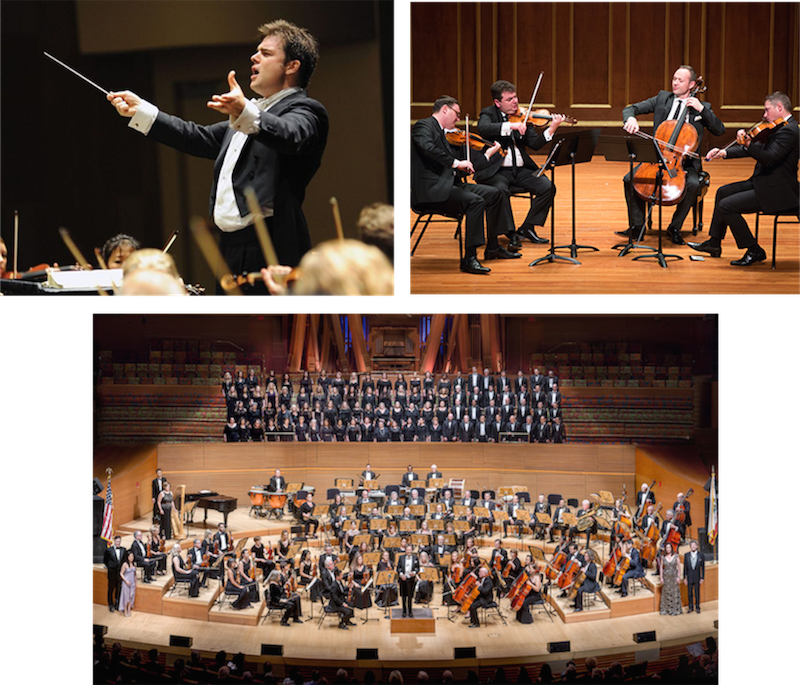 Who We Are
The mission of Violins of Hope Los Angeles is to educate the public about the Holocaust through music and culture using violins, violas and cellos that were rescued from the Holocaust and painstakingly restored by Israeli luthiers, Amnon and Avshalom Weinstein. The project will teach elementary, middle and high school students through their experiences rather than through textbooks. Adults will participate in salons of music and discussion. These instruments were silenced by the war and have now been brought back to life, giving voice to the voiceless, becoming a symbol of hope and endurance of the human spirit. Jewish musicians were forced to play amidst the atrocities, often this would extend their lives and for some it allowed them to survive.
Susanne Reyto is the Chair of Violins of Hope Los Angeles County. Susanne is a child survivor of the Holocaust who has dedicated her life to preserving history and educating future generations. She is the author of the acclaimed Pursuit of Freedom: A True Story of the Enduring Power of Hope and Dreams, and has traveled the world spreading her unique message of optimism and courage – which stems from her early years in Hungary, escaping the communists in the 1950s, moving to Australia, living on Guam while her husband served in the US Navy – and becoming a successful businesswoman and philanthropist, as well as wife, mother and grandmother. In addition to serving as Chairman of the Board of Governors of City of Hope, Susanne has also been a past president of Hadassah LA and ZOA Western Region, as well as an active member of many other community organizations.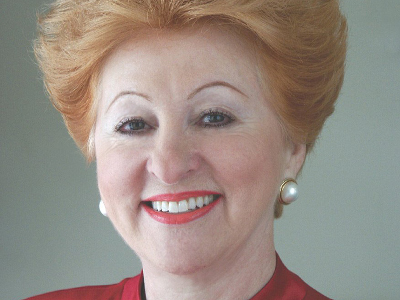 Geri Morguelan, Co-Chair of Violins of Hope Los Angeles, was born and raised in Louisville, Kentucky, where she was the first young girl in the city to complete a Bat Mitzvah. Growing up, her family were well known and beloved philanthropists. She moved to Los Angeles over 30 years ago. When Geri learned about the Violins of Hope project, she immediately wanted to be involved and brought the project to Susanne to help make her vision a reality. She and her husband, Murray, are the proud parents of two daughters and three grandchildren, each of whom has attended Jewish schools.
Thanks in many parts to Susanne, while the program has visited many cities in the United States, Los Angeles will be the first major city in the United States to welcome Violins of Hope with events throughout 2019, culminating in March 2020. This will include a major program of concerts, educational visits to schools and an exhibition at the Los Angeles Museum of the Holocaust.
In the News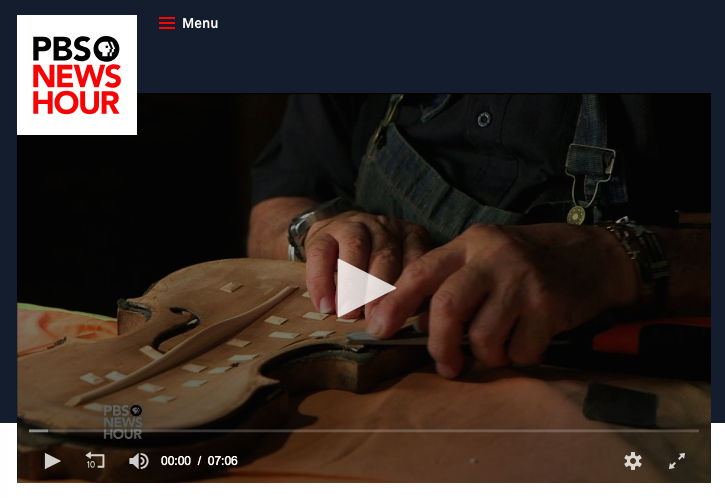 PBS NEWSHOUR "Restoring hope by repairing violins of the Holocaust"
In 2015, Violins of Hope were thrust onto the national and world stage following the publication of The Violins of Hope by author Jay Grymes and a critically acclaimed PBS documentary narrated by Adrian Brody.
Beverly Hills Courier "Violins Of Hope, Bringing Holocaust-Rescued Instruments For Concerts, Education And Exhibit Next Year" – Published on March 3, 2019.
LA Times "Violins of Hope, dedicated to instruments from the Holocaust, is coming to L.A." –Published on February 25, 2019.

Timeline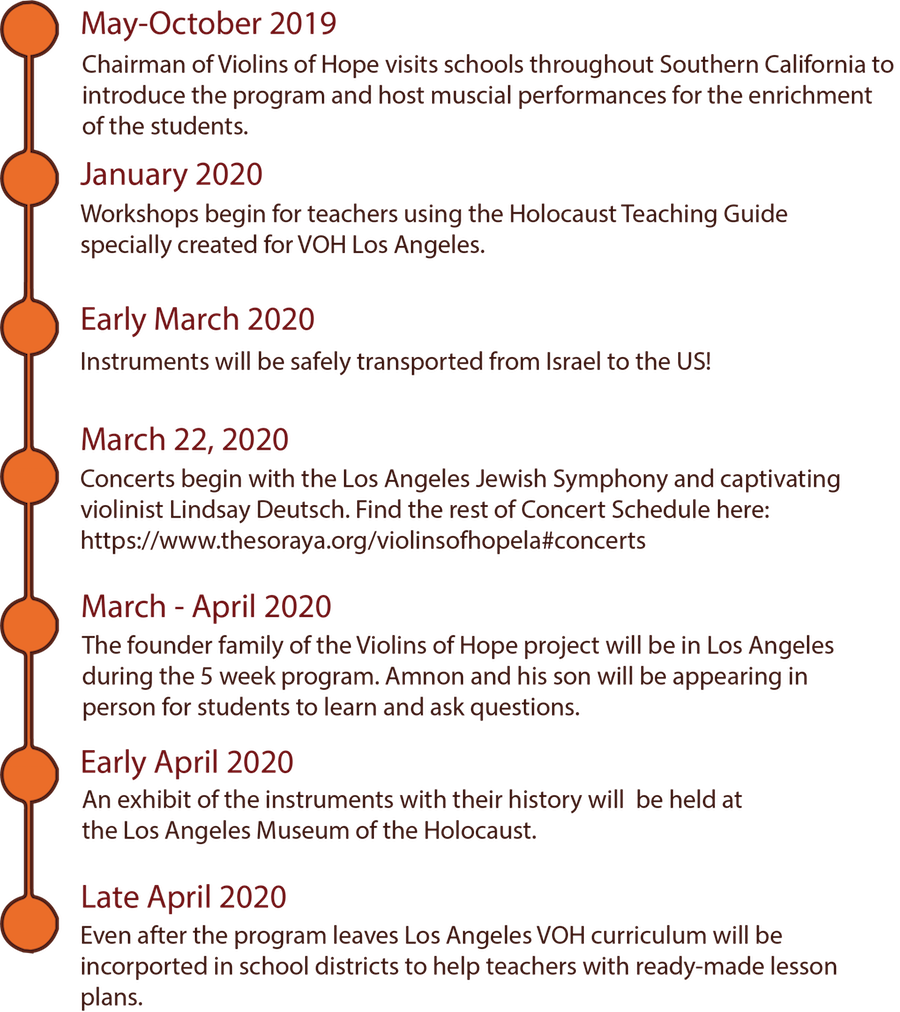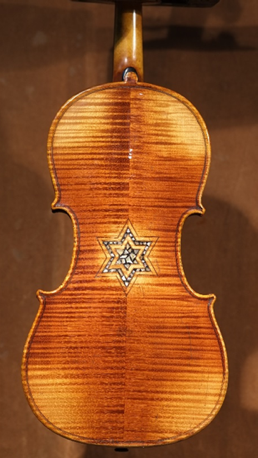 Music has the power to heal…to transcend pain and anguish…and to bring hope. Even through humanity's darkest chapters — music persists. We hope you will join this meaningful journey as these instruments promote a message of hope and endurance through music and have a history that must be told. We need your commitment to insure that the voiceless do indeed have a voice and that we must "Never Forget."
Violins of Hope Los Angeles County is a tax-exempt not-for-profit organization registered as a 501(c)3 through Community Partners.
Support this cause and make a difference