Plastic is floating around in the ocean, sometimes animals accidentally eat it or get stuck in it.
Ocean pollution is one of the large problems of our time and it affects us all. We need to stop it soon because the ocean is a vital part of the ecosystem.
For my Bat Mitzvah I decided to start a campaign for The Ocean Cleanup because it is my goal to help animals, the world and us.
An 18 year old boy had an amazing idea, he wanted to try and make a machine that would use the ocean's currents to collect the plastic in the ocean. This machine could clean up the ocean. He decided to call his project The Ocean Cleanup.
The Ocean Cleanup technology works like this: Using the same currents that push plastics into 'plastic garbage islands,' a very long boom floats on the water and collects plastics for pickup.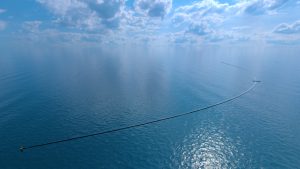 The money I raise will go directly to The Ocean Cleanup.
Note from Temima's Parents:  This year Temima has begun to take very close notice of the amount of plastic, especially disposable plastic, we use in our daily lives.  She's developed personal convictions around reducing her plastic waste, including avoiding singly wrapped snacks, encouraging us to carry what we buy if we didn't bring a reusable bag, and collecting milk bags for a Sobey's upcycling intiative.  We are deeply proud of Temima's commitment to repairing the health of our planet.
Support this cause and make a difference
---
More Ways to Learn About this Cause