When Ilan Ramon joined the crew of the Space Shuttle Columbia, 15 years ago, he became the first Israeli astronaut and the first person in space to wear the Star of David.  Jews around the world celebrated, especially Israelis, and Jewish American school children saw just how "cool" Israel was and just how "cool" it was to be a Jew.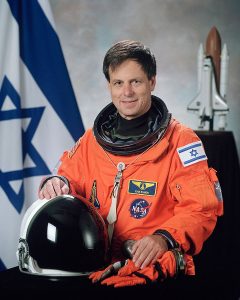 Like many of his generation in Israel, Ramon was more of a cultural Jew than a religious one, but he nevertheless understood the gravity of his role.  Ramon took up into space with him a sketch called Moon Landing, drawn by a 16-year-old who died in Auschwitz, a microfiche of the Torah presented to him by the president of Israel, a dollar from the Lubavitcher Rebbe, a barbed wire mezuzah from the 1939 (Holocaust) Club in Los Angeles, and most memorably, a Torah – a Torah which had been smuggled into Bergen-Belsen by a rabbi from Amsterdam who did not live to see it freed, but who gave this Torah to a 13-year-old inmate, Yehoyachin Yosef, who would later become a professor in Planetary Physics in Israel.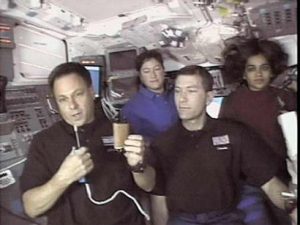 This Torah, which had been handed down from generation to generation since that fateful 40 days and 40 nights when God dictated the Torah to Moses on Mount Sinai, which has kept the Jewish people for 3000 years through times of joy and sadness, captivity and liberation.
Ilan Ramon said of this Torah, "This scroll symbolizes, more than anything, the ability of the Jewish people to survive everything, including horrible periods, and go from darkest days to days of hope and faith in the future."
Tragically, on February 1, 2003, the Space Shuttle Columbia disintegrated upon its reentry into Earth's atmosphere, killing all 7 crew members.
And though neither he, nor this Torah, nor his six crewmates, returned to earth, we can be assured that all seven souls returned to God, who created them, and that the letters of the Torah, written in deep black ink, soared among the stars and cast a heavenly light among all of God's creations, chanting "The earth is Adonai's and its fullness, the world and those who inhabit it."(Psalms 24:1). (Excerpt from The Shuttle Story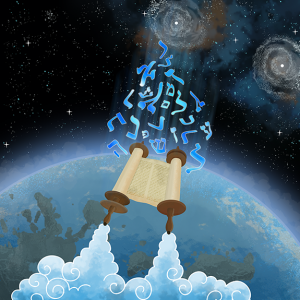 15 years ago, I remember where I was when I heard the news of the Space Shuttle disaster.  And I remember being shocked, stunned and without words.  As Cantor of Congregation Beth David in Saratoga, California at time, I also had a responsibility to respond, to come up with the right words.  And that Friday afternoon, just before Family Shabbat services in which I needed to read a story in front of children of all ages and their families, I wrote The Shuttle Story.
I could not have imagined the response The Shuttle Story received. In a kahal made up of every age group, people were singing the refrains along with me (which were set to Torah trope), even children long before bar mitzvah age who had never heard Torah trope before.   People laughed, people cried, people remarked how The Shuttle Story imbued this tragedy with meaning.  Scholar-in-Residence Rabbi David Golinkin published The Shuttle Story in the Machon Schechter newsletter from where it traveled the internet and was read in synagogue after synagogue.
Too often in our Jewish experience, our triumphs have been tempered with tragedy.  Our history is replete with stories of loss and destruction.  The Shuttle Story turns one such tragedy into a story of, in Ilan's own words, "hope and faith in the future."
When we ask our children who their heroes are, they are apt to name a YouTube personality, athlete, reality TV star or superhero.  In their constant exposure to SpaceX rockets, self-driving cars, cell phones and video games, sometimes Judaism and Jewish education seem a little less relevant.
This is where you come in.
I need your help to bring The Shuttle Story, the story of Ilan Ramon and his Holocaust Torah, to a new generation.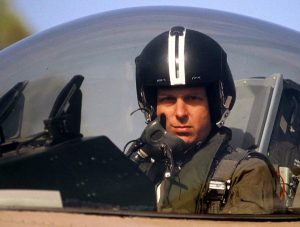 Ilan Ramon, the first astronaut from Israel, the only non-American to ever be awarded the Congressional Medal of Honor, an Israeli fighter pilot whose mother survived Auschwitz and whose father fought for Israel's Independence, is a real-life Jewish hero that our children can embrace.
And yet, The Shuttle Story has two heroes really — Ilan Ramon and the Torah.
The Shuttle Story teaches our children at a sensory level (you might even say at the "kishkes" level) the importance and centrality of the Torah, just how "cool" the Torah chant they are studying for their b'nei mitzvah celebration is, and that they are an essential link in an epic chain of history and revelation.
The Shuttle Story should be in the hands of every b'nei mitzvah student, whether s/he be current, future, an adult, or even an 83-year-old second-go-around b'nei mitzvah student.
To bring The Shuttle Story to this new generation, you and I are going to publish it in hardcover, select the illustrations and book cover, and make sure the Shuttle Story is in the hands of everyone you know, in the hands of every past and future b'nei mitzvah student, and in every synagogue and Jewish school's library.
I have recorded the audio track with the Jewish music legend Sam Glaser, enlisted an editor, publisher and have received great sample art from potential illustrators.
As a champion of this cause, you can help me create this masterpiece that will be passed down from generation to generation.
How You Can Help
There are two major ways you can join me in this exciting work and earn exclusive rewards and performances:
-Publicity: Join the campaign – use email, Facebook, Twitter and Instagram to tell everyone you know! Be my ambassador and earn rewards for the total amount you raise for the book. Help get the word out from the mountaintop!
-Contributions: Every little bit helps! I am setting a goal of $9,500 but in truth that is only a two-thirds of the total budget needed. If I could get 250 people to contribute at least $36 each, I would already be very close to making this goal!
Here is a Video of Me Reading The Shuttle Story
Join our community of supporters and we can make a difference