We are pleased to announce the Rabbi Yehuda Simes zt"l Torah Project. The Rabbi Simes Torah Project is a celebration of the man who positively affected so many lives. His lasting influence on the Ottawa Jewish community and our Congregation is immeasurable. Rabbi Simes loved his family. He loved Judaism. He loved his community and he loved learning.
A Torah scroll dedicated in his memory will honour his love of teaching, learning and commitment to a life of Torah. This Sefer Torah will be housed at Beit Tikvah, the shul Rabbi Simes attended. In recognition of the fact that Rabbi Simes reached the entire community, the Sefer Torah will be made available and brought to other locations for Simchas and sadly, during times of sorrow.
The Simes family will receive great comfort in knowing that their husband and father's legacy lives on. While his 11 year-old son, Yitzhak, will not have his father at his Bar Mitzvah, he is very excited that he will be able to use the new Sefer Torah, in his Abba's memory.
The very last mitzvah of the 613 Mitzvot in the Torah is that each individual write his own complete Sefer Torah. If one cannot write a Sefer Torah, the obligation can be fulfilled by participating in a community Torah project. This is a wonderful opportunity to perpetuate the memory and legacy of our beloved Rabbi Yehuda Simes zt"l.
We invite you to join us in honouring Rabbi Yehuda Simes by making a dedication in his honour. A community celebration and public inscription will take place this Spring.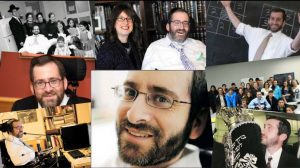 Support this cause and make a difference
---
More Ways to Learn About this Cause