The Jewish Innovation
Never before has the inter-generational thought of the Geneck-Genchovsky rabbinic lineage been brought together in one place, much less translated into English. The chiddushim (original Torah thoughts) presented in this sefer date back to the Soloveitchik dynasty and famed Tshebiner Torah. The Genack name finds its origins in the Levine family. Rabbi Levine zt"l was a great rov in Europe who published a transformative sefer known as the "Yad Eliyahu." Rav Avrohom Genechovsky zt"l, the late Tshebiner rosh yeshiva, was known both as a gaon, as well as for having sterling middos. Rabbi Menachem Genack is the CEO of OU Kosher and a rosh yeshiva at Yeshivah University who has published many sefarim. Rabbi Yakov Nagen (Genack) is rosh kollel at Yeshiva Otneil and a leader who bridges cultures and advocates for peace in Israel. In merging together the Torah thoughts of these four deep thinkers, and not just providing basic translations,  a new understanding of the Written and Oral Law emerges.
The Impact
One can feel surrounded by the Gedolim when reading the sefer.
There is a story of the Chofetz Chaim who told my great uncle, Nachum Genechovsky zt"l, who was a ben bayit by the Chafetz Chaim, not to stay up so late, despite my great uncle seeing the Chafetz Chaim staying up late into the night learning. Reb Chaim Kanievsky shlita who was very close with  Rav Avrohom Genechovsky zt"l and Rabbi Aryeh Levin zt"l who collected tzedakah yearly from the Genechovsky's are referenced as well.
There are main sections in this sefer: 1) thoughts of Torah and Hashkafa are uncovered, 2) the depths of the Talmud are illuminated, 3) sections on Yom Tov cover thematic principles of the day and sections on the Parsha investigate Torah context, and 4) many stories of Rav Avrohom Genchovsky zt"l are revealed that have not yet come to light yet. These stories are particularly relevant because they and serve as models of how one can put derech eretz before Torah.
This sefer will find a meaningful space on your reference shelf as it reveals new insights on many topics.
What Will You Do With The Money?
The donations received will be sent directly to Gefen Publishing House, an international  publisher located in Israel, to cover the costs associated with editing, proofreading, layout, printing and eventually with your help, distribution of the book. Based on funding, the project can be completed in as few as six months, with editing to begin immediately. Now, with your contribution, you are a partner in spearheading this project.
Below is the cover, we're ready to go.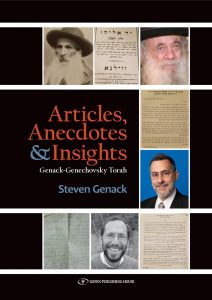 Latest Article By The Author
https://www.jewishlinknj.com/divrei-torah/32347-the-torah-s-perfection
Support this cause and make a difference