Welcome and thank you for your interest in this new and exciting project, as I prepare to record and produce my first two albums of original Jewish music! Jewish music was my first love as a child and after many twists and turns it is a true dream come true to return to this first and favorite passion of mine, and to have my own Jewish music to share with the world.
The songs on these albums have been brewing inside of me for many years. When I got the G-d nudge to begin to imagine sharing them with the world, I realized that there were two distinct themes emerging in my music. Some songs channeled liturgy and themes of celebration and expansiveness- of praising the Divine for miracles already at play. Other songs evoked more of a sense of longing and desire for miracles yet to be manifested. I noticed that many of these songs also had a sense of sweet love for the Divine- a longing grounded in a faith and trust in the eventual manifestation of that which was longed for. Thus, Dance in the Expanse and Open the Gates: Songs of Love and Longing for the Divine were born.
Dance in the Expanse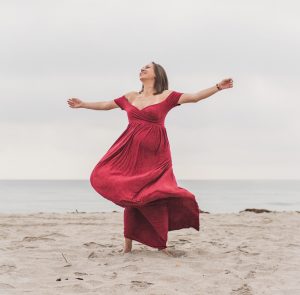 The vision for an album titled "Dance in the Expanse" has been a dream of mine for years. The title comes from my two favorite verses of the Bible. Psalm 118:5- Min hameitzar karati Yah, anani bamerchav Yah- I call out to G-d from a place of narrowness and G-d answers me in Expansiveness; and Psalm 30:12- Hafacta mispedi l'machol li- G-d transforms my mourning into dancing. I loved the ideas of dancing and expansiveness and knew there was a song there. All of the music on both albums has come to me in G-d's time. I have never sat down with the intention to "write a song"- so I shouldn't be surprised that my several attempts to do so with this concept of dance and expanse over several years failed miserably. Then, one night after returning home from my first week at the Davennen Leadership Training Institute, I felt something magical happening. I began to sing a new melody to myself and within a few minutes "Dance in the Expanse" had found its home.
Other songs on this album include "Zeh HaYom," a meditative chant in three parts celebrating Psalm 118:24's declaration that THIS is the day that G-d has created, and we should celebrate and be joyful in it; "Modah Ani," the first prayer that is traditionally said when one wakes in the morning and that speaks of our gratitude for the Divine for waking us up and returning our soul to us for another day; "Through the Shadow," a piece inspired by the words of Psalm 23 and that channels the heartfelt activism that so many of my friends and teachers are immersed in; and "Ashrei," a fun big-band style piece that celebrates the Joy that is felt when one finds home within the Divine.
Open the Gates: Songs of Love and Longing for the Divine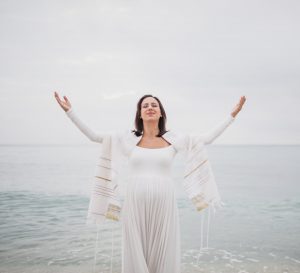 The title song of Open the Gates: Songs of Love and Longing for the Divine was written on Asara B'Tevet, which is observed as a minor fast day in many traditional Jewish communities. I was a fellow at Yeshivat Hadar and was struck by the line "Petach sha'arei shamayim litflilateinu" while we were davenning the special section of prayers in the morning service to commemorate the day. These four words ask G-d to open the gates of heaven to our prayer. I imagined all of us as beams of light, grounding into the earth and rising into the heavens. I imagined our channel to the Divine being cleared of all blockages and all of our prayers harmonizing and rising together through the gates of heaven. I meditated on this verse throughout the day and by the time I got home "Open the Gates" was born.
Other songs on this album include "Baruch Shalem," a healing lullaby written for the beautiful baby boy that I carried as a surrogate mother last year, whose Hebrew name is Baruch Shalem, which means Blessed Wholeness; "Hashkiveinu," a pleading prayer from the evening liturgy which asks G-d to keep us safe while we sleep and to return our consciousness to us at the end of the night; "L'cha Dodi," a prayer sung by Jews around the world every Friday evening as we welcome the Shabbat Bride to join us for the gift of Shabbat; and "Prelude 2010,"  (see link to video clip below) a piece which was first created in 2010, during a time in my life which served as the catalyst for all of the spiritual growth and seeking that continues to this day.
Meet the Team!
When it was time for me to envision how this would all translate into recordable music, I knew I needed to recruit the best of the best to make it happen. And to do so, I needed to look no further than my own baby sister! Shelbie and I have been engaged in music separately our whole lives and I am beyond honored and grateful for this to be the first project that we are working on together.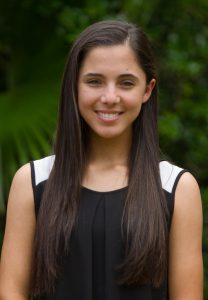 Shelbie Rassler
Shelbie Rassler is incredibly excited to be working with her sister on this meaningful project. She is currently pursuing a Bachelor of Music in Composition at The Boston Conservatory at Berklee College of Music and was most recently named the school's 2019 Presser Scholar. Her compositions have been played by various orchestras and choruses in Boston. She has also music directed several concerts and musicals, including Voices, an original musical which premiered in April of this year. Recent projects include scoring a Lexus commercial, and Titan, an award winning short film which is currently being screened at various film festivals. Shelbie recently returned from Scandinavia where she assisted in recording sessions with the Oslo Broadcasting Symphony Orchestra and the workshop of a new musical in the Gothenburg Opera House of Sweden. Shelbie is now excited to be back in Florida to work as a Music Director for the Lovewell Institute for the Creative Arts for the third summer and to work with Brielle and her wonderful friends.
The Vocal Team 
With the instrumentation set, I next needed to find world class vocalists to help bring the music to life. I wanted to assemble a vocal team that could bring together my various worlds of Jewish living and learning and I couldn't be happier with the six superstars who are joining Shelbie and me for this project!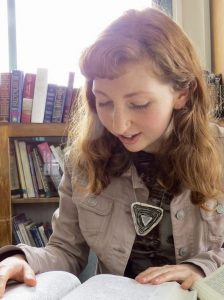 Rena Branson
Rena Branson is an educator and aspiring rabbi from New York. Through a labyrinth of circumstances, she met her Chassidish father for the first time in 2014, and singing nigunim together became a powerful spiritual practice. Rena started A Queer Nigun Project, which hosts healing spaces for LGBTQ-identified people to explore and record nigunim, as well as organizing nigun circles in jails. Rena studied at Oberlin (2014), the Pardes Institute of Jewish Studies, and Yeshivat Hadar, and will be studying Jewish music full-time in the Rising Song Residency this fall. She's honored to collaborate on Brielle's holy dream project!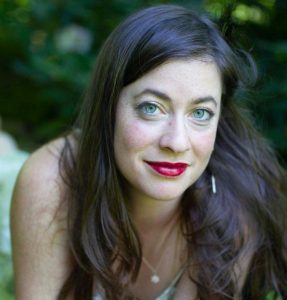 Elana Brody
Elana Brody is a singer-songwriter and prayer leader in the Jewish Renewal community. She has led services with Rabbi David Ingber and Hazzan Basya Schaecter of Romemu NYC and Romemu Brooklyn, Shir Yaakov Feit of Kol Hai in New Paltz, Rabbi Sarah Bracha Gershuny of Nevei Kodesh in Boulder, CO, Rabbi Jill Hammer and Shoshana Jedwab of Kohenet Institute, and many others. Elana was invited to lead Renewal services at Limmud NY 2018, and continues to co-lead renewal services for Simchat Torah at Isabella Freedman Retreat Center in Connecticut. Elana is currently a Tzovot in the Kohenet Hebrew Priestess training program, and a cantorial student at the ALEPH Alliance for Jewish Renewal's Ordination Program. Learn more at www.elanabrody.com.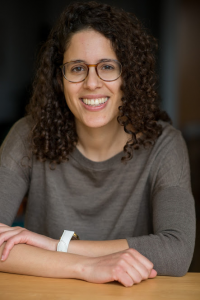 Anat Hochberg
Anat Halevy Hochberg is a Brooklyn-based musician, teacher, and ritual leader. Anat grounds her practice as a ba'al tefila (prayer leader) in her study of traditional Jewish text, earth-based experiential Jewish ritual and education, connection with the Earth and the Divine, professional training as a musician, and family and community traditions (from Israel, Poland, Hungary, Yemen, Boston, and beyond). Anat has a passion for leading song and backing others in using their voice. Anat performs as a solo artist and with collaborators, and has recently recorded with artists including Joey Weisenberg, Miriam Margles, and George Mordecai. She recently completed two years of study at Yeshivat Hadar and was a Fellow in the Rising Song Institute. Learn more at anathalevyhochberg.com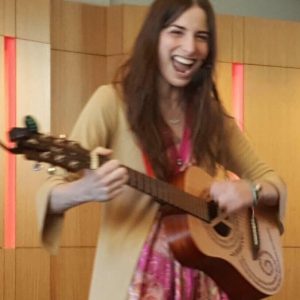 Laura Lenes
Laura Lenes can be seen in synagogues across South Florida, as both a Cantorial Soloist, and an educator — connecting families, children, and congregants of all ages, to Judaism & G-d through music, Sign Language, drama, and spirituality!  She has worked in 40+ synagogues (across every movement), developed a Jewish Mommy & Me program (Sing Sign Simcha) used across Florida &  NYC, is an Artist in Residence across the country, performs at Jewish National conferences, composed 100+ songs/prayers, has an album with her trio Ashira, and is working toward releasing her music, musicals, and curriculum(s) this year.  Fun Fact: Laura's first music teacher was Karen Rassler, Brielle and Shelbie's mom! Learn more by following: https://www.facebook.com/laura.lenes.7.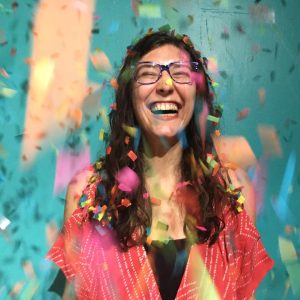 Emily Stern
Emily Stern is so proud of Brielle, and feels so blessed to be working on this project! She is a also a rabbinical student with the ALEPH Ordination Program. Emily is a prayer leader at two assisted living facilities in Baltimore and a blogger for the Jewish Journal. Albums include "Birth Day" and "Love Psalms." Her children's book "The World's A Song" is available on Amazon now!  Emily is a graduate of New York University's Tisch School of the Arts. Learn more at www.emilystern.org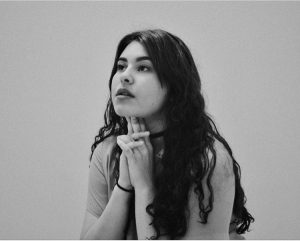 Erika Zade
Erika Zade is a singer-songwriter and aspiring music producer from Miami, Florida. She was recently featured on season 15 of NBC's "The Voice" where she joined Team Kelly. Erika is also a proud YoungArts Foundation alumni for singing and songwriting. She studied at the Berklee College of Music in Boston and is currently working on an original EP "watch me cry".
Production Logistics
As of the launching of this campaign in June of 2019, all of the music for both albums has been written, including sheet music and full vocal arrangements for the vast majority of the pieces. The full team will be coming together in August to record the albums. Recording is scheduled to be finished on August 16th, which is also my 28th birthday! The mixing and editing is scheduled to be completed by Thanksgiving, with the final finished product to be available shortly thereafter. I will be providing updates throughout the rehearsal, recording, and editing processes and look forward to taking you all behind the scenes with me, as I work with my sister and friends to bring this dream of mine to life. Thank YOU for making it possible!
Join our community of supporters and we can make a difference